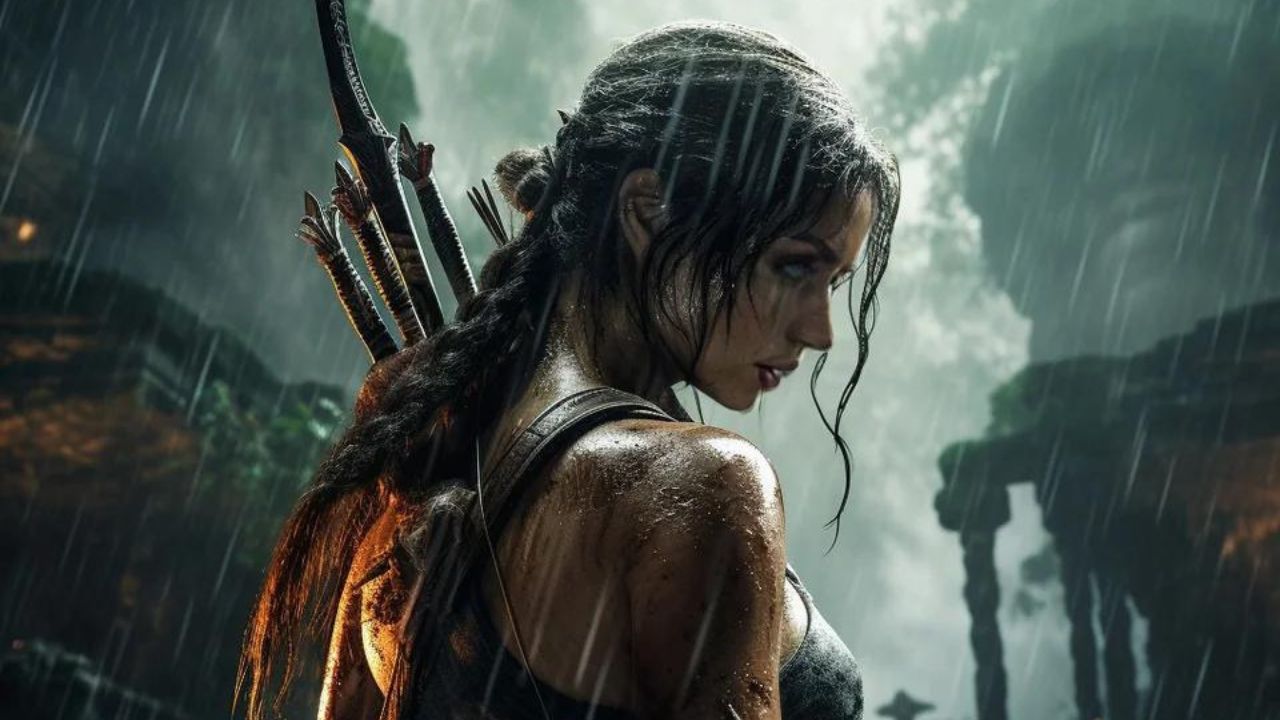 Recently, the Internet was set ablaze with speculation after a fanmade poster by digital artist TheOGCukeman featuring Ana de Armas in the iconic role of Lara Croft.
The art made its way onto Reddit, quickly gaining traction and stirring conversations about the future of the Tomb Raider franchise.
The poster features de Armas taking a fierce stance under the pouring rain, clad in Lara Croft's signature ensemble—tank top and shorts—while wielding a recurve bow and arrow.
However, as enticing as this vision is, there's no confirmation that Ana de Armas will be stepping into the adventurer's boots anytime soon.
Would Ana De Armas make a good Lara Croft?
by u/TheOGCukeman in midjourney
For those unfamiliar, Tomb Raider is a long-running video game series that was first adapted into a movie in 2001.
The franchise follows a young archaeologist, Lara Croft, who embarks on thrilling adventures to uncover hidden treasures and solve mysterious puzzles.
Academy Award winner Angelina Jolie was the first to portray this iconic role, followed by Alicia Vikander in the 2018 reboot.
There's no doubt that Ana de Armas has had a meteoric rise in Hollywood.
Initially starting her career in romantic dramas and comedies, she transitioned into more complex roles, proving her versatility.
In 2017, she starred in the action-packed film Overdrive and later appeared as a CIA agent named Paloma in the 2021 James Bond movie No Time To Die.
With her performances in these action roles, it's not hard to see why fans might envision her as the next Lara Croft.
Still, the casting for the next Tomb Raider installment is still a mystery. Last year, it was announced that Roar Uthaug's sequel to the 2018 reboot was canceled.
Instead, Amazon Studios announced plans to reboot the franchise with a new movie and a show developed by Phoebe Waller-Bridge. As of now, there have been no updates on who will be cast as the fearless archaeologist.
While it's true that Ana de Armas has all the necessary chops to take on the Lara Croft role, there's currently no official announcement regarding her involvement in the franchise.
TheOGCukeman's fan art is compelling, but for now, it's just that—art. Until there's an official casting announcement from the studios involved, any talk of de Armas becoming the next Lara Croft is purely speculative.
MORE: Ranking the Last 20 'Sexiest Man Alive' Winners – From Least to Most Deserving