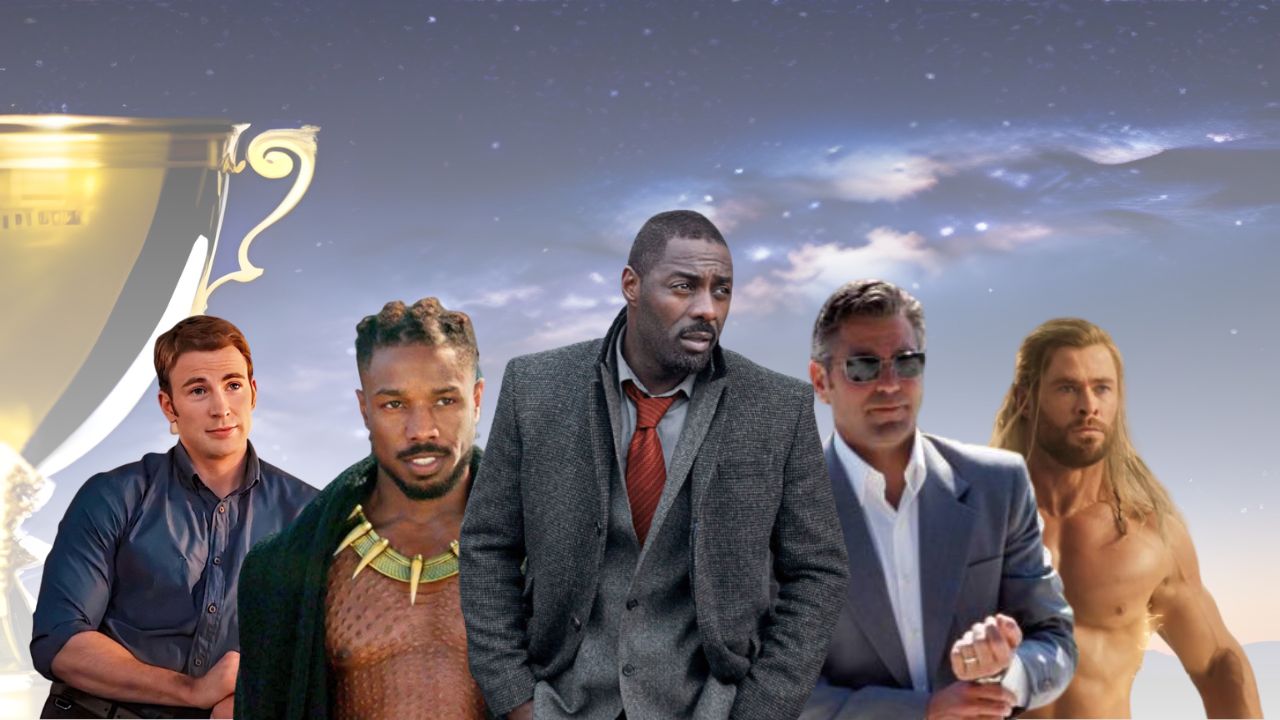 Have you ever eagerly awaited the annual "Sexiest Man Alive" announcement by People magazine only to be left bewildered by the winner?
Well, you're not alone! Every year, the magazine's decision sparks animated debates, and the last two decades have been no exception.
From Chris Evans (2022) to Ben Afleck (2002), and with my personal prediction of Pedro Pascal taking the crown in 2023, there's a whole lot of hunky charm to discuss.
Let us take a deeper look and rank these dashing gentlemen, not just by their title, but by how well-deserved that title to see who is the sexiest man alive ever. And no, we're not playing favorites…well, maybe just a little.
20. Blake Shelton (2017)
We're kicking off our list with none other than country star Blake Shelton. Now, this Oklahoma-born singer certainly has his unique charm.
He's got an easygoing personality, a solid dose of humor, and an impressive country music portfolio that's won him countless fans. But his ascension to "Sexiest Man Alive" in 2017? That left more than a few people scratching their heads.
Shelton, known for hits like "God Gave Me You" and "Honey Bee," as well as his long-standing role as a judge on The Voice, is undoubtedly an engaging character. He's your go-to guy if you're in the mood for a heartwarming serenade under a starlit country sky.
But when you stack him up against the usual Hollywood hunks who grace the "Sexiest Man Alive" covers, he feels more like an accidental wild card who somehow wandered onto the field.
In fact, even Shelton himself seemed surprised by his win, joking in his acceptance interview that people must be "running out of people" to give the award to. To quote a fellow Reddit user, "I still can't believe Blake Shelton ever won the 'Sexiest Man Alive' title."
Don't get us wrong, we appreciate Shelton's self-deprecating humor and charm, but when it comes to the steamy arena of "Sexiest Man Alive" winners, he may be better suited for a cozy campfire jam session than a red-hot center stage spotlight.
So, we're placing him as number 20 on our list. But hey, at least he's on the list, right?
19. John Legend (2019)
The number 19 spot goes to the suave musician, John Legend. Now, before you raise your pitchforks, let us clarify: we totally love John Legend. The man is undeniably talented.
His smooth voice can melt hearts, his piano skills are second to none, and he has a knack for penning heartfelt lyrics. Plus, he's a loving husband and a doting father. What's not to love about all that?
But, 'Sexiest Man Alive'? That's where we — and some of the internet — beg to differ. One Reddit user even echoed this sentiment, saying, "John Legend and Blake Shelton are VERY weird to me."
On stage, Legend shines as he pours emotion into every note, and he's certainly easy on the eyes with his suave style and charming smile. But "Sexiest Man Alive" feels like a title reserved for a more smoldering, jaw-dropping presence.
Not that John isn't handsome — he most definitely is. But there's a certain je ne sais quoi that "Sexiest Man Alive" suggests — a tantalizing charisma, a breathtaking allure. And while we would gladly listen to Legend serenade us all day, we can't quite say he ticks those boxes.
So, as much as we enjoy his music and admire his character, we're slotting John Legend into number 19. Sorry, John — we still love "All of You." But as far as this contest goes, we may just not be "Ordinary People."
18. Adam Levine (2013)
Securing the 18th spot on our list is Maroon 5 frontman and former "The Voice" coach, Adam Levine. With his numerous tattoos, that rockstar edge, and an array of catchy songs that even the biggest cynics find themselves humming to, Adam has certainly made his mark in pop culture.
However, while Adam has charm and talent in spades, his selection as the 'Sexiest Man Alive' in 2013 has been a topic of debate among fans. Even some of our fellow Redditors shared their reservations, with one stating, "Adam Levine? Not even a little bit."
You see, Adam Levine is a lot of things. He's a fantastic performer, a gifted songwriter, and an entertaining television personality. But the 'Sexiest Man Alive'? Some would argue that's a stretch.
His cocky persona might be perfect for a rock star, but it doesn't quite hit the mark when we think about the quintessential 'sexiest' man.
Sure, his rock and roll style and boyish charm have a certain appeal. But does it compare to the smoldering good looks and charisma of others on this list?
Not quite. And so, Adam Levine takes the 18th spot on our list. Sorry, Adam — you'll always be a rockstar, but 'Sexiest Man Alive' might just not be your tune.
17. The Rock (2016)
Rolling in at the 17th position is none other than Dwayne "The Rock" Johnson. Now, we're not disputing that The Rock is an absolute powerhouse. The man is as charismatic as he is muscular, and he's got a smile that could potentially outshine a small sun.
Yet, in the realm of 'Sexiest Man Alive,' our dear friend from Reddit expressed what some others might have been thinking: "Do people think THE ROCK is sexy? I'm getting nothing but irritating vibes from him."
While Johnson undoubtedly possesses a magnetic personality, his title as the 'Sexiest Man Alive' in 2016 has been the subject of some debate.
Don't get us wrong, The Rock is impressive in more ways than one. From his WWE wrestling days to his successful transition into Hollywood, he's become an icon in his own right. His ability to balance hard-hitting action roles with hilarious comedic performances speaks volumes of his versatility.
But sexiest man alive? While some might swoon over his chiseled physique and electric charisma, others might argue that there are a few others on this list who edge him out in the 'sexy' department.
Still, The Rock has left an indelible mark on pop culture, and for that alone, he's more than deserving of a spot on this list. So here's to you, Dwayne "The Rock" Johnson, our 17th 'Sexiest Man Alive.'
16. Channing Tatum (2012)
Next up, we have the dance-floor master himself, Channing Tatum, who spun and twirled his way into our hearts in 2012. Tatum's dance moves and dreamy eyes landed him the title of 'Sexiest Man Alive,' but not without a fair share of raised eyebrows.
One Reddit commentator said, "Least deserving to me, Blake Shelton, Adam Levine, John Legend and Channing Tatum. Not crazy about The Rock either, but whatever." Well, to each their own, right?
Some found Tatum's chiseled features and killer moves absolutely captivating, while others, well… not so much.
Tatum's performance in films like 'Step Up' and 'Magic Mike' showcased his impressive dance skills and physical prowess, creating quite the buzz.
His seamless blend of raw physicality and genuine emotional depth endeared him to fans worldwide. However, his reign as the 'Sexiest Man Alive' remains a point of contention.
No matter where you land in the Tatum debate, there's no denying that the actor has made a significant impact in Hollywood. His range from action flicks to romantic comedies reveals a versatile and compelling actor.
Regardless of his ranking on this list, Tatum continues to charm audiences with his boyish grin and dynamic performances. So, here's to Channing Tatum, our 16th 'Sexiest Man Alive.'
15. Matt Damon (2007)
Moving up the list, we reach the no-nonsense, straight-shooting, and down-to-earth Matt Damon. In 2007, he was dubbed 'Sexiest Man Alive' by People, an accolade that, to this day, sparks diverse reactions.
One Reddit user put it rather plainly, "I can't believe Matt Damon or John Legend was on this list. Neither one of them is sexy in my opinion. They are cute but definitely not 'Sexiest Man Alive.'" Well, that's a point of view!
Matt Damon is widely respected for his talent, known for his roles in films like 'Good Will Hunting' and the 'Jason Bourne' series. Damon has continually proven his versatility as an actor, handling drama and action with equal aptitude.
His iconic status in Hollywood and easygoing charm are undeniable, even if his sex appeal isn't universally acknowledged.
But let's face it: while Matt Damon may not be everyone's cup of tea, his rugged good looks, coupled with his charisma and on-screen intensity, undoubtedly make him a strong contender for this list. His everyman appeal and undeniable talent elevate him above the average Hollywood hunk.
And so, Matt Damon snags the 15th spot on our 'Sexiest Man Alive' ranking. Regardless of your stance, there's no denying that Damon continues to captivate audiences worldwide with his performances.
So here's to Matt Damon, adding a touch of down-to-earth allure to our list.
14. Ben Affleck (2002)
Coming in at number 14 is none other than Ben Affleck. Rewind to 2002, a time when Affleck was enjoying a golden run in Hollywood, just off the back of a Best Original Screenplay Oscar for "Good Will Hunting" and starring in blockbuster hits like "Armageddon" and "Pearl Harbor."
So it's no surprise that People Magazine saw it fitting to crown him 'Sexiest Man Alive.'
Affleck, known for his rugged good looks and brooding on-screen persona, certainly turned heads in his day. His journey, both personal and professional, has seen its ups and downs. B
ut regardless of the trials and tribulations, Affleck has managed to hold his place in the heart of Hollywood and in the minds of his fans.
However, Affleck, like some others on this list, has sparked some divided opinions over the years. While some find his boyish charm irresistible, others don't quite see the appeal. And that's okay, as the beauty (or sexiness, in this case) truly lies in the eyes of the beholder!
Whether he's saving the world from an asteroid, stealing hearts in a romantic flick, or sweeping up awards, Ben Affleck has undoubtedly left his mark in Hollywood.
His run as Batman has only further cemented his position in the industry. And while he may not be everyone's pick for the 'sexiest,' he undoubtedly deserves his spot in this ranking.
So, here's a nod to 2002's 'Sexiest Man Alive' – the one and only Ben Affleck. We think you've earned your place, Ben, and we're eager to see where your Hollywood journey takes you next.
13. Bradley Cooper (2011)
In the lucky number 13 spot, we have Bradley Cooper, who wore the 'Sexiest Man Alive' crown back in 2011. Blue-eyed and oh-so-charming, Cooper has been gracing our screens with his talent and good looks since the early 2000s.
From "The Hangover" to "Silver Linings Playbook" and "A Star is Born", Cooper has shown us he's got acting chops and a captivating screen presence to match.
When Bradley Cooper was named 'Sexiest Man Alive', he was already a major Hollywood player. His comedic timing, coupled with those piercing blue eyes, were enough to make hearts flutter worldwide. The fact that he's not just a pretty face but a talented actor to boot just adds to his appeal.
While Cooper's sense of humor and versatile acting skills have been captivating audiences for years, it's his approachability and down-to-earth personality that truly make him stand out. He's like that guy next door who you can't help but be drawn to – only in this case, the guy next door also happens to be a Hollywood A-lister!
Yet, in the grand ranking of sexiness, some might argue that there are others on this list who outshine Cooper. But let's not forget: beauty is subjective. For many, Bradley's boy-next-door charm and his undeniable talent put him right up there with the best.
So, hats off to you, Bradley Cooper, the 'Sexiest Man Alive' of 2011. Even if you're not topping this list, you've definitely won a place in our hearts.
12. Ryan Reynolds (2010)
In the twelfth spot, we find the ever-hilarious and charming Ryan Reynolds, who earned the 'Sexiest Man Alive' title in 2010.
Whether he's making us chuckle as the sarcastic and quick-witted Deadpool or melting our hearts in rom-coms like "The Proposal", Reynolds knows how to command the screen.
Reynolds has the rare ability to seamlessly blend comedy, charm, and undeniable good looks into every role he plays. His effortless charisma and wit are almost as captivating as his chiseled features and stylish persona.
When Reynolds took home the 'Sexiest Man Alive' title, he was already a favorite among moviegoers.
His boyish charm, perfectly timed quips, and dazzling smile had firmly established him as a Hollywood heartthrob. While his physical attributes certainly didn't hurt, it was Reynolds' personality and talent that truly won people over.
However, in our grand ranking, Reynolds finds himself in the middle of the pack. While there's no doubt he's attractive and charming, the competition is fierce, and there are others who've managed to edge him out.
But, don't fret, Ryan Reynolds fans! Landing in the twelfth spot on this list is no small feat, considering the calibre of his competition.
Even though Reynolds isn't topping this list, he still holds a special place in our hearts. After all, who could resist that infectious humor and undeniable charm?
To you, Ryan Reynolds, we salute your contribution to the 'Sexiest Man Alive' legacy. Your 2010 reign will never be forgotten.
11. Hugh Jackman (2008)
Claiming the eleventh spot on our list, we find the multi-talented Hugh Jackman, who was named 'Sexiest Man Alive' back in 2008.
Whether he was brandishing his claws as Wolverine in the "X-Men" series, or belting out show tunes on Broadway, Jackman's charm and talent have never been in question.
Hugh Jackman seems to have it all – striking good looks, a charming personality, a knack for both drama and comedy, not to mention a singing voice that could melt even the coldest hearts.
He's the kind of man who looks equally good whether he's decked out in a designer suit on the red carpet or rocking a grungy look for a gritty role. In other words, Jackman's sex appeal is incredibly versatile.
As one Redditor put it, "Jackman, Elba, Jordan. I like Hemsworth but somehow not in that photo. Evans is okay. The rest I'm wondering if they paid for the title."
It's clear that Jackman has left a significant impression on the public, and his 2008 title win is still talked about today.
However, despite his impressive attributes and accolades, Jackman finds himself just outside the top ten in this 'Sexiest Man Alive' showdown.
While there's no denying his appeal and talent, the competition ahead is simply too strong. But don't worry, Hugh, the eleventh place isn't too shabby, especially when you're up against such a tough line-up.
Nevertheless, Jackman's charm, talent, and undeniable good looks have cemented his place in Hollywood as one of its most attractive leading men. He might not have cracked the top ten in this ranking, but he's still a winner in our books.
So here's to you, Hugh Jackman – your reign as 'Sexiest Man Alive' in 2008 was certainly well-deserved.
10. Matthew McConaughey (2005)
Breaking into our top ten, we have none other than Matthew McConaughey. Awarded the "Sexiest Man Alive" title in 2005, McConaughey has always been a constant in any discussion about Hollywood's most attractive leading men.
From his breakout role in "Dazed and Confused" to his dramatic transformation in "Dallas Buyers Club," McConaughey has shown that he's more than just a handsome face.
Matthew McConaughey is more than a man; he's a mood. With his relaxed, laid-back persona and his signature Texan drawl, he has a unique charm that's all his own.
Whether he's playing the carefree Wooderson or delivering intense performances like his role as Ron Woodroof, McConaughey's ability to captivate audiences is undeniable.
However, this isn't to say his good looks don't play a part in his appeal. With his rugged handsomeness, captivating gaze, and a smile that could stop you in your tracks, it's easy to see why he was chosen as "Sexiest Man Alive."
Yet, he offers more than just physical attractiveness; his charisma, talent, and distinct personality traits make him stand out from the crowd.
But don't take our word for it, the fans speak for themselves. In the words of one Reddit user, "McConaughey has that 'it' factor, that sparkle in the eyes and that irresistible Southern charm that just draws you in."
Despite his sex appeal and fan adoration, McConaughey lands at number ten on our list. Not because he isn't deserving – he is, but the competition that lies ahead is fierce, filled with men who have redefined the standards of sexiness.
But hey, when it comes to Matthew McConaughey, one thing is for sure: he will always be our "Alright, alright, alright" man.
9. David Beckham (2015)
Cracking into the single digits on our list is a man who's conquered both the world of sports and fashion – David Beckham.
The former professional footballer was declared the "Sexiest Man Alive" in 2015, a title that came as no surprise to anyone who has seen him on the football pitch or the fashion runway.
With his chiseled good looks, athletic prowess, and undeniable charm, Beckham has been setting hearts aflutter worldwide for years.
His passion for the beautiful game, his sense of style that has seen him model for some of the biggest brands in the world, and his dedication to his family have all played a part in his appeal.
But it's not just his physical appearance that's attractive – Beckham is the epitome of a gentleman, known for his kindness and humility off the pitch. This combination of looks, talent, and character makes him an obvious choice for the "Sexiest Man Alive" title.
However, his place on our list might raise a few eyebrows. One Reddit user mentioned, "Beckham has always been good-looking, but is he really the sexiest man alive? I think there are others who deserve that title more."
Still, David Beckham earns a well-deserved spot in our top ten. His irresistible charm, combined with his soccer skills, fashion sense, and philanthropic endeavors, have cemented him as one of the most well-rounded and attractive men in the world.
But as we inch closer to number one, the competition gets tougher. Stay tuned to see who's up next.
8. Johnny Depp (2003 & 2009)
Johnny Depp, the enigmatic Hollywood icon, is the only two-time "Sexiest Man Alive" winner on our list.
From his breakout role in '21 Jump Street' to his iconic portrayal of Captain Jack Sparrow in the 'Pirates of the Caribbean' series, Depp has proven his ability to charm audiences with his edgy, unconventional characters.
Depp first secured the title in 2003, and again in 2009, demonstrating his enduring appeal. His quirky roles and offbeat personality have only added to his allure.
Whether he's donning a pirate's hat or sporting scissor hands, Depp has a knack for bringing a compelling charisma to his characters that fans can't seem to resist.
But this double accolade doesn't come without controversy. A few fans raised questions about his two-time win. One Reddit commenter pondered, "Johnny Depp is certainly attractive, but is he really the sexiest man alive? Twice? I'm not so sure."
Even though Depp's quirky charm isn't for everyone, he unquestionably brings a unique allure to Hollywood that's helped him maintain his status as one of the most desirable men in the world.
However, given the strong field of competitors, he just misses out on the top spots in our rankings. Keep reading to find out who managed to outshine the charismatic Mr. Depp!
7. Paul Rudd (2021)
The lovable Paul Rudd claimed the title of "Sexiest Man Alive" in 2021, and his selection raised quite a few eyebrows, while simultaneously earning a whole lot of nods of approval.
Known for his roles in 'Ant-Man', 'Clueless', and 'Friends', Rudd has been charming audiences with his boyish good looks, easy-going demeanor, and quick wit for decades.
Reddit users had a mixed reaction to his win. One user remarked, "Paul Rudd? Really? He's cute and all, but the sexiest man alive? I'm not sure I see it." Another user countered, "Paul Rudd may not be your traditional hunky man, but he's got this youthful charm that's simply irresistible!"
Rudd's appeal lies in his boy-next-door image, his comedic timing, and the seemingly eternal youthfulness that has had everyone questioning his skincare routine.
So, while he may not fit the traditional mold of a 'Sexiest Man Alive' contender, Rudd brings a refreshing charm that makes him a deserving recipient of the title.
Rudd's combination of humor, charm, and, let's face it, his uncanny ability to resist aging, have earned him a place well into our top ten. His natural, down-to-earth persona is a breath of fresh air among the typically smoldering, macho winners.
But who made it even higher on our list? Let's keep going to find out.
6. Pierce Brosnan (2001)
Pierce Brosnan, with his timeless elegance and James Bond-level suave, secured the title of "Sexiest Man Alive" in 2001.
Known for his iconic role as 007 in four Bond films, as well as his roles in 'Mrs. Doubtfire' and 'Mamma Mia!', Brosnan is a charming and charismatic actor who brings a certain level of class and sophistication to the screen.
Our friends over at Reddit seemed to have a general consensus on his attractiveness. One user proclaimed, "Pierce Brosnan? Now that's a man I can get behind being named 'Sexiest Man Alive.'
I mean, the man was James Bond, for heaven's sake!" Another added, "Brosnan exudes a sort of refined charm that's just so attractive. Plus, that Irish accent? Yes, please."
Brosnan's appeal lies in his smooth sophistication, suave demeanor, and the gentlemanly charm that is so characteristic of his Bond character.
His classic good looks paired with his elegant style make him a standout contender. Plus, who can resist those piercing blue eyes and that captivating Irish accent?
While Brosnan may not have made it to the top of our list, he is still undeniably one of the most deserving recipients of the "Sexiest Man Alive" title.
But the competition is heating up as we move further up the list. Who could possibly be sexier than James Bond himself? Let's find out.
5. George Clooney (2006)
George Clooney, the silver-haired fox, clinched the title of "Sexiest Man Alive" in 2006, and it's not hard to see why.
Known for his roles in 'ER', 'Ocean's Eleven', and 'The Descendants', Clooney exudes charisma, intelligence, and a certain dashing charm that leaves fans swooning.
Our Reddit community was mostly in favor of this pick, with one user stating, "George Clooney? Oh, absolutely. He's got that silver fox appeal that just doesn't quit."
Another added, "Clooney's just got that charming, mature vibe that's so alluring. Plus, his sense of humor is just the cherry on top."
Clooney's allure is not just about his good looks; it's also about his intellect, talent, and humanitarian work. Not to mention his ever-present charm and wit, which add to his overall appeal.
But perhaps what makes him stand out most is his ability to age like fine wine, maintaining his attractiveness and appeal even as he grows older.
While Clooney didn't make it to the top of our list, he is certainly one of the most deserving of the "Sexiest Man Alive" title.
With his silver locks, charming smile, and charismatic persona, it's no surprise that Clooney ranks highly in our list of the sexiest men.
But we're not done yet. Stay tuned to see who ranks even higher than the charming Mr. Clooney.
4. Chris Evans (2022)
Captain America himself, Chris Evans, soared into our number 4 spot after being named "Sexiest Man Alive" in 2022.
With his brilliant blue eyes, charming smile, and muscular physique that he's maintained from his superhero role, it's hard to contest his ranking.
Many people in our Reddit community agreed with this one, pointing out that his "convincing photoshoot" really displayed his attractiveness. One Redditor noted, "Chris Evans has the most convincing photoshoot. Some of the earlier photos are a little cringe, but he nailed it!"
Besides his physical attributes, Evans is also known for his charismatic nature, humility, and the depth he brought to his roles, notably as Steve Rogers in the Marvel Cinematic Universe.
Whether he's fighting supervillains or championing political causes off-screen, Chris Evans manages to turn heads and capture hearts wherever he goes.
Yet, what truly solidifies Evans' position on this list is his combination of good looks and good character. The "Avengers" star is not just a handsome face, but a compassionate person who isn't afraid to use his platform for good, making him all the more deserving of the "Sexiest Man Alive" title.
Chris Evans may not be our number one pick, but he certainly stands out as a stellar example of what it means to be a "Sexiest Man Alive" winner. However, the competition is tough, and we have a few more men to explore. Let's see who made it to our top 3!
3. Michael B. Jordan (2020)
Securing the bronze medal on our "Sexiest Man Alive" list is the dynamic and talented Michael B. Jordan. Crowned the "Sexiest Man Alive" in 2020, Jordan's handsome features, muscular physique, and undeniable acting skills definitely earned him a spot in our top three.
Our Reddit community echoed these sentiments, with one user stating, "Michael B Jordan is easily the hottest one here for me, though he could have had a better photo. Chris Evans and Idris Elba are sexy too."
Best known for his breakout role as the complex villain Erik Killmonger in "Black Panther," Jordan's star power has only continued to rise. His dedication to embodying his roles is evident, as is his commitment to fitness.
Whether he's packing on muscle for roles like Creed or showing off his athletic prowess in "Without Remorse," his dedication to physicality is just part of his undeniable appeal.
Offscreen, Jordan is equally captivating. He's active in the community and passionate about social justice. His production company, Outlier Society, was among the first to adopt the inclusion rider, ensuring diverse representation both in front of and behind the camera.
Moreover, he's shown that he's got a sense of humor. His playful rivalry with Chadwick Boseman's T'Challa in "Black Panther" was hilarious, and his off-screen friendship with his co-stars shows a lighter, more relaxed side to him.
Yet, despite his handsome features and captivating personality, Jordan isn't our number one pick. Read on to find out who's taking home the gold in our ranking of "Sexiest Man Alive" winners.
2. Chris Hemsworth (2014)
Coming in at number two on our list is none other than Chris Hemsworth. Named "Sexiest Man Alive" in 2014, Hemsworth, also known as Thor in the Marvel Cinematic Universe, is undeniably one of the hottest actors in Hollywood.
His charming Australian accent, piercing blue eyes, and sculpted physique made him a clear choice for the title.
Fans from our Reddit community have similar thoughts. One user wrote, "Idris Elba, Chris Hemsworth, George Clooney, and Michael B Jordan are definite yes." Hemsworth, with his rugged good looks, was a unanimous hit.
But let's not forget, Hemsworth isn't just a pretty face. He's a talented actor who's demonstrated his range beyond the Marvel universe.
From playing a hacker in "Blackhat" to a secretary in "Ghostbusters", he's shown us he can take on varied roles while maintaining his inherent charm and attractiveness.
It's also worth mentioning Hemsworth's off-screen persona. A dedicated family man, Hemsworth is often seen spending quality time with his wife and children. His love for his family only adds to his appeal, providing a glimpse into his warm heart and his priorities outside of his career.
However, the title of "Sexiest Man Alive" isn't just about physical attractiveness. It's also about personality, talent, and impact. And while Chris Hemsworth is undeniably handsome, there is still one man who surpasses him on our list.
Stay tuned to find out who our number one pick is!
1. Idris Elba (2018)
Finally, we have arrived at the champion of our "Sexiest Man Alive" rankings: the incomparable Idris Elba.
Named the "Sexiest Man Alive" by People Magazine in 2018, Elba has effortlessly secured the top spot on our list. His striking good looks, rugged charm, and undeniable talent have all contributed to his well-deserved win.
The Reddit community was quick to agree with our ranking. One user eloquently put it: "Idris just stands out above the rest. He's like the Sexiest Man MVP." Another added, "Idris Elba, Chris Hemsworth, George Clooney, and Michael B Jordan are definite yes."
Elba, a British actor and producer, has become a Hollywood mainstay, renowned for his roles in films such as "Thor," "Mandela: Long Walk to Freedom," and "Beasts of No Nation."
However, many fans still associate him most fondly with his portrayal of the complex and morally ambiguous detective, John Luther, on the British crime drama series "Luther."
But there's more to Elba than his smoldering on-screen persona. He's also a talented musician, DJ, and kickboxer. His versatility is part of his allure, as is his dedication to his craft and his fearlessness when it comes to taking on new challenges.
Off-screen, Elba exudes a down-to-earth, approachable vibe. His charisma is infectious, and his commitment to humanitarian causes adds another layer to his appeal. He's not just a handsome face; he's a man of substance and depth.