One of the most controversial couples in the history of TV series was Khal Drogo and The Mother of Dragons from the popular HBO TV series "Game of Thrones."
While we know that all of you die-hard "Game of Thrones" fans desperately want to see Emilia and Jason involved romantically, things are a bit different in real life.
Don't get us wrong, the two have huge love for one another, but only in a friendly way.
Here you can find everything you need to know about Emilia Clarke and Jason Momoa's relationship.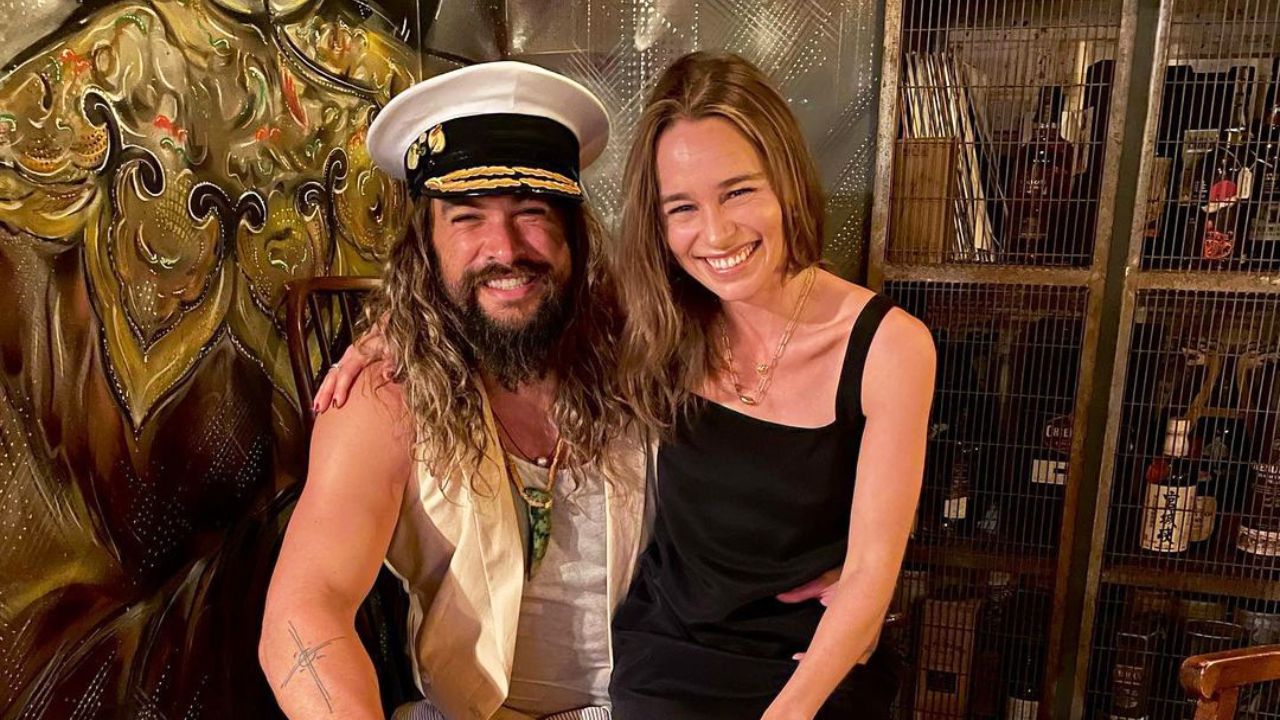 Emilia Isobel Euphemia Rose Clarke is an English actress born in London on October 23, 1986.
Clarke began her on-stage career while she was still in school as she appeared in a student production of "Twelfth Night" and "West Side Story."
After graduating from drama school in 2009, Emilia started working at various everyday jobs while auditioning for roles.
She appeared in a couple of commercials and in some episodes of soap operas before she landed the role that changed her life completely.
In 2010, Emilia landed the role of Daenerys Targaryen in the popular HBO series "Game of Thrones." This was Emilia's third professional role at the time.
From that point onward, Emilia's career blossomed. Apart from staring in the eight seasons of "Game of Thrones," Emilia appeared in many popular movies such as "Terminator: Genesis," "Solo: A Star Wars Story," "Me Before You," and "Last Christmas."
Throughout her career, Emilia has earned many accolades, such as an Empire Award and a Saturn Award. Additionally, she was nominated for four Primetime Emmy Awards and seven Screen Actors Guild Awards.
On top of this, in 2019, according to Time magazine, she was named as one of the 100 most influential people in the world.
RECOMMENDED

Is Emilia Clarke Married in Real Life? Details On Rumors About Her Husband And Boyfriend
Joseph Jason Namakaeha Momoa is an American actor born in Honolulu on August 1, 1979.
Jason made his acting debut in 1999 when he appeared in the syndicated action-drama series "Baywatch: Hawaii" from 1999 to 2001.
His next big role happened in 2005 when he landed the role of Ronon Dex in the science fiction series "Stargate Atlantis" from 2005 to 2010.
One of his most memorable roles was in 2011 when he played the infamous Khal Drogo in the popular HBO series "Game of Thrones."
He played Khal Drogo in the first two seasons and his character died in the second season.
Jason is also well-known for his portrayal of Aquaman in the DC Extended Universe in the movie of the same name.
RECOMMENDED

How Did Lisa Bonet and Jason Momoa Meet?
Jason Momoa and Emilia Clark Relationship
To clarify things immediately, Emilia and Jason are not in a relationship together. They are just friends.
Some speculations were circulating after a couple of "cozy" pictures were posted on Instagram by Jason. In the picture, Emilia is sitting on his lap, with the caption "MOON OF MY LIFE. You are wonderful love u forever."
But their relationship was far from possible as Jason was married until very recently. Jason and his now ex-wife Lisa Bonet have been in a relationship since 2005.
Although some information surfaced in 2007 that they tied the knot, it wasn't until 10 years after, in 2017, that they officially confirmed this information.
Jason and Lisa announced their divorce in a joint statement on Instagram and the official date when they ended the marriage was January 12, 2022.
On the other hand, Emilia is currently single. She was in a relationship until 2019 with film director Charlie McDowell.
They dated from 2018 to 2019, when they decided to part ways.