Before Game of Thrones season eight was released, many of the series's fans considered Daenerys Targaryen as one of their favorite characters.
Even though she experienced several terrible moments while filming, the lead character's compassion and power made her loved and admired.
Many were also amazed by the short relationship between Daenerys and her husband, Khal Drogo, even though their union resulted from the dragon queen being forced to marry him.
This made many people inquire more about the real-life relationship between the two characters, Jason Momoa and Emilia Clarke.
There are details about their friendship, including how they met, that would melt the heart of many.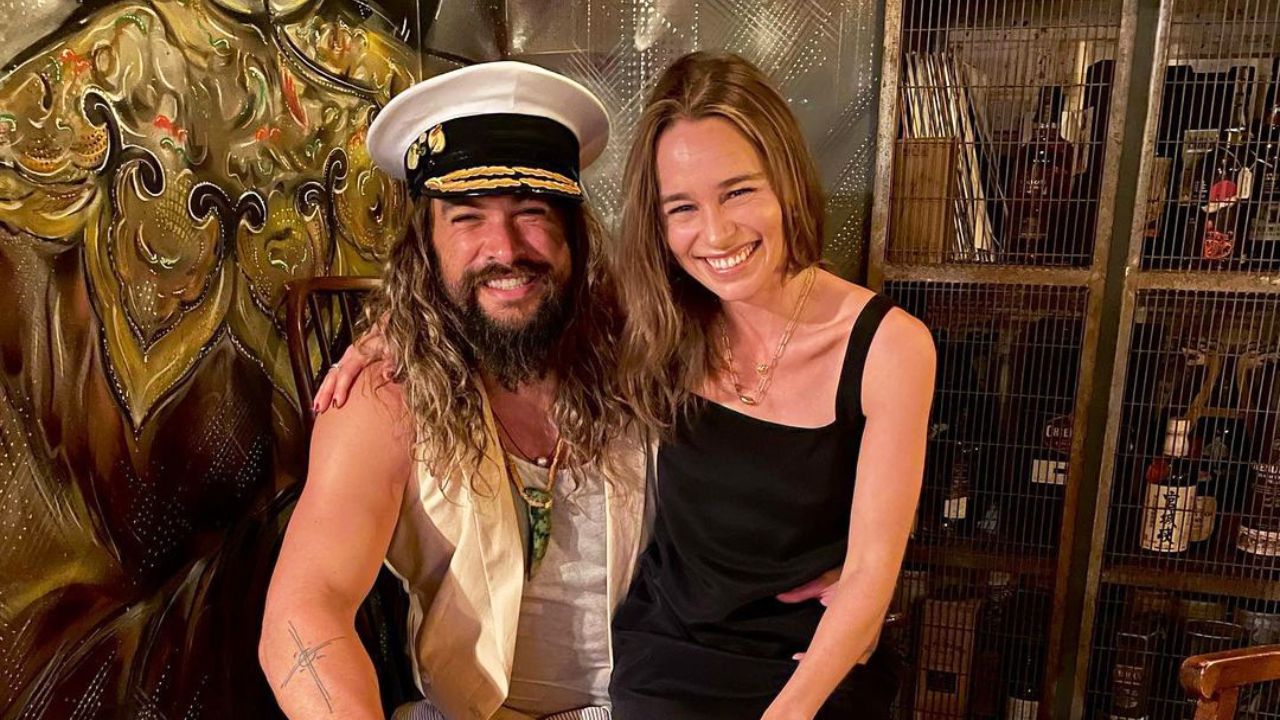 Jason Momoa and Emilia Clarke As Khal Drogo and Daenerys Targaryen in GoT
Khal Drogo and Daenerys Targaryen are characters in the successful series Game of Thrones.
While Targaryen was one of its main characters and appeared in all the seasons, Khal Drogo had a minor role and performed only in the first season.
Khal Drogo is a leader of the Dothraki tribe and marries Daenerys in a deal that was made with his brother.
Even though she does not warm up to the Khal during their first interactions, she grows to love him and embraces her position as Khaleesi of the Dothraki.
The uncomfortable scenes between the two were caused by Daenerys being married off by her brother against her wish.
As the series continues, the couple grows to love each other, which is made stronger by her pregnancy with the Khal's child.
In real life, it was shown that the two characters were excellent friends compared to their characters.
RECOMMENDED

Is Emilia Clarke Married in Real Life? Details On Rumors About Her Husband And Boyfriend
How Jason Momoa and Emilia Clarke Met
Judging by their first impression of each other when they first met in the series, their first interaction may have been tense.
But Jason tried to make fun of it by picking his future on-screen wife from the ground.
She said she walked in from the other end of a huge lobby and heard someone shout, "Wifey!"
A huge Hawaiian guy came over to her, picked her up, and softly tackled her to the floor.
After he picked her back up and helped her dust herself, she mastered the strength to ask who he was.
This was the beginning of a long friendship between two superstars.
RECOMMENDED

How Did Lisa Bonet and Jason Momoa Meet?
Momoa Helped Clarke When She Fought Various Health Issues.
The two have spoken openly about their real-life friendship.
Sources within the filming of the series revealed the actor was by her side when she struggled with severe health issues.
A few years after undergoing brain surgery, she talked about her experience to the public.
The actor commended her for her courage and said he thought it was beautiful and helpful for her to try and create awareness of the disease.
He revealed he was sad since the situation got serious a few times and admitted he loved her and that she was still filming, gave her a chance to do great things with the platform to reach the world.
Not only was he there to help the actress when she was going through a difficult period, but he was also there when things got ugly and rough on the set.
In a podcast, the actress confessed that he ensured she was as comfortable as possible during filming, even when they had to engage in uncomfortable scenes that included violence and nudity.
The actress revealed filming such scenes was one of the hardest parts of her job as Daenerys.
Jason Momoa and Emilia Clarke are Still Close Friends
Nowadays, the two superstars are still close.
They have been seen together several times in public.
This includes talk shows where they have talked about their friendship and sometimes appear on each other's Instagram accounts.
They always catch up and celebrate each other's milestones as one would do with birthdays.
Many people love seeing them together.