Tarantino Thought of Trading a Samurai Sword for a Die Hard!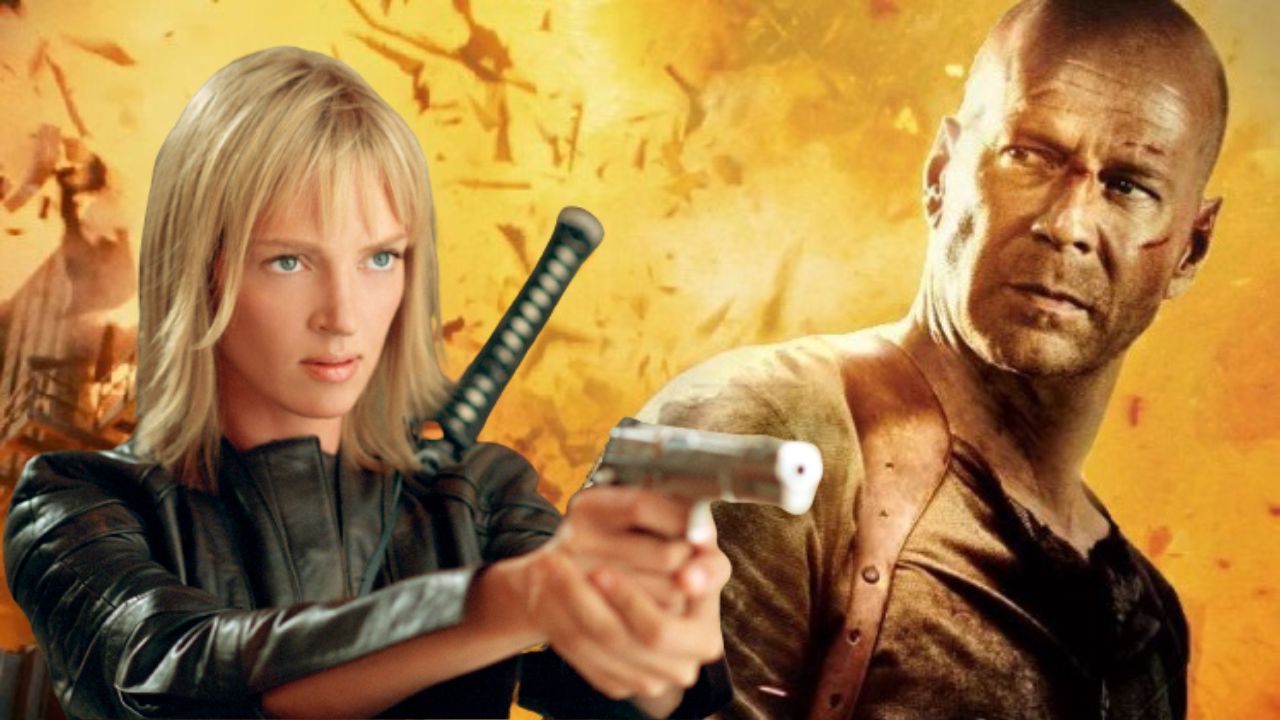 It's the 90s, you're settled in your favorite movie theater seat, the lights dim, and on the screen, Bruce Willis, one of the most iconic action stars of the decade, steps into frame.
But he's not John McClane from Die Hard or even Butch Coolidge from Pulp Fiction – he's Bill, the enigmatic antagonist of Quentin Tarantino's two-part masterpiece, Kill Bill.
Sounds like an alternate universe, right? But according to Tarantino himself, this could have been a reality.
"Die Hard" star was almost "Kill Bill"
Known for his meticulous casting decisions, Quentin Tarantino has a knack for matching characters with the perfect actors to bring them to life.
In the Kill Bill series, David Carradine's portrayal of Bill, the charming yet sinister leader of the Deadly Viper Assassination Squad, is widely regarded as spot-on. Yet, it appears the choice of Carradine was not a straightforward one.
Tarantino recently spilled some intriguing beans on the ReelBlend podcast, revealing that he had originally written the character of Bill for Warren Beatty.
When Beatty fell through, Carradine stepped in, and Tarantino ended up rewriting the character for him. But here's the real kicker – had Carradine not been available, Bruce Willis would have been next in line for the role.
OTHERS WERE INTERESTED IN:
Believe It or Not, 'Speed 2: Cruise Control' Was Originally Intended as 'Die Hard 3'
Quentin Tarantino: 'I will Never Share a Penny With My Mother Connie'
Samuel L. Jackson Almost Lost His Iconic 'Pulp Fiction' Role
Bill – The 'Evil James Bond'
Tarantino described the character of Bill as an 'evil James Bond' and believed that Willis fit this description better than anyone else.
"Bruce could have actually played that evil James Bond kind of character," Tarantino mused, "and I would have just leaned into his personality maybe just a little bit more. A little less Cristal. A little bit more Coors, all right. A little less champagne, a little more beer."
Can you imagine the rugged, everyman charm of Willis infusing life into Tarantino's flamboyant, suave assassin? It's a tantalizing thought.
A Missed Opportunity?
Given Bruce Willis's recent retirement from acting due to health problems, the possibility of Willis playing Bill now exists only in the realm of what-ifs. The only time Willis worked with the acclaimed director was in 1994's Pulp Fiction.
And while we'll never get to see Willis don Bill's tailored suits and wield Hattori Hanzō steel, one thing's for certain – the idea itself is as exciting and intriguing as any of Tarantino's plot twists.