Cavill's Movies Raking in the Big Bucks!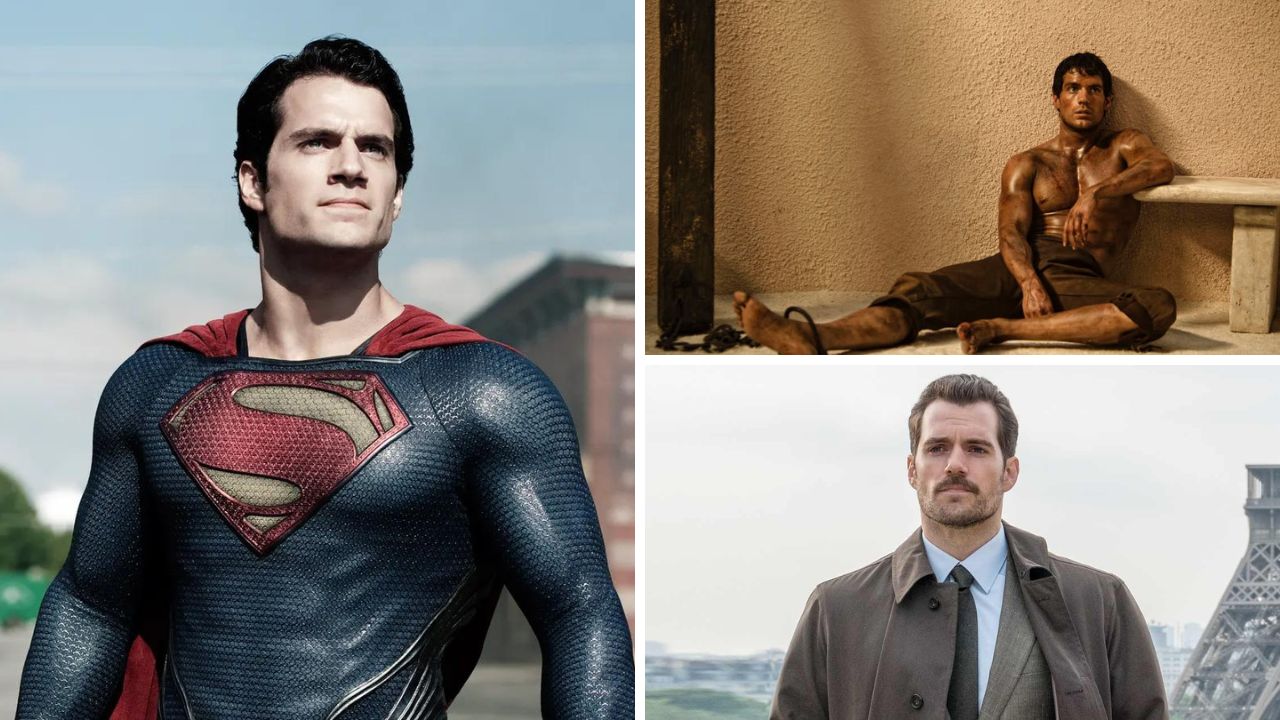 The world knows him as the charismatic Superman, a part of the DC universe, but British actor Henry Cavill has more to his filmography than just the Man of Steel.
With an acting career spanning more than two decades, Cavill has proven his versatility with a range of roles in various genres. Still, it's his involvement in the big-budget, high-grossing films that have made him a household name.
Let's dive into the Cavill movies that have hit the box office jackpot, making over $100 million worldwide, and explore a little about each one.
"Man of Steel" (2013) – $668,045,518 – Adjusted for Inflation: $746,654,231
Directed by Zack Snyder, "Man of Steel" saw Cavill don the iconic Superman suit. This film rebooted the Superman franchise with Cavill portraying Clark Kent/Kal-El, a journalist who is a super-powered alien from the planet Krypton.
The film's rich storytelling and intense action sequences, combined with Cavill's portrayal of a conflicted Superman, resonated with audiences worldwide. The film's significant commercial success solidified Cavill's position as a leading actor in Hollywood.
"Batman v Superman: Dawn of Justice" (2016) – $873,634,919 – Adjusted for Inflation: $959,420,410
Cavill reprised his role as Superman in "Batman v Superman: Dawn of Justice," facing off against Ben Affleck's Batman. The film marked the first live-action movie to feature both Batman and Superman, along with Gal Gadot's debut as Wonder Woman.
Despite mixed reviews, the film was a massive commercial success, showcasing Cavill's continued appeal in the superhero genre.
OTHERS WERE INTERESED IN:
Henry Cavill Performs All His Stunts in 'The Witcher' Season 3
9 Actors Who Stole the Show With Minimal Screen Time, According to Reddit
Henry Cavill Names Three Potential Successors for His 'Superman' Role
"Justice League" (2017) – $657,926,987 – Adjusted for Inflation: $702,792,985
In "Justice League," Cavill once again played Superman, this time joining forces with other DC superheroes like Batman, Wonder Woman, Aquaman, Cyborg, and Flash.
Despite being a commercial success, the film faced significant challenges, including a change in directors mid-production. However, fans lauded Cavill's performance and the chemistry between the ensemble cast.
"Zack Snyder's Justice League" (2021) – Worldwide Gross: $657.9 million
Fans of DC's superhero ensemble didn't let down when they initiated the #ReleaseTheSnyderCut movement on social media. Their tireless dedication led to the release of "Zack Snyder's Justice League", the version that stayed true to director Zack Snyder's original vision for the film.
The 2017 version of the Justice League film, later mockingly dubbed as the "Josstice League", received mixed reviews due to significant changes made by Joss Whedon, who took over the directorial and editorial duties after Snyder had to step down due to a personal tragedy.
This led to comparisons with "Superman II" (1980), another film whose initial director was replaced, leading to substantial changes.
In the Snyder Cut, we see Batman (Ben Affleck), Wonder Woman (Gal Gadot), Cyborg (Ray Fisher), Aquaman (Jason Momoa), The Flash (Ezra Miller), and a revived Superman (Henry Cavill), joining forces to prevent Steppenwolf (Ciarán Hinds) and his army of Parademons from conquering Earth for his overlord Darkseid (Ray Porter).
"Mission: Impossible – Fallout" (2018) – $791,115,104 – Adjusted for Inflation: $825,332,887
Stepping away from superhero movies, Cavill joined the sixth installment of the "Mission: Impossible" franchise. As August Walker, a CIA assassin, Cavill held his own alongside series mainstay Tom Cruise.
The film was praised for its intense action sequences and intricate plot, and Cavill's character was a standout, proving that the actor could shine in roles beyond the DC universe.
"Black Adam" (2022) – Worldwide Gross: $393 million
While "Black Adam" doesn't have Henry Cavill in the titular role, his Superman does make a notable cameo, further entrenching him in the lore of the DC Extended Universe. It's an important addition to Cavill's filmography, even if his screen time is limited.
Dwayne Johnson plays Teth-Adam or Black Adam, an ancient superhuman freed from his magical imprisonment by a team of archaeologists.
The film revolves around Black Adam's mission to free the nation of Kahndaq from the clutches of the Intergang crime syndicate, whose local leader is after an ancient relic to take control of the nation.
The film boasts a strong ensemble cast, including Aldis Hodge, Noah Centineo, Sarah Shahi, Marwan Kenzari, Quintessa Swindell, and Pierce Brosnan in supporting roles.
"Black Adam" turned out to be a box office success, grossing $168.2 million in the United States and Canada and an additional $224.8 million in other territories. The worldwide total for the film stands at $393 million.
A fun fact about the film is that the editors didn't even know about Cavill's Superman cameo until the footage was ready to be edited. Although fans were hoping for a showdown between Black Adam and Superman, it seems we'll have to wait a little longer for that epic face-off.
"Immortals" (2011) – $226,904,017 – Adjusted for Inflation: $254,431,849
Before his days as Superman, Cavill ventured into the realm of Greek mythology with "Immortals." He portrayed Theseus, a mortal chosen by Zeus to fight against a ruthless king.
While not a superhero film, it did involve epic battles and fantastical elements that would later become staples in Cavill's filmography. The movie was a commercial success and marked Cavill as a rising star in Hollywood.
"Stardust" (2007) – $137,022,245 – Adjusted for Inflation: $168,234,327
One of Henry Cavill's earliest forays into big-budget movies was "Stardust," a romantic fantasy adventure film. Although he didn't play the lead role, Cavill was still a part of this adventurous fairy tale, portraying the character of Humphrey.
The film was set in a mystical land with witches, princes, flying pirates, and falling stars, offering Cavill an early opportunity to demonstrate his acting chops in a fantastical setting.
Despite its moderate performance at the box office, "Stardust" has since grown in popularity, with many considering it a cult classic. The film was praised for its imaginative storytelling, stellar cast, and whimsical nature, creating a magical world where Henry Cavill contributed to its enchanting charm.
"The Man from U.N.C.L.E." (2015) – $109,769,500 – Adjusted for Inflation: $120,867,902
In "The Man from U.N.C.L.E.," Cavill took on the role of a suave and sophisticated CIA agent during the Cold War era. The film was a departure from his more action-intensive roles, showing off his versatility and charm. Despite its underwhelming performance at the domestic box office, the movie saw considerable success worldwide.
"Shazam! Fury of the Gods" (2023) – Worldwide Gross: $133.8 million
The follow-up to the original Shazam! movie, "Shazam! Fury of the Gods" is packed with a blend of light-hearted humor and high-flying super-heroic antics. Despite the superhero genre being dominated by darker and grittier themes, this film reminds audiences of the fun and fantastical side of comic book heroes.
Henry Cavill graces this film with a cameo, adding to the excitement and enjoyment for the fans of the DC universe. Cavill, well-known for his portrayal of Superman in previous DC films, doesn't fail to leave an impression, even in a brief appearance.
"The Flash" (2023) – Worldwide Gross: $55 million so far
Sprinting onto the big screen, the scarlet speedster himself, "The Flash," made his solo film debut in June 2023. It's a riveting, time-bending adventure, drawing inspiration from the classic comic book storyline "Flashpoint," and fans across the globe are already buzzing with excitement.
In the film, Barry Allen, played by Ezra Miller, harnesses the power of super-speed to travel back in time to prevent his mother's tragic death. However, as we've learned from countless time-travel tales, meddling with the past can have unexpected and far-reaching consequences.
While it hasn't yet crossed the $100 million mark at the time of writing, "The Flash" shows promising signs of success, given its appeal to both seasoned comic book fans and newcomers to the superhero genre. It's definitely one to watch out for in the coming weeks.
And let's not forget the film's surprise feature: a CGI version of Henry Cavill's Superman, created using Cavill's likeness.