Pike acted as a lesbian in the movie 'I Care A Lot', but in real life, she is a straight woman who has been in a happy relationship with Robie Uniacke, who is 18 years older than she.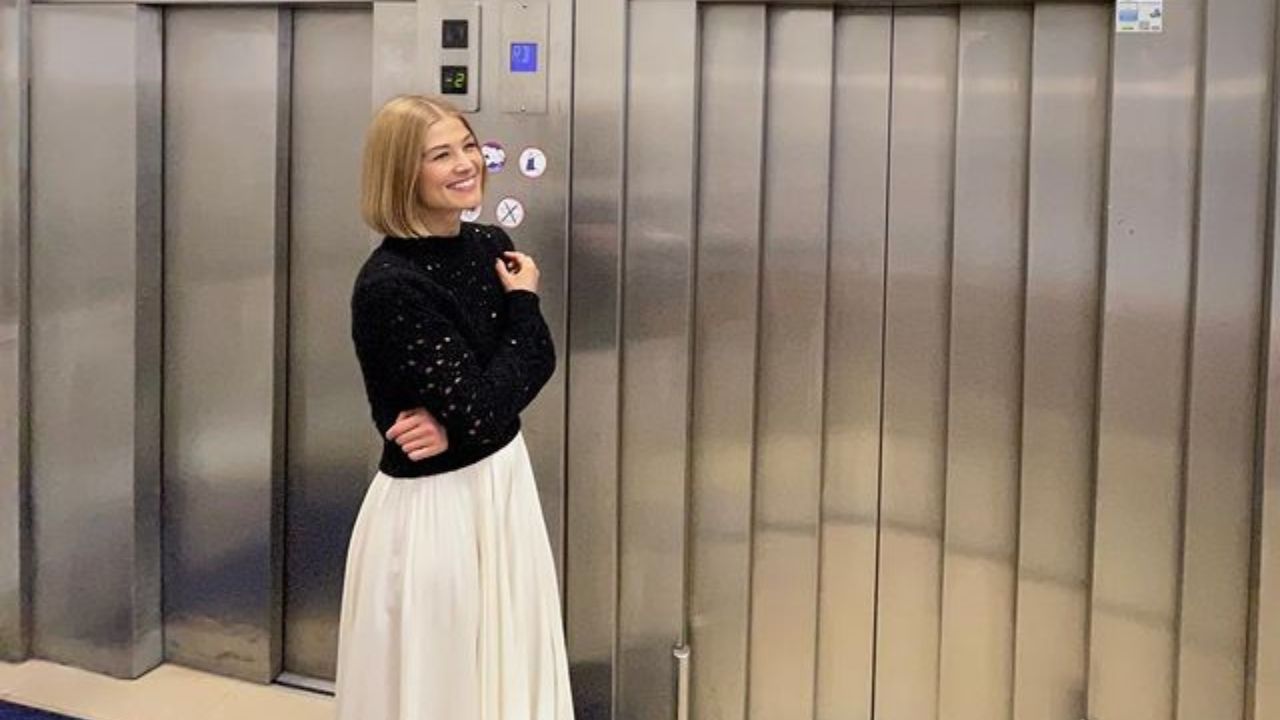 The two are not officially married despite they have been together since 2009. Considering 14-year long relationship and the two kids they have together, it is safe to say that he is her husband.
Who is Robie Uniacke?
Robie Uniacke is an English mathematician and businessman born in 1961.
He grew up in Windsor and developed an interest in mathematics while still young.
The mathematician worked in several finance and consultancy organizations before starting Pale Fire Ltd.
The company started operations in 2010, and it focused on information technology.
He was one of its board of directors before the organization closed in 2016 due to bankruptcy, according to investigations into its operations.
It was revealed that the company failed to pay taxes amounting to more than $250,000, and he usually withdrew vast amounts from its accounts to finance his lifestyle.
He pleaded guilty to the accusations and was fired from his position.
Before dating Rosamund, Uniacke was married to Emma Howards (Earl of Carlisle's daughter) from 1983 to 1989. With Emma, Uniacke have a son, Robie Jonjo.
The businessman then went on to marry Rose Batstone, and their marriage lasted for several years before they decided to file for a divorce. The two have three kids, Hector, Florence, and Olive. 
Rosamund was also in a few relationships before meeting Robie.
She was dating Simon Woods, and their relationship lasted two years before Woods publicly stated he was gay and married Christopher Bailey.
She proceeded to date Joe Wright (they met on the set of Pride and Prejudice), an executive in Hollywood, and their relationship lasted four years. They were quite serious.
They even got engaged but decided to go separate ways in 2008.
Rumor No.1: Wright broke the engagement two weeks prior to the wedding over some alleged save-the-date invites that showed the two naked in a hot tub (Pike denied this).
Rumor No.2: Apparently, Joe Wright was seen lap-dancing in clubs a few days after the engagement was called off.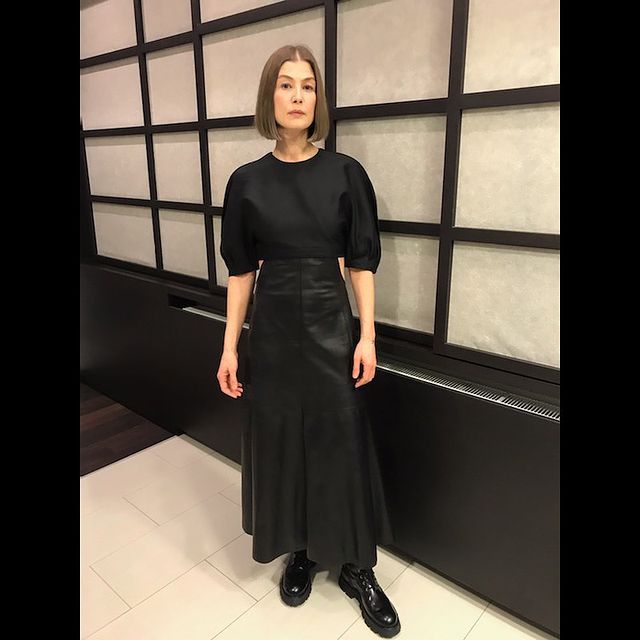 Rosamund Pike and Robie Uniacke's Relationship
The couple has been together since 2009. They met while attending a party. 
They dated for three years before getting their first-born son, Solo Uniacke, in 2012. Rosamund happened to be pregnant while working in the movie Jack Reacher. 
In 2014, the family welcomed another child, Atom Uniacke. 
In 2014, the actress said to Telegraph about her partner Uniacke, "I have a very clever partner who's got a very astute mind and is very well-read and articulate and ruthless about how something I do might play out on screen. I tend to identify with a character and imagine more on the page than there is. He's quite good at putting a check on that."
In 2015, Pike told to Vanity Fair that she loved it when her partner took him to a party at Stonehenge since it showed his sense of adventure. 
The couple also loves traveling, and this was seen in 2015 when they went to China together to promote the movie Gone Girl.
They were given Chinese names, with the actress being referred to as Péi Chúnhuá.
She requested that it be her name while in China instead of having her English name translated into the language. Robie Uniacke taught his two kids how to speak Mandarin. 
The mathematician is also fluent in Chinese, which further shows their love for the language and culture. 
(Rumor: Apparently just decided to learn and only (?) speak Chinese with their sons so they just communicate in Chinese without Rosamund???)
She also revealed he was a feminist by saying, "And it's a thing I prize highly and appreciate daily. Someone who's self-confident enough and secure enough to deal with this crazy… It is crazy how our life is. Just the constant shifting. The fact we keep any form of routine is quite remarkable, really."
The couple has not yet tied the knot, but they have a Georgian townhouse in London.
Apart from the mentioned details, the actress does not like to talk about her family or have pictures taken.
This has not prevented the media from uncovering a lot about Uniacke. Pike and Uniacke are trying to keep their relationship low profile but from time to time they got caught by the paparazzi.
The last time the two of them were spotted together in public was in April of 2022 while on vacation in Venice. Daily Mail published pictures of Rosamund Pike and Robie Uniacke enjoying a gondola ride.
I'm aware that many find their relationship a bit odd. People don't get what she sees in him.
He is much older than she is, he was charged for embezzling funds from his company. but the two of them have two sons together and the images from Venice show the two of them are still in love.
Another odd thing about their relationship is that Rosamund once said: "I don't need my boyfriend, Robie Uniacke".
It seems like the "separation" is the key to their successful relationship.
"I do think separation is key to a relationship. I go out with my partner and we are put next to each other – there's a feeling of, 'What, you don't think we can't operate without each other?' I don't need him as a crutch. Of course, he's the person I want to go home with but he's not necessarily the person I want to sit next to. I'd rather meet someone new, and he would too." – Rosamund added.