The couple first met when Mann was auditioning for the movie, The Cable Guy. It premiered in 1996. Apatow confessed to Elle that he was in love when he set his eyes on his future wife.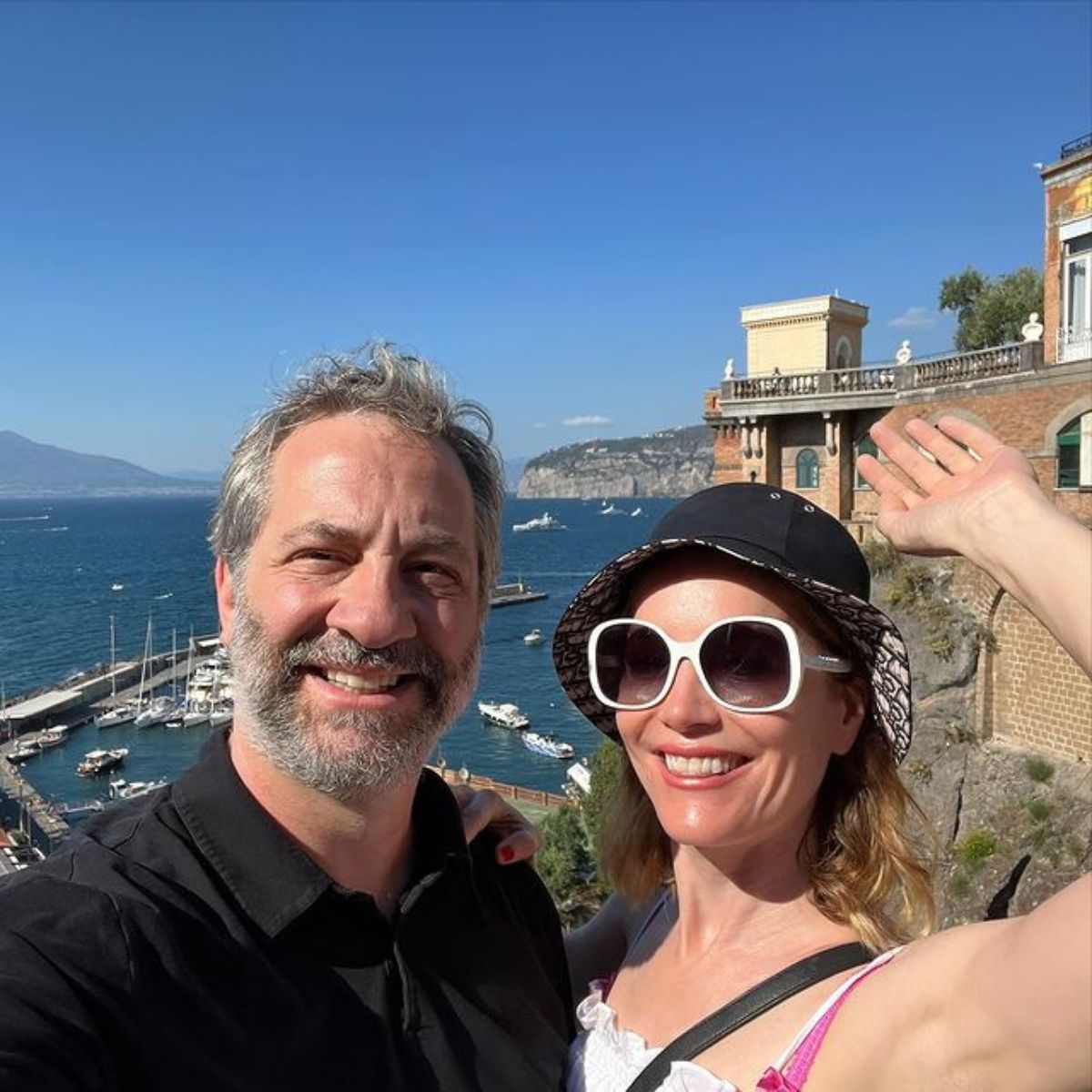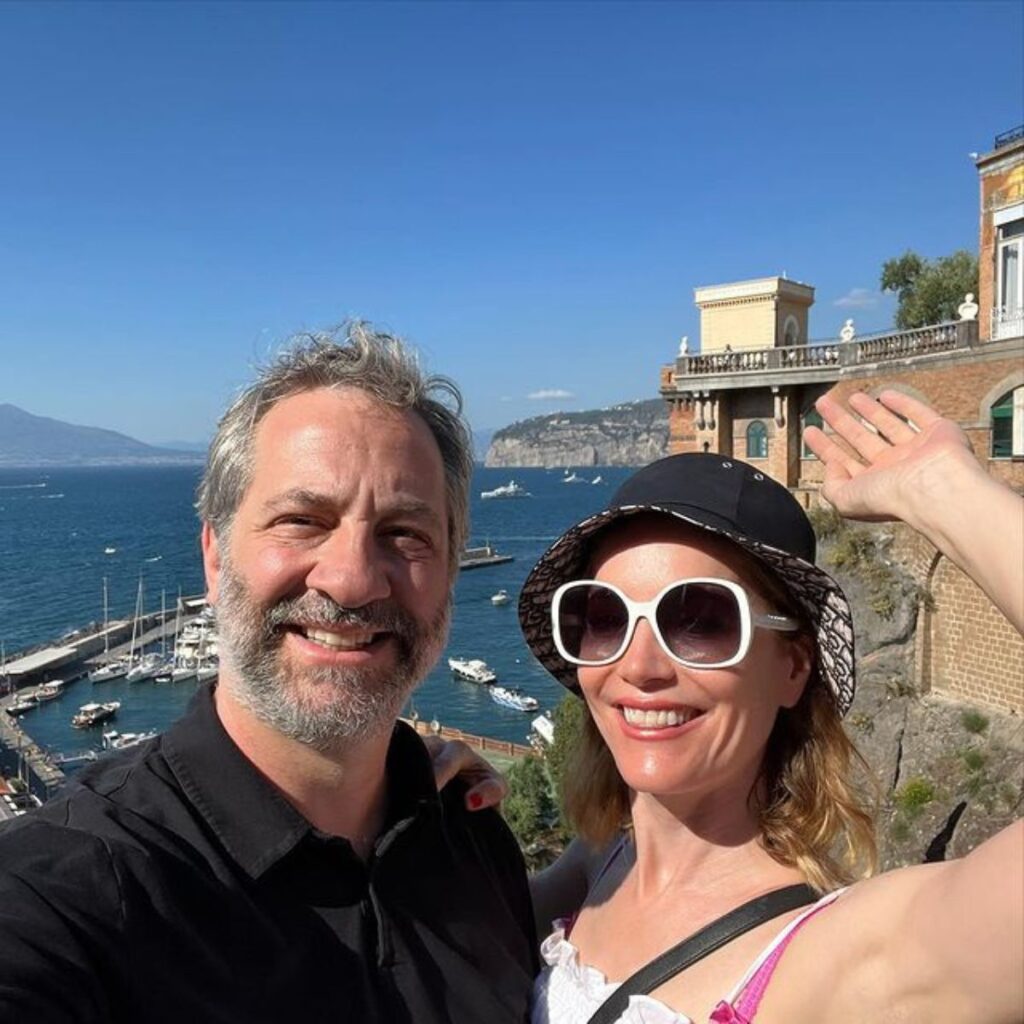 The actress at first preferred the film director, Ben Stiller, but she gave Judd a chance after realizing he may be a nice person.
She said, "On the way to [a] basketball game, I was like, 'Oh!' It hit me. My previous boyfriend was really mean. And I thought, [Judd's] nice. This is the type of person I should be with." They made out after the game. Even though her feelings were not immediate, she fell in love fast. She said, "I think the morning after — oops! I slept over … I remember driving home feeling so happy and like … I felt like I was already in love."
The couple would get married in Los Angeles, California.
December 1997
The couple's first child, Maude, was born.
October 2002
The couple added another child, Iris.
June 2007
Apatow directs the movie Knocked Up, which stars his wife and daughters.
December 2012
Iris, Maude, and Leslie act in This is 40, a movie produced, written, and directed by Judd. The movie was a sequel to knocked Up.
June 2017
The couple celebrated their 20th anniversary with Apatow uploading a cute picture of their wedding on Instagram. He wrote, "Today is the 20th anniversary of my marriage to the brilliant, hilarious, amazing Leslie Mann, the greatest thing that has ever happened to me."
June 2018
While being interviewed by Us Weekly, Leslie confessed that the family is quite open since they can approach each other for beauty advice. The mother stated, "I ask their opinions, and they ask mine; Iris doesn't really care what I have to say, Maude does a little more than Iris, and then I care what both of them have to say. That's how it works!"
August 2019
The younger daughter reacted to her mom criticizing her makeup in her Instagram account. She wrote, "Under eye concealer too light," she noted, and summed up by saying, "[Kisses], mom." The daughter replied, "A text would have been nice."
November 2019
After the couple was in the spotlight for a confrontation outside the Katsuya Restaurant in L.A, the producer stated that it was important to let things out. This was during an interview with The View. He said, "We engage [in fights], and I think that's why our relationship is healthy," he went on, "then you get a call, like, 'What do you say? We saw you guys [fighting].' I was, like, 'Really? Have you been married? Do you know what marriage is?'"
January 2020
During the DGA Awards, the producer stated how he and the actress maintain an interesting marriage despite being together for 22 years. "You have to get very inventive because you've gone through all the good gifts and activity concepts," the producer told Us Weekly exclusively. "At some point, you're like white water rafting or getting mariachi bands because nothing's off-limits."
June 2020
Judd gave fans a peek of his life during lockdown with his family as Maude said that he was the worst adjusted member. The actress revealed to rolling stone, "Oh, my gosh, the first three weeks of lockdown, you were losing it. But now you're doing a lot better. I think we've all settled in." Judd said that he felt he should take a two-hour walk each morning just to 'level him out.' He said it took him a while to know what he should do next to boost his morale.
March 2021
Apatow uploaded a picture in dedication to his wife's birthday, stating that he loves her a lot. He wrote, "Happy Birthday Leslie!!! I love you. I would write more, but I feel like it would water down the impact of the "I love you." If there is a lot of wordage around it, it could get lost, and people would forget I even said it, but if that is all I say, it has way more impact. Because what more is there to say but that?" He went on to say, "I could go on and on with specific praise about this or that, but I have done that on previous birthdays, and I feel like everyone does that, and then I sound like I am copying John Legend or J Lo. So, let's keep it tight. I love you. That's it. Just that. It's enough. No one has ever meant it more. Not Legend. Not J Lo. Not Kelsey Grammar. None of them. I love you."
October 2022
Leslie Mann and Jude Apatow are still going strong. Together they attended Academy Museum Gala and Leslie called it "date night" for her and her husband.
They Have Been Together For Long
The couple has been married for more than 25 years. In 2017, while celebrating their 20th anniversary, Apatow posted a black-and-white picture of their wedding day on social media and the caption stated, "Today is the 20th anniversary of my marriage to the brilliant, hilarious, amazing Leslie Mann. The greatest thing that has ever happened to me." He went on post a message for his wife during the Ellen DeGeneres Show. While on the velvet couch, he read from a teleprompter saying, "Leslie, it's me, Judd. Or as I call myself, Judd the stud. You're the freak to my geek, the 40-year-old to my virgin, and you're the best mother in the world."
Mann is not usually active on social media compared to her spouse, but she posts a few sweet pictures with him. In 2019, she wished him a happy birthday on Instagram, stating, "Happy birthday Judd! We love you."
They go Through Difficulties
The couple is also open about the difficulties of having a long-term marriage. After a report emerged that they were seen fighting outside a restaurant, Apatow went to The View and revealed, "I have fought in every restaurant in Los Angeles: McDonald's, In-N-Out Burger, Nobu — you name it." He said arguments are part of a healthy marriage. He also said that they watch Super Soul Sunday when things seem difficult. He said, "We learn things and then we try to apply them, and then by the end of the week, we've forgotten everything we saw and we watch a new one."