Napoleon Dynamite (2004), with its eccentric characters, dry humor, and distinctive style, has become a cult classic, resonating with audiences who appreciate its unique charm.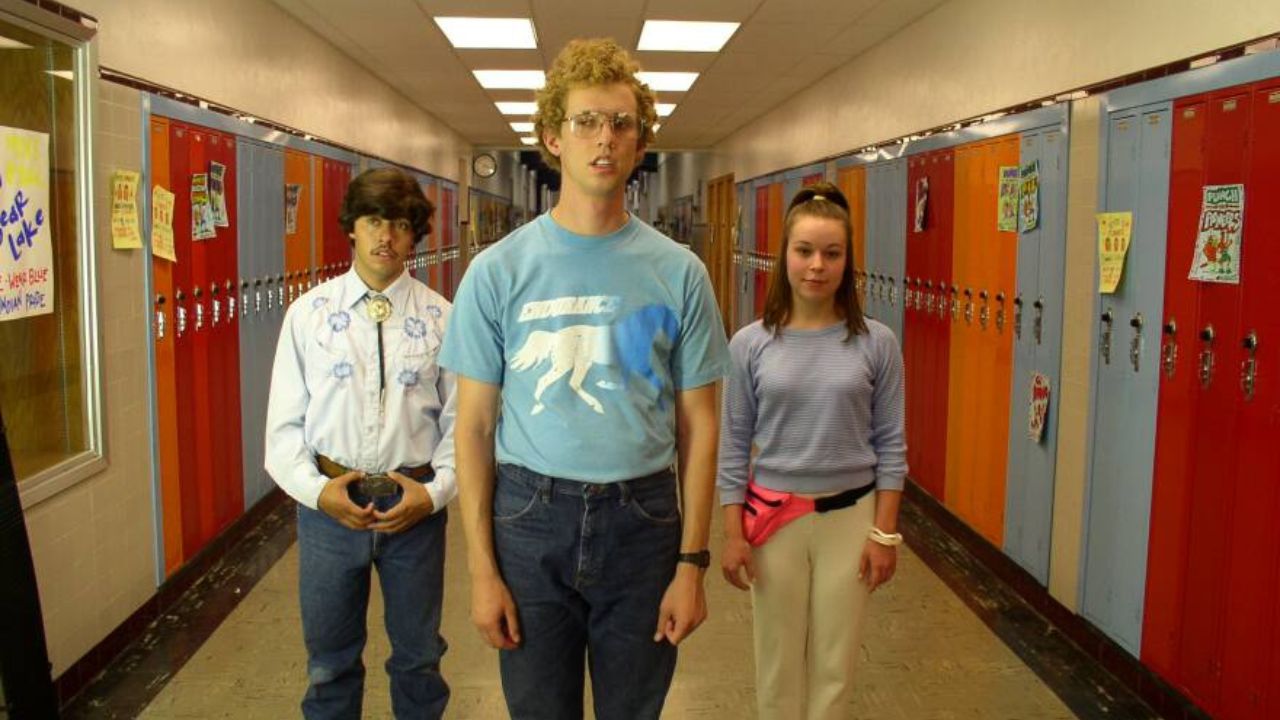 If you enjoyed Napoleon Dynamite and are looking for similar quirky, offbeat comedies with a unique sense of humor, here are some movies you might like.
Juno (2007)
Directed by Jason Reitman and written by Diablo Cody, Juno is a smart, witty, and heartwarming coming-of-age dramedy that tells the story of Juno MacGuff (played by Ellen Page), a sharp-tongued, pregnant teenager.
After discovering her unplanned pregnancy, Juno decides to give her baby up for adoption and carefully selects the adoptive parents, Vanessa (Jennifer Garner) and Mark Loring (Jason Bateman). Throughout the film, Juno navigates the complexities of relationships, family dynamics, and the challenges of teenage pregnancy with her unique blend of sarcasm and wit.
The movie also features a memorable supporting cast, including J.K. Simmons as Juno's supportive father and Allison Janney as her loving stepmother. Juno's quirky humor, strong characters, and realistic portrayal of life's messy moments make it an excellent choice for fans of Napoleon Dynamite.
Nacho Libre (2006)
Directed by Jared Hess, who also directed Napoleon Dynamite, Nacho Libre is a quirky, offbeat comedy that combines Hess's distinct humor with the colorful world of Mexican wrestling, known as Lucha Libre. The film stars Jack Black as Ignacio, a cook at a Mexican orphanage who dreams of becoming a professional wrestler to provide a better life for the children in his care. Adopting the alter ego of "Nacho Libre," Ignacio secretly enters the world of Lucha Libre, despite having no wrestling experience.
Throughout the film, Ignacio forms an unlikely partnership with a wiry street urchin named Esqueleto (Héctor Jiménez) and together, they embark on a series of comedic misadventures in their quest for wrestling stardom. Along the way, Ignacio's affections for the beautiful nun, Sister Encarnación (Ana de la Reguera), add a touch of romance and further motivation for his endeavors.
Nacho Libre features slapstick humor, whimsical characters, and an eccentric storyline that will appeal to fans of Napoleon Dynamite. The film's unique blend of comedy and heart is underscored by its vibrant, visually engaging setting and Jack Black's over-the-top yet endearing performance as the lovable underdog.
Gentlemen Broncos (2009)
One more movie Directed by Jared Hess. Gentlemen Broncos is another quirky, offbeat comedy that revolves around the world of amateur science fiction writing. The film follows Benjamin Purvis (Michael Angarano), a homeschooled teenager and aspiring writer who attends a writing camp and submits his story, "Yeast Lords," to a competition. When the camp's guest speaker, the washed-up and narcissistic sci-fi author Ronald Chevalier (Jemaine Clement), steals Benjamin's manuscript and publishes it under his own name, a bizarre battle for creative control ensues.
Gentlemen Broncos showcases Hess's signature blend of oddball humor, unconventional characters, and striking visuals. The film presents a series of fantastical, campy sequences as it juxtaposes the different versions of Benjamin's and Chevalier's "Yeast Lords" stories, featuring Sam Rockwell in a dual role as the story's hero, Bronco/Brutus. The movie also explores themes of self-discovery, friendship, and embracing one's unique talents, as Benjamin finds support in his new friends, Tabatha (Halley Feiffer) and Lonnie (Héctor Jiménez).
Drop Dead Gorgeous (1999)
With its dark humor, offbeat charm, and biting commentary on the obsession with beauty and success, Drop Dead Gorgeous offers a unique comedic experience that fans of Napoleon Dynamite might appreciate.
Directed by Michael Patrick Jann, Drop Dead Gorgeous is a dark comedy mockumentary that delves into the bizarre and cutthroat world of small-town beauty pageants. Set in Mount Rose, Minnesota, the film follows the teenage contestants competing in the Sarah Rose Cosmetics Mount Rose American Teen Princess Pageant.
The primary focus is on the rivalry between Amber Atkins (Kirsten Dunst), a sweet and ambitious girl who dreams of leaving her trailer park life behind, and Rebecca Leeman (Denise Richards), the wealthy and manipulative daughter of the pageant's organizer, Gladys Leeman (Kirstie Alley).
See: Jesse Plemons And Wife Kirsten Dunst: A Timeline of Their Relationship
As the competition unfolds, a series of suspicious accidents and disasters befall the contestants, leading Amber and others to suspect that someone is sabotaging the pageant. The film employs a mockumentary style, with characters speaking directly to the camera, providing a satirical look at the beauty pageant culture and the lengths people will go to win.
Drop Dead Gorgeous boasts a talented ensemble cast, including Ellen Barkin, Allison Janney, and Brittany Murphy, who bring life to the film's quirky, eccentric characters.
Bottle Rocket (1996)
Directed by Wes Anderson in his feature-length debut, Bottle Rocket is an offbeat, character-driven comedy that showcases Anderson's unique visual style and penchant for eccentric storytelling. Co-written by Anderson and Owen Wilson, the film revolves around a group of young, aimless friends who decide to embark on a poorly planned and ill-advised life of crime.
More: The Story Behind Owen Wilson's Nose
The film stars Owen Wilson as Dignan, an enthusiastic but clueless dreamer who persuades his friends, Anthony (Luke Wilson) and Bob (Robert Musgrave), to join him in a series of heists. The trio's criminal exploits are marked by comical ineptitude, and their loyalty and friendship are tested as they navigate their newfound outlaw lifestyle. Along the way, Anthony falls in love with a motel maid, Inez (Lumi Cavazos), adding a layer of romance and emotional depth to the story.
Bottle Rocket's quirky humor, distinctive characters, and engaging plot make it a noteworthy entry in the offbeat comedy genre. The film's exploration of personal ambition, friendship, and the pursuit of happiness will resonate with fans of Napoleon Dynamite, as well as those who appreciate Wes Anderson's unmistakable style and approach to storytelling.
Garden State (2004)
Garden State's offbeat humor, memorable characters, and tender exploration of love and self-acceptance make it a captivating experience for fans of Napoleon Dynamite and similar quirky comedies. The film's heartfelt moments, combined with its unique visual style and an iconic indie soundtrack featuring artists like The Shins and Iron & Wine, create a memorable and engaging cinematic journey that resonates with viewers.
Written and directed by Zach Braff, who also stars in the lead role, Garden State is a romantic dramedy that combines quirky humor with an introspective look at self-discovery and personal growth. The film tells the story of Andrew Largeman (Braff), a struggling actor who returns to his New Jersey hometown for his mother's funeral after a decade-long absence.
Plagued by emotional numbness due to years of overmedication prescribed by his psychiatrist father (Ian Holm), Andrew stops taking his medication and begins to reconnect with his past, including childhood friends and estranged family members. Along the way, he meets Sam (Natalie Portman), an eccentric and vibrant woman who helps him see the beauty in life's imperfections and embrace the unpredictability of his own existence.
The Castle (1997)
The Castle's humor, endearing characters, and exploration of themes like family, perseverance, and the meaning of home make it a delightful watch for fans of Napoleon Dynamite and other quirky comedies. The film's heartwarming message and celebration of the underdog spirit have made it a beloved classic in Australian cinema.
Directed by Rob Sitch, The Castle is an Australian comedy that celebrates the quirks and eccentricities of a working-class family as they face an unexpected challenge. Set in the Melbourne suburb of Coolaroo, the film revolves around the Kerrigan family, who take great pride in their humble home despite its proximity to the airport and industrial facilities. The patriarch, Darryl Kerrigan (Michael Caton), is a tow truck driver and loving father who constantly reminds his family of the importance of appreciating the "serenity" of their home and surroundings.
Their peaceful existence is threatened when the government decides to expand the airport, forcing the Kerrigans and their neighbors to sell their homes. Unwilling to give up the house he cherishes, Darryl decides to fight the eviction and enlists the help of an inexperienced lawyer, Dennis Denuto (Tiriel Mora), to take on the case. The film follows the Kerrigans' legal battle and the unwavering determination of Darryl to protect his family's home and way of life.
Little Miss Sunshine (2006)
Directed by Jonathan Dayton and Valerie Faris, Little Miss Sunshine is a heartwarming and poignant comedy-drama that follows a dysfunctional family on a road trip as they strive to support their daughter's dream of participating in a beauty pageant.
The film's ensemble cast includes Greg Kinnear as the father, Richard, a struggling motivational speaker; Toni Collette as the mother, Sheryl, who tries to keep the family together; Abigail Breslin as their daughter, Olive, an aspiring beauty queen; Paul Dano as the teenage son, Dwayne, a Nietzsche-reading, voluntarily mute aspiring pilot; Alan Arkin as the foul-mouthed, drug-using grandfather; and Steve Carell as Frank, Sheryl's suicidal brother and a gay scholar of Proust.
Together, they embark on a journey from New Mexico to California in their old, unreliable Volkswagen bus to get Olive to the Little Miss Sunshine pageant. As they face various challenges and setbacks, the family is forced to confront their individual issues and insecurities, ultimately growing closer and gaining a newfound understanding of one another.
Little Miss Sunshine's quirky humor, complex characters, and touching exploration of family dynamics make it an excellent choice for fans of Napoleon Dynamite and similar offbeat comedies. The film balances laugh-out-loud moments with raw emotion, creating a memorable and relatable story that captures the ups and downs of life and the importance of perseverance and unity in the face of adversity.
Rushmore (1998)
Directed by Wes Anderson and co-written with Owen Wilson, Rushmore is a quirky, offbeat comedy-drama that showcases Anderson's distinctive visual style and unique storytelling. The film follows the story of Max Fischer (Jason Schwartzman), a precocious and eccentric 15-year-old student at the prestigious Rushmore Academy. Max is involved in numerous extracurricular activities but neglects his academics, resulting in poor grades and the threat of expulsion.
Max's life becomes more complicated when he forms an unlikely friendship with a disillusioned, wealthy industrialist named Herman Blume (Bill Murray) and both fall in love with the same woman, the lovely and widowed elementary school teacher Rosemary Cross (Olivia Williams). As Max and Herman compete for Rosemary's affections, they engage in a series of comical and absurd schemes to outdo one another.
Rushmore's witty humor, idiosyncratic characters, and engaging plot make it a standout entry in the offbeat comedy genre. The film's exploration of friendship, unrequited love, and the pursuit of happiness, along with its memorable performances by Schwartzman and Murray, will resonate with fans of Napoleon Dynamite and those who appreciate Wes Anderson's unmistakable style and approach to storytelling.