"Napoleon Dynamite" is one of those insightful movies where viewers can get a different perspective on certain things.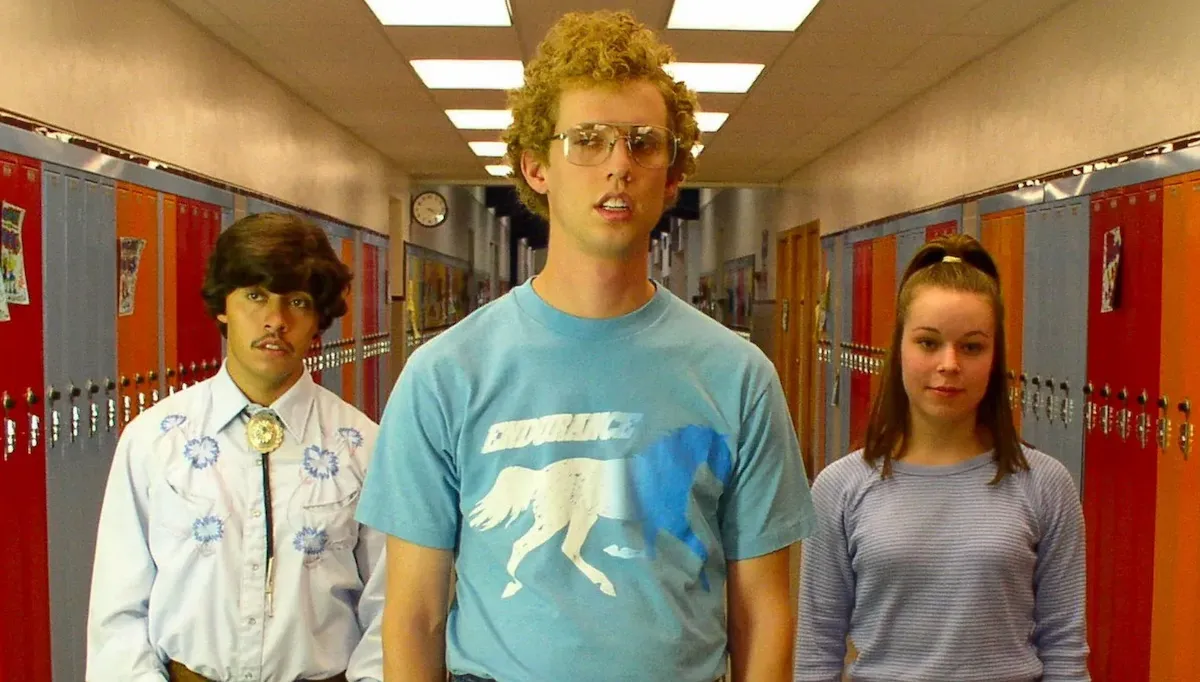 In this instance, we are given both intimate and funny insight into what's it like living in the small town of Idaho.
This indie comedy was filmed in 2004 and although it's a bit "cringe", it is an interesting success story and it gained lots of unexpected attention once it was released.
Jared Hess, the writer and director of the movie, managed to create this captivating film on a really tight budget.
Thanks to the fascinating and unusual characters and the cumbersome one-liners, "Napoleon Dynamite" has left its footprint in pop culture history.
The leading actor in the comedy is the American actor Jon Heder. Although Napoleon Dynamite is his largest success, he also appeared in "Just Like Heaven", "The Benchwarmers", "Blades of Glory", "When in Rome", and "Mama's Boy".
He also played Roy Disney in the "Walt Before Mickey" movie. Jon did some voice work gigs for animated films such as "Monster House", "Surf Up", "Pinocchio", and the animated series based on the "Napoleon Dynamite" movie that goes by the same name.
Jon Heder played the title character on whom the entire project was based and on who the success of the movie depended. Fortunately, his performance of Napoleon Dynamite was brilliantly portrayed.
Heder and Jared Hess attended Brigham Young University together and that's where they came up with the movie idea.
They meticulously developed the character with some inspiration from Seth from "Peluca" (a short film from 2001 where Heder also starred in).
The two achieved great success with the character development since it became a national phenomenon only a couple of years later.
RECOMMENDED

Rush Hour 4: Everything We Know So Far
His role as Napoleon Dynamite is what initially launched his career as a successful actor. He managed to land numerous roles after the movie since many producers were "wooed" by his performance.
This turned out to be a huge deal considering how much money he made from playing Napoleon. If you thought Jon earned hundreds of thousands of dollars – you're wrong. Here is the shocking amount he was paid for the role.
Like we previously mentioned, Napoleon Dynamite didn't have a huge budget, to begin with. Hess made just enough money to be able to cover all the expenses – somewhere around $400,000 (According to Box Office Mojo).
When you make a movie with such little money invested, you are going to have to make some sacrifices – even if it sacrificing the paychecks of the individuals closest to the project.
Jon Heder shockingly received only $1,000 to star in Napoleon Dynamite. Nowadays, it's a bit of a mystery of where this figure was originally reported but we do know that Heder has confirmed it. In an
interview with Stuff, he was asked if the claims of being paid $1,000 to play Napoleon were true. "Yep, but that was the initial amount. After the movie became successful in theatres across the US, I was able to renegotiate for a percentage of the profits."
Although the exact amount of his final earnings still remains unknown, it's pretty clear he made a lot more considering that the movie grossed over $46 million. His next project, "Just Like Heaven", had a $58 million budget. Even though Heder only landed a smaller role in the movie, there's no doubt he was well-compensated.