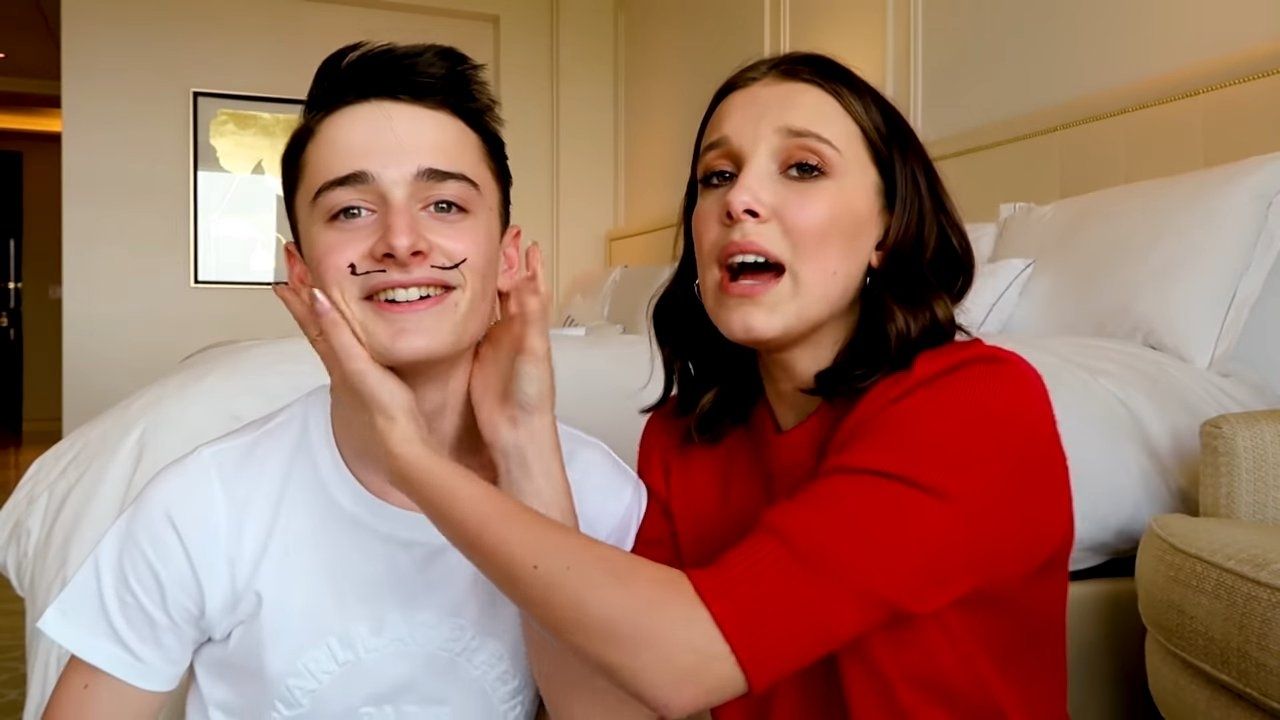 It is not a secret that a few Stranger Things cast members have had a crush on their co-star Millie Bobby Brown. 
The 17-year-old actress Millie Bobby Brown portrays Eleven in Netflix's popular sci-fi drama called "Stranger Things".
Stranger Things fans have had several opportunities to witness how charismatic and charming Millie Bobby Brown is both on-set and off-set.
However, is Millie really dating someone from the Stranger Things cast?
Millie Bobby Brown and Noah Schnapp – friendship or more?
Brown and Schnapp have met on the set for Netflix's supernatural show Stranger Things in 2016 and they immediately hit it off as friends.
Noah and Millie have been best friends off-set since then.
RECOMMENDED

Stranger Things: The Best Season According to Reddit (Ranked)
The two have been all over each other's social media posts and stories since they spend a lot of time together.
However, to the fans' disappointment, the two have spoken publicly about these rumors and said there's nothing more than a good friendship happening between them.
Eleven and Mike
After seeing the romance blossom between Eleven and Mike Wheeler in Stranger Things, the fans were very quick to "ship" these two together off-set as well.
It seems that their co-star from Stranger Things, Noah Schnapp, also ships these two together.
There have been a couple of instances on social media platforms (especially Instagram) where Noah tagged both Millie and Finn Wolfhard (Mike Wheeler) in romantic posts about relationships.
One of these comments was especially interesting to their fans – Noah tagged these two under a photo that said "Tag two people who wish to hook up".
Despite all the little jokes and tagging that have been going on among these three friends, the rumors are not true, and here's why.
Mike Wheeler is already taken
Wolfhard, a close friend, and co-star of Millie Bobby Brown cannot be dating her.
Finn is already dating someone!
It seems Wolfhard's heart has been stolen by a young actress Elsie Richter.
READ MORE

Is Millie Bobby Brown fully deaf?
Millie Bobby Brown's real dating life
The 17-year-old actress Millie Bobby Brown is not that private about her dating life, so her fans already know who she was dating in the past and who she is dating at any moment.
The first known Millie's relationship was back in 2017, with a singer Jacob Sartorius.
The then-14-year-old Millie and Jacob had been dating for a few months before suddenly splitting up without explanation.
Millie was seen with some other popular guys later and there were rumors that she was dating Joseph Robinson and Romeo Beckham.
Both of these relationships were denied by Millie.
Who is Millie Bobby Brown's new boyfriend?
Millie Bobby Brown has officially confirmed that she is in a committed relationship with the 19-year-old Jake Bongiovi.
Jake Bongiovi is the famous rockstar Jon Bon Jovi's son.
Millie and Jake confirmed their romance in November 2021, even though they have been seen together in public since June the same year.
They have shared a sweet moment on social media, where they were enjoying a sunset together. The couple was also seen in restaurants, cafes, and attending football games together.
In conclusion, we can safely say that Millie is dating neither Noah Schnapp nor Finn Wolfhard. Sorry, Stranger Things fandom!