Dylan Sprouse and Barbara Palvin have been one of Hollywood's most-followed couples for quite some time now.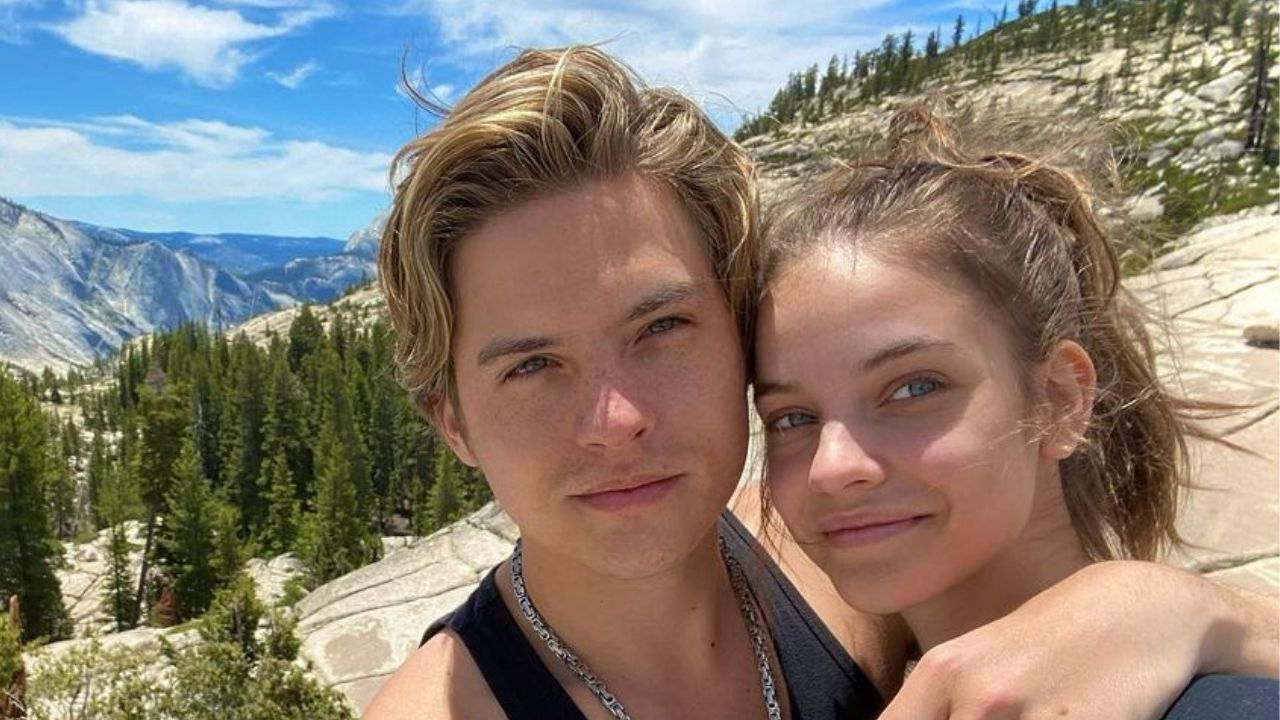 These two love birds started dating somewhere in 2018 and remain inseparable for almost four years now.
So what exactly have they been up to in these past four years? Let's check their relationship timeline for additional information.
2018 – The Year it All Started
Barbara and Dylan first met through Instagram actually. They followed each other for some time until Dylan decided to 'slide into her DMs'.
While Barbara didn't answer at first (for the first six months in fact), she eventually came around and the two struck up a conversation.
After chatting for a while, Barbara decided to pay Dylan a visit in China while he was filming a movie in the summer of 2018.
By then, the relationship had already struck, but they decided not to make it public yet. However, first rumours already emerged in August 2018 when they were seen travelling around Budapest together.
Dylan described this journey as a 'way to pick up some Hungarian'. This mattered to him immensely since he wanted to make a good impression on Barbara's parents.
READ: Nicole Scherzinger Dating History: Talan Torriero, Lewis Hamilton, Grigor Dimitrov, Thom Evans
2019 – The Relationship Became Serious
In February 2019, the relationship officially became serious once Dylan introduced Barbara to his twin brother – Cole Sprouse.
She explained that they haven't had the chance to meet earlier due to his 'busy schedule'.
By the time March came around, Palvin was officially declared a Victoria's Secret Angel. Dylan was immensely proud and he even commented on her Instagram saying, "Here's to the people who wanted to drag her down, cheers!"
On June 16th, they celebrated their one-year anniversary. It was evident that the relationship had become serious when Dylan posted a photo saying, "I won't be very sappy about this, but I want to say that my life is much better now."
At the same time, Barbara posted a tribute of the anniversary as well and said, "Happy anniversary dear, I love you".
2020 – Things just seem to be Getting Better
Aside from celebrating their second-year anniversary, the two started taking up different hobbies together due to the Covid-19 pandemic.
In a Vogue interview, Barbara said that the two of them have even 'created their own language'.
"This is pretty embarrassing, but Dylan and I have actually created our own silly language. It's kind of like baby talk and it's very embarrassing. Sometimes, we can't even make sense of what we are talking about, it's just baby talk".
Amidst the pandemic, the couple decided to launch a creative project together where they filmed some of their notable adventures.
This series was officially launched on Instagram and it was called 'Breaking Ground'. There were around 26 episodes and it aired until March 2, 2021.
RECOMMENDED

How many boyfriends did Taylor Swift have?
2021 – No Signs of Stopping
In 2021, things pretty much stayed the same in their relationship and the attention they were getting became bigger and bigger.
The couple celebrated their three-year anniversary, with both of them posting pictures on Instagram once again.
Barbara captioned her photo by writing, "3 years baby! I love you."
In October, Dylan wrote a special message for Barbara's birthday saying, "Each passing year, you grow better and better. I can't wait to see what the new chapter of our life together will be. I won't overdo it with the mushy stuff, I'll save it for when I see you after the filming'.
2022 – Barbara Palvin and Dylan Sprouse in the music video
In July 2022, two of them appeared in Buzzi's video together.
As we can see, things are perfect in paradise when it comes to the relationship of Dylan and Barbara.