After Season 6 of the Netflix show, Lucifer is officially over, unless you were living under a rock you couldn't miss this dangerously handsome and multipotential individual called Tom Ellis and the fact that all of a sudden everyone is talking about him.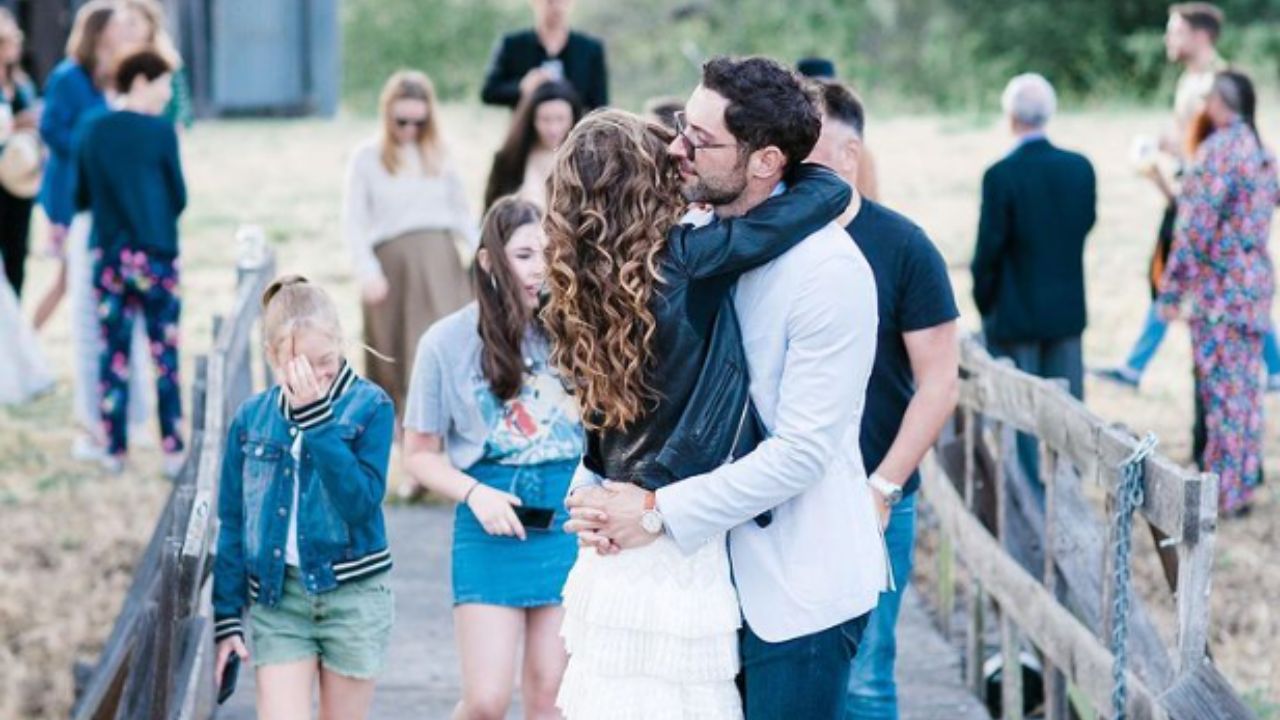 One of the first facts googled about Tom Ellis, after and during the show, was – Tom Ellis' wife.
I guess we all secretly wanted to find out if there is someone special in his life, and if yes, who is this person who managed to capture the heart of a seducer like him.
Is Tom Ellis Married?
Yes, he is happily married.
Tom Ellis has found his other half and her name is Meaghan Oppenheimer.
She is not a stranger to showbiz herself, in fact, she is a screenwriter and actress.
Meaghan and Tom tied the knot on June 1st, 2019, after previously dating for 4 years.
This was the second marriage for Tom, who was previously married to a former co-star Tamzin Outhwaite for nine years and has two daughters with her – Marnie and Florence.
They divorced after Tom admitted being involved in a one-night-stand with a coworker and the couple tried to save their relationship for years after but failed.
From his previous relationship, Tom also has a teenage daughter Nora, who made an appearance in Lucifer season 6 as his and Chloe's half human-half angel child.
Who is Meaghan Oppenheimer?
Meaghan, who was born Meaghan Reed on 28 March 1986, is a screenwriter and actress originally from Tulsa, Oklahoma.
She was originally a child actress, appearing in the pilot for the Disney series Even Stevens, although made her last credited screen appearance in 2012's Love Finder: The Virals, focusing on her writing since then.
Her credits include the Fear The Walking Dead episode Not Fade Away, as well as penning the screenplay for the 2015 movie We Are Your Friends, starring Zac Efron.
Her most successful project, the Facebook Watch comedy series Queen America, features Catherine Zeta-Jones as a pageant coach hired to train a rising talent.
Oppenheimer is the creator and executive producer of the show.
The Reed Jules Oppenheimer Foundation
Besides being a devoted mom and recognized for her professional achievements, she is also a charitable and noble person.
She and her siblings run a non-profit organization called The Reed Jules Oppenheimer Foundation.
They founded it in 2012 as a successor to their previous family charity organization.
The organization supports poverty alleviation initiatives within the United States, and in other countries around the world such as India, Kenya, Mexico, Tanzania, and Uganda.
Tom and Meaghan even exchanged their wedding gifts for charity donations, where they asked the guests to, instead of buying them presents, simply donate the money to their foundation and help someone get a better future.
Today, Meaghan is a proud stepmom of Tom's daughters from previous marriages and she enjoys her role.
On one of her Instagram posts, she wrote: "I adore my little weird family" capturing a family photo of Tom, their daughters and herself.
They are currently living in LA, and as the sources say their marriage is pretty stable and flourishing.