While Ryan Reynolds is now a household name, thanks to Deadpool and his high-profile marriages to Scarlett Johansson and Blake Lively, there was a time when he was the lesser-known half of a very unexpected power couple.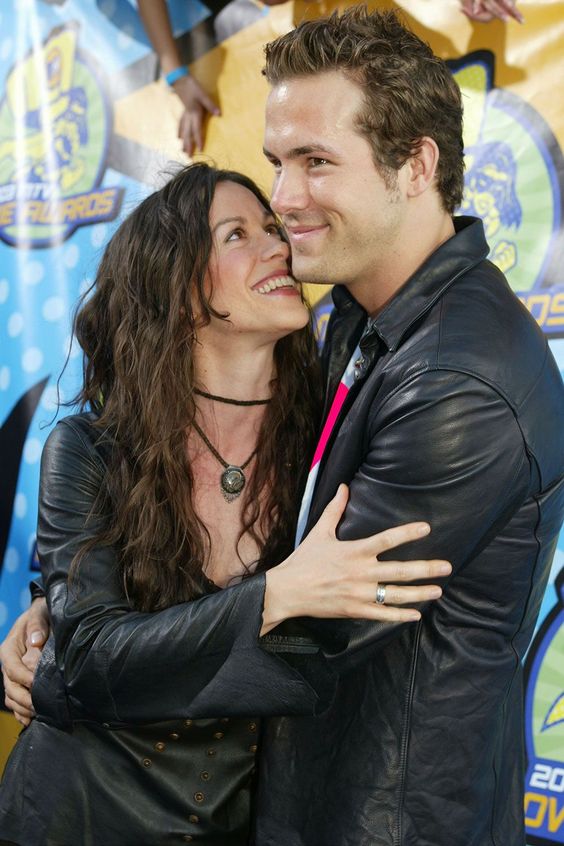 That's right, folks – we're talking about his years-long relationship and engagement to none other than the queen of angsty pop, Alanis Morissette!
How They Met
As fate would have it, the two Canadian celebrities crossed paths at Drew Barrymore's birthday party. Sparks flew instantly, and they soon started dating.
At the time, their relationship turned quite a few heads, given Alanis's superstar status compared to Ryan's then up-and-coming career. However, the couple seemed to be head over heels in love, and their romance blossomed.
The Rollercoaster Romance: A Timeline of Ryan and Alanis's Relationship
During first two years, Ryan and Alanis's relationship went from strength to strength. They were often spotted on romantic dates, attending events together, and generally enjoying each other's company. Their love story captivated the media, and they were frequently featured in gossip columns and magazines.
In 2003, Alanis released her album "So-Called Chaos," and many fans speculated that some of the songs were inspired by her blossoming relationship with Ryan. The couple openly discussed their love for one another in interviews, with Alanis praising Ryan's humor and intelligence, while Ryan gushed about Alanis's talent and beauty.
While both their careers continued to thrive, Ryan and Alanis made sure to prioritize their relationship, creating a strong bond that would eventually lead to their engagement. The couple's candid and honest approach to discussing their relationship endeared them to fans, who couldn't get enough of this seemingly perfect match.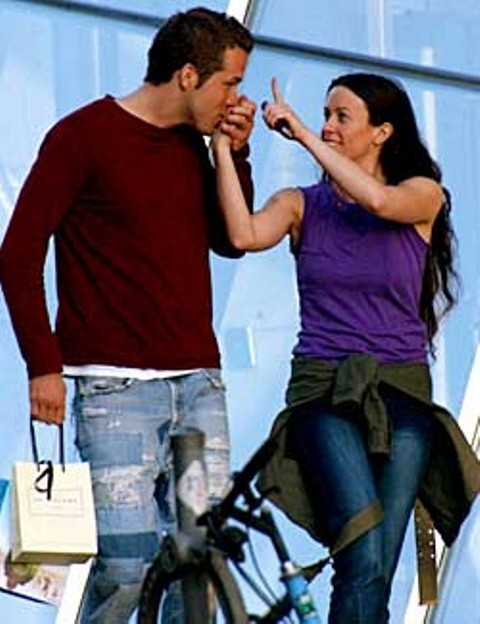 In June 2004, after nearly two years of dating, Ryan Reynolds decided to take their relationship to the next level and proposed to Alanis Morissette. The engagement took the entertainment world by storm, as fans and the media were thrilled to see the couple's love story progress.
More: Billy Bob Thornton Wives: Meet the Acting Legend's 6 Spouses
Ryan's romantic proposal was a testament to their deep connection, and it seemed like the couple was on cloud nine. They were frequently spotted wearing their matching engagement rings, further solidifying their status as one of Hollywood's power couples at the time. The lovebirds appeared to be inseparable, and their engagement was met with an outpouring of support and excitement from friends, family, and fans alike.
However, it wasn't all sunshine and rainbows for the engaged couple. As they navigated the highs and lows of their relationship, rumors and gossip about the state of their romance began to circulate. Both Ryan and Alanis faced career changes and personal growth during this time, which added more complexity to their relationship.
Despite these challenges, the couple remained steadfast in their love and commitment to each other. They continued to attend events together, often hand-in-hand and shared tidbits of their life together in interviews.
Their Breakup
In February 2007, the unexpected happened: Ryan Reynolds and Alanis Morissette announced the end of their engagement and relationship. The news came as a shock to their fans and the public, as the couple had always appeared to be deeply in love.
Their representatives released a joint statement saying, "Ryan Reynolds and Alanis Morissette have mutually decided to end their engagement. They remain close friends and continue to have the utmost love and admiration for each other. They ask that their privacy be respected surrounding this personal matter."
The split was reportedly amicable, with no drama or scandal involved. Both Ryan and Alanis focused on their careers and personal lives following the breakup. It marked the end of an era for the once inseparable duo, leaving fans to wonder what could have been had they made it down the aisle.
The song Alanis Morissette Wrote about Ryan Reynolds
Alanis Morissette poured her heart out in her 2008 album "Flavors of Entanglement," with several songs inspired by her breakup with Ryan Reynolds. The song "Torch" stands out as it directly addresses her feelings of loss and heartache following the end of their relationship. In an interview with AccessOnline, Alanis opened up about the song and her emotions, saying, "Yeah, it's really about my grief."
She went on to explain how acknowledging her pain helped her move forward, stating, "I think the most painful, sort of suffering-oriented moments in my life [are] when I'm resisting something… If I just say, 'It's true. I'm unbelievably insecure, really broken, devastated,' then I can move through it, toward the next place. But if I keep resisting it, I'll stay there forever." Through "Torch" and other songs on the album, Alanis channeled her pain into her music, creating a powerful and emotional expression of her experience during that difficult time.
Post-breakup
Following their split, both Ryan Reynolds and Alanis Morissette moved on and found love in other relationships. Ryan began dating actress Scarlett Johansson, and the two were married in September 2008.
However, their marriage didn't last, and they divorced in 2011. Ryan then found love with his "Green Lantern" co-star, Blake Lively, and the couple tied the knot in 2012. They now have three children together and continue to be one of Hollywood's favorite couples.
As for Alanis, she focused on her music career and released the album "Flavors of Entanglement" in 2008, which was said to be inspired by her relationship and breakup with Ryan. In 2010, she met rapper Souleye (Mario Treadway), and the two got married in May of that year. They now have three children as well and maintain a low-key, private life away from the spotlight.
While Ryan and Alanis have moved on to different paths in their lives, their relationship remains an intriguing and surprising chapter in Hollywood history. Though they didn't ultimately end up together, they both seem to have found happiness and success in their own ways, proving that sometimes, things happen for a reason.