Diving Into the Drama of Penelope and Eloise's Friendship in Bridgerton Season 3.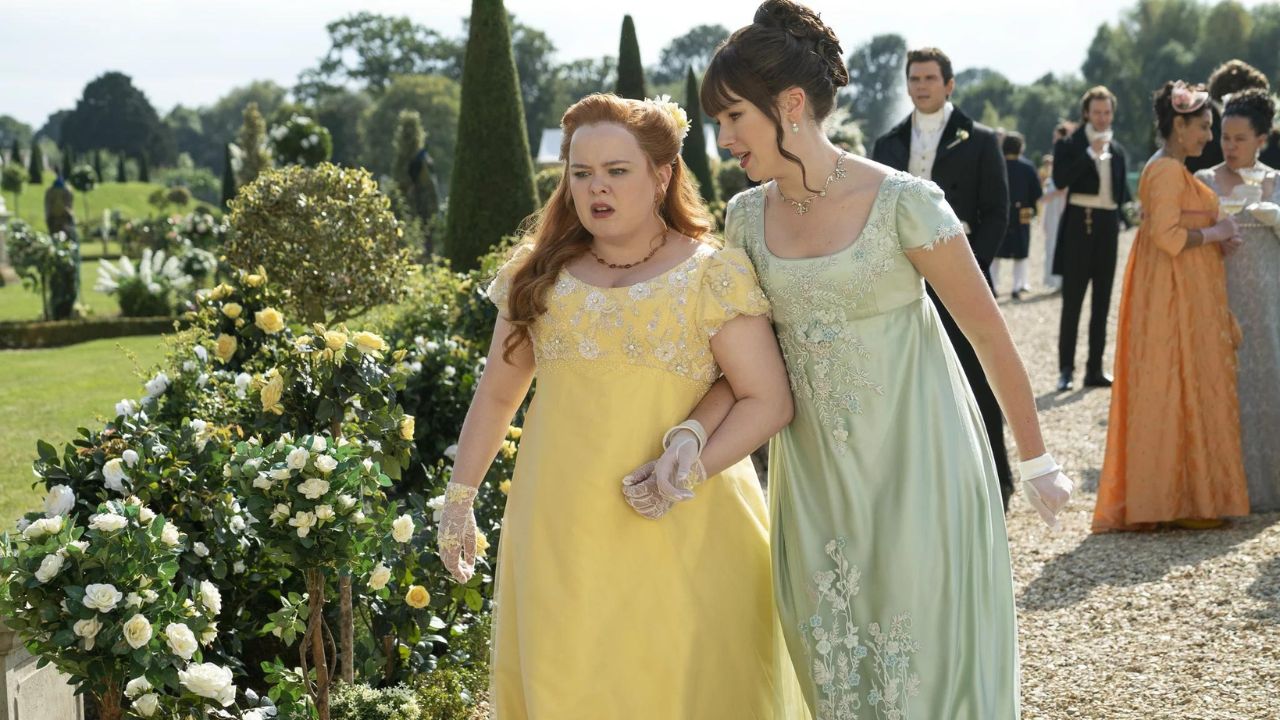 Have you been wondering what's up with Penelope Featherington and Eloise Bridgerton in the upcoming "Bridgerton" season 3? Well, so have we! These two besties have gone through some serious drama in the last season.
Remember when Eloise discovered that her best friend Penelope was secretly writing all that gossip as Lady Whistledown? Yeah, that was a big blow. After all those years of tight friendship, the girls are not as tight anymore.
And the Netflix hit series' new season, which is coming out later this year, promises to bring more changes for these two. Let's dive into what we know so far and what fans think about this whole situation.
MORE: Jonathan Bailey Is Returning Back To Bridgerton Season 3
Team Penelope or Team Eloise? Fans Weigh In On Their Complex Friendship
Season 2 really threw us a curveball when it revealed that Penelope Featherington, our dear sweet Pen, was the mastermind behind the gossip-filled Lady Whistledown pamphlets.
Eloise, Penelope's best friend, was left in shock, and let's be real, their friendship hasn't been the same since. The anticipated Season 3 promises more shake-ups, and fans are split on whose side to take.
There are quite a few who sympathize with Penelope. One fan took to Reddit and posted, "It's hard to judge Penelope. All her relationships, at least to a level, feel one-sided. Eloise has a caring mother and siblings, they might be different, but she has a lot of care and love around her. Penelope doesn't have the same luxury, she's overlooked by her family and in general society. Eloise has a choice but doesn't want to marry, Pen doesn't have the same opportunity… I don't agree with everything she does and writes, but I get her need to express her creativity and be passionate."
READ: Behind the Scenes Bridgerton Drama: Cast Members Unfollow Official Accounts and Each Other
Another fan jumped in, adding, "I agree in the sense that Eloise is single because she chooses to be and indeed has options if she desired to have them but Penelope is single because she is Penelope and overlooked and underappreciated by the society she lives in and the family she has. Eloise assumes Penelope hates all the same things she does and Penelope goes along with it because she has no other options to change that even if she herself would choose society if they would just choose her. It's very different to say you don't like something when it's your choice vs saying you don't like it when you are just protecting yourself from rejection."
A woman I know personally even chimed in on this debate, saying, "As a plus size girl I think Eloise looked at Penelope as below her. I had friends like Eloise all my life who looked at me as a joke and when I started doing good for myself they eventually stopped being my friend because I was their equal. I wasn't just someone who made them look better."
SEE: All Bridgerton Couples Ranked by Fans
Eloise vs Penelope: Privilege and Scandals
The thing about this whole Eloise-Penelope relationship is that it's not really a level playing field. And that's where a lot of the friction comes from.
Eloise is part of the Bridgerton family, a well-respected and wealthy clan that has managed to bounce back from scandal after scandal.
Sure, she faces the societal expectations and limitations of being a woman in the Regency era, but compared to other women during that time, she's sitting pretty. If she decides she doesn't want to marry, she'll be fine. Her family has the means to support her.
Penelope, on the other hand, doesn't have that luxury. The Featheringtons, her family, are a whole different story. They're barely holding it together. Every scandal hits them hard, and it's clear they don't have the same resources as the Bridgertons to recover.
When you consider their friendship in this context, you can see how Eloise might not be the great friend she thinks she is. When she's obsessing over Lady Whistledown, she disregards Penelope and her thoughts, often blaming Pen when things don't pan out. And the whole time, she's completely oblivious to Penelope's feelings for Colin and the fact that Pen is Lady Whistledown.
As for Penelope, she's far from perfect. She uses her position as Lady Whistledown to carry out personal vendettas, which isn't cool. But when you think about her reasons, you might see why she does it.
Her actions are born out of a place of love for Colin and a desire to protect him from a dishonest life. She also has to protect her own identity when Eloise keeps meddling in her business. Eloise's actions inadvertently put Penelope's secret at risk.
When it comes to the role of Lady Whistledown, Eloise's actions have made her an unsuspecting accomplice. Lady Whistledown, aka Penelope, has been using her gossip column for personal vendettas, with Eloise being one of her latest targets.
One could argue that Eloise has brought this on herself due to her obsession with uncovering Lady Whistledown's identity and her general lack of awareness about Penelope's struggles and feelings.
Sure, Penelope isn't always fair in what she writes, but it's hard to ignore the desperate need to express herself and have a part of her life that's just for her.
Eloise, with all her privileges, might find this hard to understand. This complex dynamic in their friendship certainly adds a layer of depth to their characters and gives us much to think about in the upcoming season.
Looking Ahead: What Season 4 Might Bring
As we gear up for Season 3 of Bridgerton, there's a lot to unpack, especially concerning the dynamic duo, Eloise and Penelope. Given their fractured friendship and the introduction of Eloise's new companion in the upcoming season, it's safe to say that things are going to get even more interesting.
The show's creators have already teased us with the fact that Eloise's love story could potentially be the focus of Bridgerton Season 4. Sir Phillip Crane, played by Chris Fulton, has been hinted at as a possible love interest for Eloise. This is particularly juicy because, as you may remember, Sir Phillip is married to Marina, Penelope's cousin.
In the books that the series is based on, Marina is a cousin of the Bridgertons, and after her death, Eloise starts writing to Phillip. But, we all know that Bridgerton, the TV series, isn't a word-for-word adaptation of the books. So, Marina's fate is still up in the air.
That being said, Eloise's actions and developments in Season 3 will likely shape the storyline for the fourth installment. Depending on what she gets up to, it could very well pave the way for the Season 4 plot to focus on the novel "To Sir Phillip, With Love."
In short, there's a whole lot of intrigue in store for us, as the friendships, secrets, and scandals of the Bridgerton world continue to unfold. Here's to waiting for more revelations, confrontations, and hopefully, resolutions in the upcoming seasons.