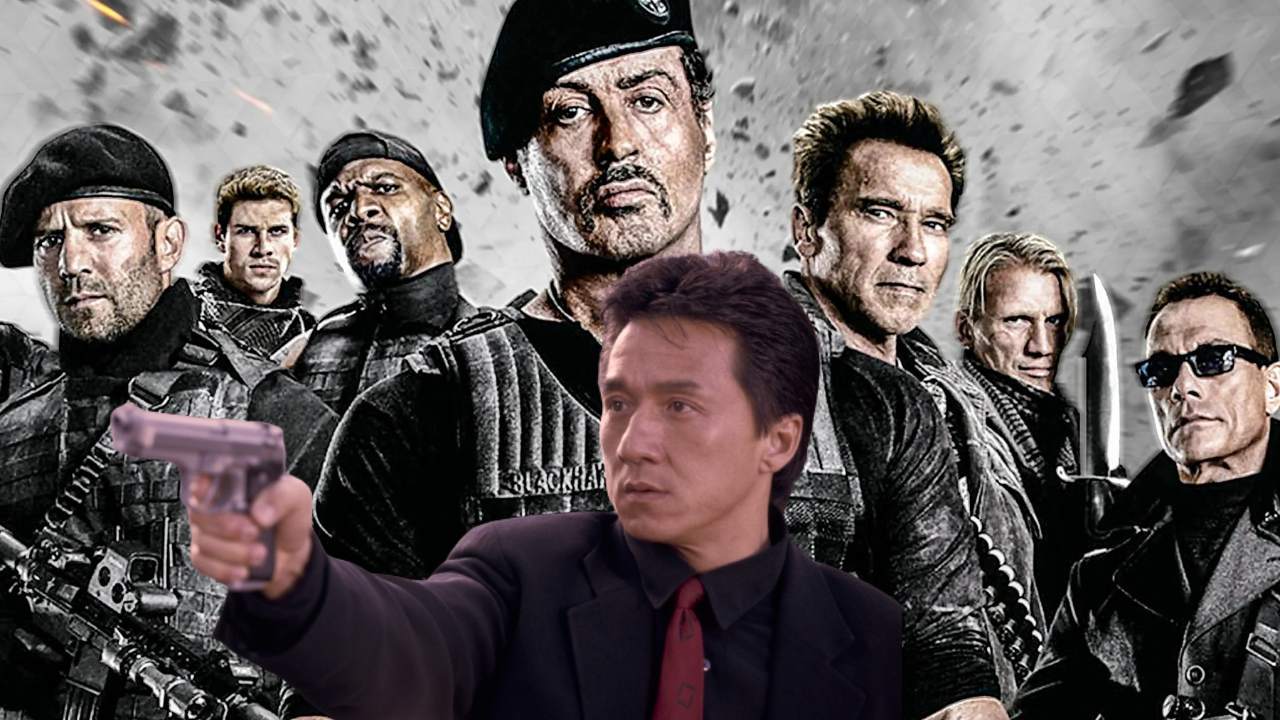 In the action-packed arena of Hollywood, few names resonate as loudly as Jackie Chan and Sylvester Stallone. Both legends in their own right, they have carved indelible marks in the hearts of action aficionados.
The mere mention of a collaboration sends ripples of excitement among fans. Stallone's "The Expendables" franchise, a home to many action heroes, seemed like the perfect ground for such a team-up.
However, despite the allure of star-studded ensemble casts, Chan's vision of a focused duo with Stallone carried a different charm, offering a fresh narrative potential and a spotlight on their shared camaraderie and unmatched action prowess.
The Expendables Ensemble and Jackie Chan's Absence
The Expendables franchise, orchestrated by Sylvester Stallone, brought together a medley of action stars, creating a powerhouse ensemble that sent fans to a nostalgia-induced frenzy.
The narrative was simple yet compelling, uniting old foes and friends in a battle against a common adversary. Among the glittering roster, names like Arnold Schwarzenegger, Jason Statham, and Jet Li shone brightly.
But, one name, Jackie Chan, remained conspicuously absent despite being a coveted addition. Stallone reached out to Chan multiple times, eyeing to rope him into this explosive action fiesta, but the latter graciously declined, harboring a different vision of cinematic collaboration.
Why Jackie Chan Never Joined Stallone's Expendables?
Jackie Chan's hesitation towards joining the bustling roster of "The Expendables" lay in his desire for a meaningful screen presence alongside Sylvester Stallone.
He envisioned a camaraderie that went beyond a brief cameo, as he candidly expressed to Stallone, "Sly, can't we just do you and me? Not just a bunch of people and me only coming out for five minutes.' Because then the audience is, 'Oh!' And then I'm gone."
What a Stallone-Chan Collaboration Could Have Looked Like
A Stallone-Chan collaboration could have brought a unique blend of action and camaraderie to the screen. Their contrasting action styles—Stallone's brute strength versus Chan's agile martial arts—could have created visually enthralling fight sequences.
Moreover, their on-screen interaction, filled with mutual respect and humor, would likely have added a rich narrative layer. The duo could have explored a fresh storyline, perhaps as comrades or friendly rivals, bringing a new flavor to the action genre.
Expend4bles Debuts with a Slow Start
The latest entry in the saga, Expend4bles, stumbled out of the gate with a disheartening $8.3 million opening weekend against its towering $100 million budget, painting a grim financial picture for Lionsgate with a potential loss of $150 million.
Critics didn't pull any punches, panning everything from the CGI to the acting. The nine-year hiatus since the third installment, coupled with an underwhelming cast and fierce competition from other films, seemingly diluted the audience's interest.
Despite adding new faces like 50 Cent and Megan Fox, the charm of the original ensemble cast, including the potential addition of Jackie Chan, is sorely missed, impacting not only the film's narrative but its box office appeal as well.