Fan Reactions Mixed as Bridgerton Season 3 Shines the Spotlight on Colin and Penelope.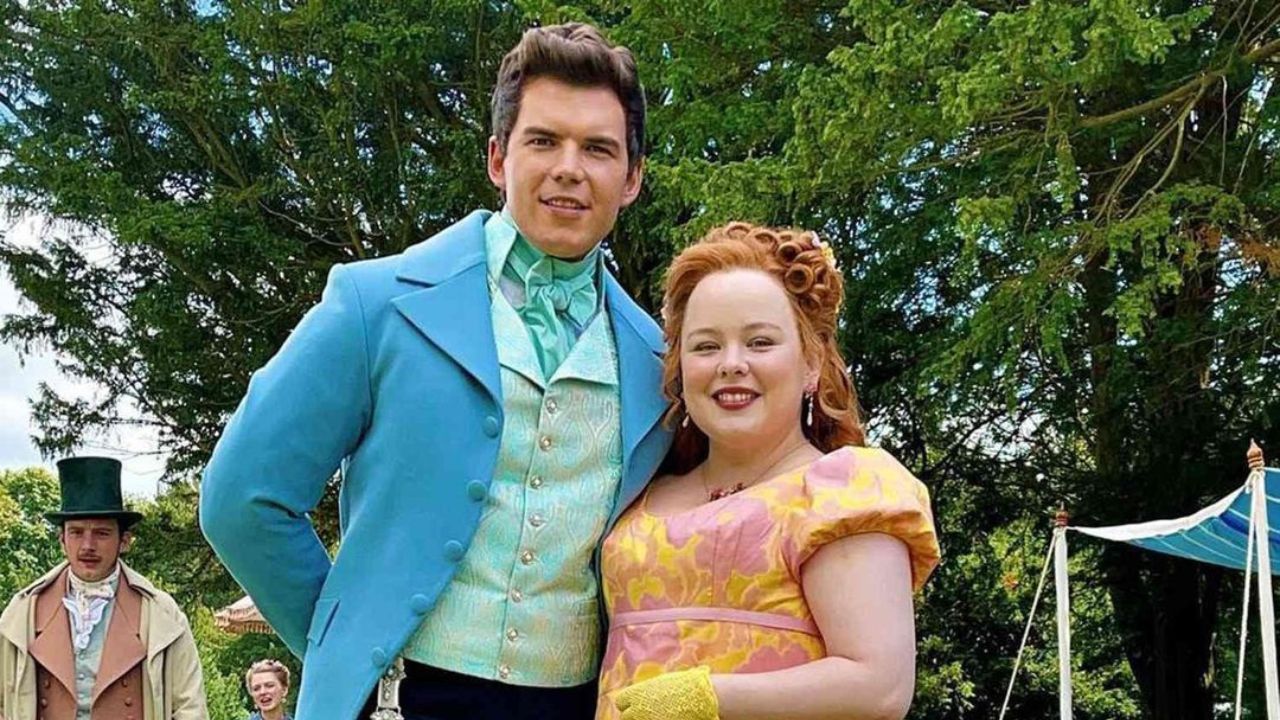 If you're a fan of the sensational Netflix series Bridgerton, you're probably already familiar with "Polin"—the moniker fans have bestowed on the love story between Penelope Featherington (Nicola Coughlan) and Colin Bridgerton (Luke Newton). The highly anticipated Season 3 of this much-loved Regency series has set the stage for Polin to take center stage, a move that has left the Bridgerton fandom divided.
READ MORE: Bridgerton Fans Ignite Debate Over Anthony and George's Heartthrob Status
Back in May 2022, Coughlan hinted that Netflix might focus on Colin and Penelope's relationship for Season 3, a tease now confirmed by the streaming giant. While some fans are thrilled to see their favorite couple take the lead, others are less than pleased. Why? Because Bridgerton is throwing a curveball that deviates from its source material, the best-selling Julia Quinn book series.
Quinn's third Bridgerton novel, "An Offer from a Gentleman," is about the romantic journey of Benedict Bridgerton and Sophie Beckett—yet to be explored in the series. The story of Colin and Penelope, on the other hand, unfolds in the fourth book, "Romancing Mister Bridgerton." Until now, the series had faithfully followed the book sequence, with Seasons 1 and 2 mirroring the first two books. It's no surprise, then, that this shift has taken fans by surprise.
SEE: Behind the Scenes Bridgerton Drama: Cast Members Unfollow Official Accounts and Each Other
Change in adaptations is always a risk, and fans, renowned for their fervor and attachment to source material, are notoriously skeptical of any deviation. However, sometimes those alterations serve the narrative better. In this case, it appears that the time has come for Colin and Penelope to confess their feelings for each other, with Benedict perhaps needing a touch more character development before Miss Beckett's arrival.
As for what's in store this season, Netflix offers an intriguing official synopsis: Penelope, finally over her long-held crush on Colin, is on a husband hunt. However, her low self-esteem and her secretive alter-ego as Lady Whistledown make this task a daunting one.
RELATED: Shonda Rhimes: 'Queen Charlotte' Season 2 Might Happen
Meanwhile, Colin, sporting a new look and charisma after his travels, is keen on winning back Penelope's friendship. He offers to coach her in the ways of confidence, but as his teachings take root, he must confront his own feelings. Amidst this, Penelope's rising prominence in society and a burgeoning friendship between Eloise Bridgerton (Claudia Jessie) and a mystery character add layers of intrigue.
Yet, this focus on Polin has elicited mixed feelings from fans. One fan expresses disappointment, stating, "Really don't feel like he deserve[s] her… He ridiculed her behind her back, and smiles in her face, but also dismisses her and friendzone[s] her… this was a pair we didn't need, give her to someone else!"
Others, however, can't wait to see this relationship develop on screen. A different fan says, "It's weird that people see no chemistry when he gives her these looks all the time… Same with her. I can't wait."
While some are intrigued by the promise of Polin's blossoming romance, others find the pairing hard to visualize. "I just can't picture these two as a couple," admits another viewer.
As with any beloved series, differences of opinion among fans are to be expected. As we eagerly await the arrival of Bridgerton Season 3, we must remember that the beauty of adaptation lies in its potential to bring fresh, unexpected elements to the table. Whether the shift in focus is met with applause or disapproval, one thing is for sure: the world is watching, and Bridgerton remains a cultural phenomenon.
'Bridgerton' Season 3 will be released in late 2023 or early 2024.