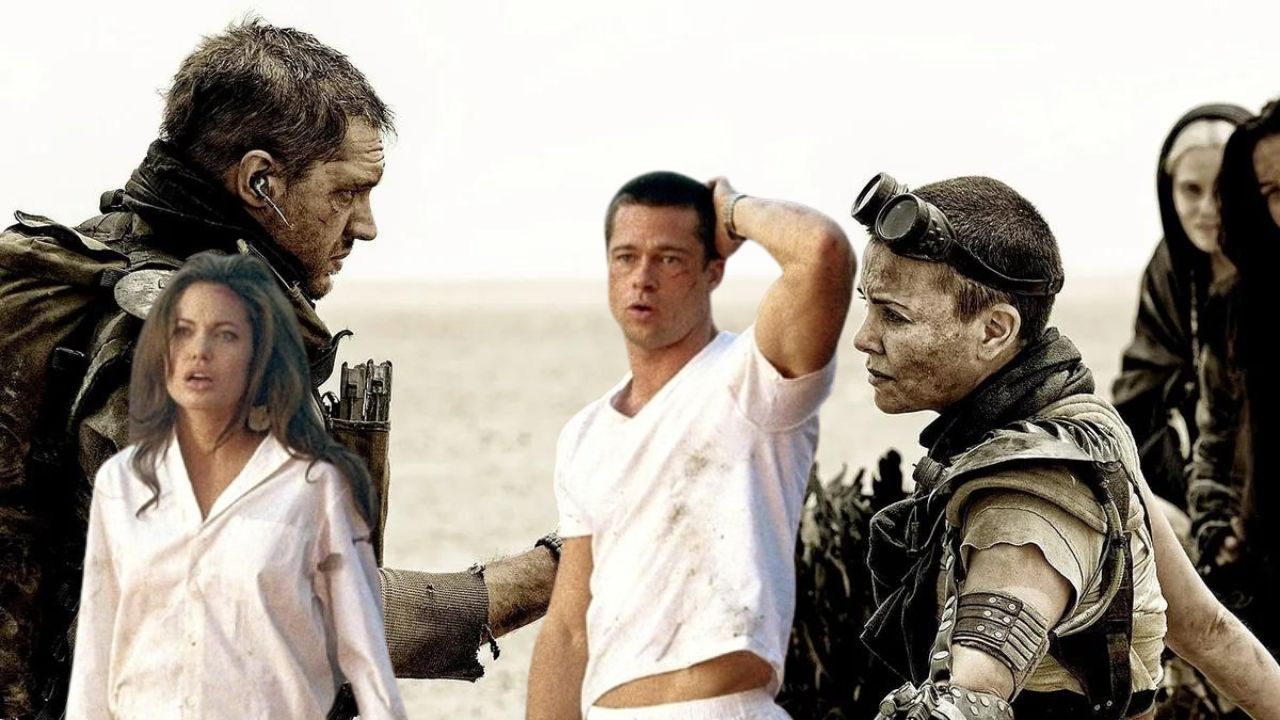 Angelina Jolie and Brad Pitt a former Hollywood power couple, could have added another film to their collaborative roster. Although they've graced the screen together in "Mr. & Mrs. Smith" and "By The Sea," they nearly teamed up for the fourth installment of the Mad Max series, "Mad Max: Fury Road."
While Mel Gibson was the face of Max Rockatansky for the first three films, "Fury Road" saw a shift with Tom Hardy stepping into the role. But, as detailed in Kyle Buchanan's book, "Blood, Sweat & Chrome: The Wild and True Story of Mad Max: Fury Road," there was a moment where director George Miller had other ideas. The book highlights, "George wanted to find somebody else – he was like, 'Mel's getting too old…He was interested in Brad Pitt and one point. And Angelina Jolie at one point!"
Tweeted by Kyle Buchanan, he teased: "Brangelina in MAD MAX: FURY ROAD? Here's a little tease from my mammoth FURY ROAD book, out 2/22, which details how the film almost came together in 2001 with some very different stars considered."
Although this pairing would have been a cinematic spectacle, Miller ultimately chose Hardy and Charlize Theron but tensions flared on the set of "Mad Max: Fury Road" between stars Charlize Theron and Tom Hardy, as detailed in Kyle Buchanan's book, "Blood, Sweat & Chrome: The Wild and True Story of Mad Max: Fury Road."
Theron, portraying Imperator Furiosa, and Hardy, stepping into Mel Gibson's shoes as Max, frequently clashed during the challenging shoot in the Namibian desert. Their tensions peaked one day when Hardy, notorious for tardiness, kept the crew and a patiently waiting Theron (who was also managing her responsibilities as a new mom) waiting for over three hours.
When he finally showed, Theron confronted him, leading to a heated exchange and her subsequent request for on-set protection. Even though producer Denise Di Novi was assigned to assist Theron, she was denied access to the set, making Theron feel isolated.
Many who contributed to Buchanan's book felt that the palpable on-screen tension between the duo might have been a byproduct of their real-life discord. Interestingly, as their characters grew closer in the film, their relationship began to improve. In reflecting on their shared experience, Hardy admitted he could have been a more supportive co-star.
The film, despite the behind-the-scenes drama, was a massive success, bagging six Oscars. While the Mad Max saga continues, the next chapter will focus on Furiosa's backstory, with Anya Taylor-Joy succeeding Theron in the role.
More: Tom Hardy Responded to Charlize Theron's Comment about Being Aggressive: 'I think what Charlize needed was a more experienced partner'