From Dinosaurs to Demigods in Alexandra Daddario's Top-Grossing Films.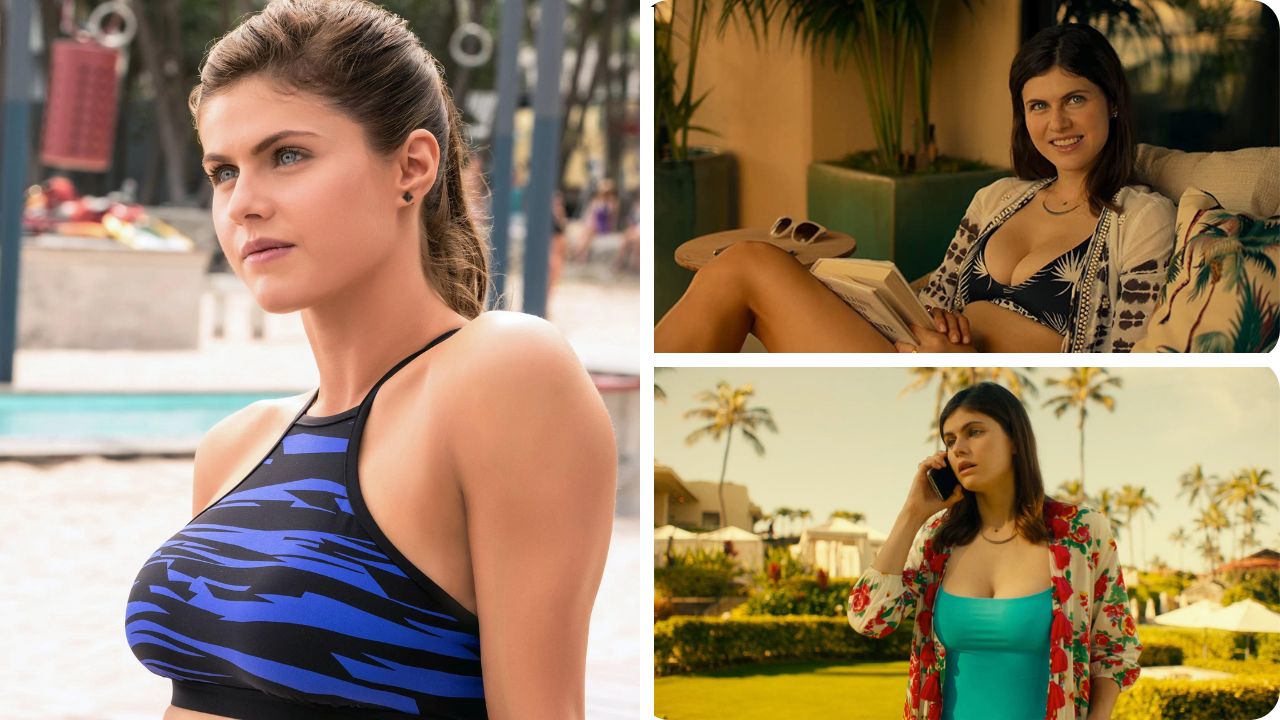 Known for her captivating performances and sky-blue eyes, Daddario has a list of movies under her belt that have made a splash at the box office.
Let's jump into some of her highest grossing films ranked, and who knows, maybe you'll find your next Friday night flick in the mix!
Jurassic World (2015) – $1,670,400,637
Even though Daddario's role in "Jurassic World" was a brief one, this movie stands as the highest grosser in her filmography.
In this mega-hit, a theme park built on the original site of Jurassic Park goes awry when the new and genetically modified dinosaur, Indominus Rex, escapes.
Adjusted for inflation, this blockbuster would rake in a jaw-dropping $1,800,000,000 – that's a lot of dino-sized bucks!
San Andreas (2015) – $474,000,000
Next up is the earthquake disaster film "San Andreas" where Daddario got to share the screen with Dwayne "The Rock" Johnson.
Alexandra played Blake Gaines, the Rock's resourceful daughter, who tries to survive a massive earthquake in California.
This film shook the box office, garnering an impressive $474,000,000 worldwide, which inflates to a sizable $510,000,000 in today's terms.
OTHERS WERE INTERESTED IN:
Alexandra Daddario Reflects on Her True Detective Role and now-infamous nude Scene
Nicolas Cage Reveals Why He Stopped Acting in Hollywood Movies
Every Scarlett Johansson's Movie That Has Grossed Over $100 Million At The Box Office
Percy Jackson & the Olympians: The Lightning Thief (2010) – $226,497,209
Daddario stepped into the shoes of the confident and skilled Annabeth Chase in this adventure film, based on Rick Riordan's best-selling novel.
The movie, which brought Greek mythology to the modern world, saw a young Percy Jackson discovering he's the descendant of a Greek god.
With its worldwide earnings of $226,497,209, the film's gross adjusted for inflation would stand around $265,000,000 today.
Percy Jackson: Sea of Monsters (2013) – $200,859,554
Daddario reprised her role as Annabeth Chase in the sequel to 'The Lightning Thief.' "Percy Jackson: Sea of Monsters" added another $200,859,554 to Daddario's box office tally.
With inflation, the adventurous journey of the demigods would stand at $220,000,000 in the present day.
Baywatch (2017) – $177,856,751
Switching gears from demigods and disasters, Daddario starred in the comedy action film "Baywatch," once again alongside Dwayne "The Rock" Johnson.
As Summer Quinn, Daddario was part of a team of lifeguards solving a criminal plot that threatens the Bay. This beachside adventure earned $177,856,751, or around $190,000,000 with today's inflation.
READ: Baywatch 2: Will There Be a Sequel?
Texas Chainsaw 3D (2013) – $47,241,945
Daddario showed her versatility as an actress by taking on the horror genre in "Texas Chainsaw 3D," where she played the main character, Heather Miller.
Despite the gore and thrills, the film made a respectable $47,241,945 at the box office. That number would look even scarier today at approximately $52,000,000 when adjusted for inflation.