One of the most loved couples in Hollywood is Luke Eisner and his girlfriend, Kirby Johnson.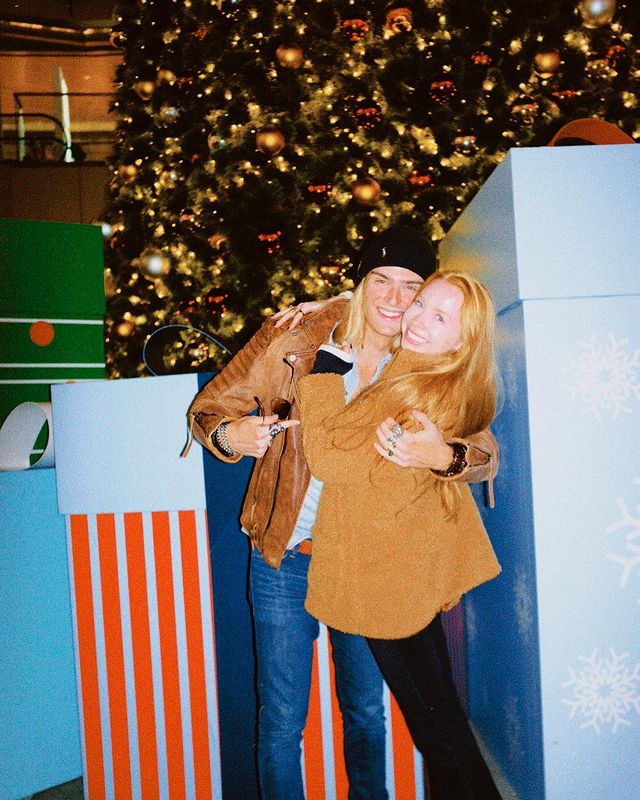 The actor is famous for acting as Stig Mohlin in the 2019 movie Tall Girl and his girlfriend, Kirby Johnson, is renowned for performing as Hannah in The Possession of Hannah Grace. The couple is talented and hardworking.
Besides being an actor, Eisner is a singer, YouTuber, songwriter, and social media personality.
Kirby is also good at various activities, including modeling, gymnastics, dancing, and cartoons.
The couple supports, grows, loves, and surprises each other all the time, and many feel they have a great bond considering they have watched their relationship for more than two years.
How Did They Meet?
According to a post Kirby shared on Instagram, the couple knew each other before they became famous, and she confessed she was relieved when the actor asked her to be his girlfriend since she felt like he friend-zoned her.
Kirby revealed that the couple first met in an apartment while they were in an elevator since they lived next to each other at the time.
She stated she felt nice when the actor smiled while looking at her.
Kirby was the first to break the news regarding their relationship on Twitter on May 14, 2019.  Eisner and Kirby had their first date at Pizza Place. 
The actress hates cheese, and since she did not want her new boyfriend to feel weird, she pretended she was not hungry.
Luke considers the actress one of the best people to be with when stuck in traffic, taking a walk, or waiting in line.
The actress enjoys collecting feathers, and in March 2019, she gifted her boyfriend one of her favorite collections to add to his cowboy hat.
This was her way of showing Luke that he meant a lot to her. The actress once went to The Summerfest to support her boyfriend. 
Many know that Eisner is good at his work, which is seen in his music.
His career as a musician is successful, so he receives invites to perform at various events.
His number one fan is always there to support him, as seen when she attended the 2019 Summerfest backstage.
The couple also attended the New York Fashion Week in 2019, and it is important to note that the couple has a YouTube channel on which they uploaded a vlog of the events behind the scenes.
Are Eisner and Johnson Still Together?
Since the couple started dating, their relationship has only grown stronger. On Valentine's 2022, Eisned sent a powerful love message to Kirby Johnson:
"I miss you even when you are in the other room. My life is a dream and your smile is the anesthesia keeping me in it. Of all the things I've been fortunate enough to do in my life being your boyfriend (and Instagram photographer) takes the cake. Thank you for taking your hours and making them ours. You are so supportive, hilarious, hardworking, and I mean c'mon… drop dead gorgeous. Now I'm going to get off my phone because I believe we have one more episode of H2O just add water to attend to. I love you Kirby! Make sure to follow her on tiktok and our YouTube channel. I know her well enough to know that's the best Valentine's gift she could ever receive ❤️ @kirby_j"
Kirby Johnson yesterday, on 21 December 2022, shared an image of two of them in front of a Christmas tree with the caption "Just your basic holiday couple picture by a Christmas tree 🎄 #tistheseason @lukeeisnerofficial //4:29pm"
They are always seen together on numerous occasions, and since they felt the love coming from many quarters, they felt they should start the Luke and Kirby Diaries, a YouTube channel where they give them a glimpse of their experiences when they are on holiday, working, or pranking each other.
The couple also enjoys playing games with each other and loves to talk about one another in interviews, even if one of them is not around.
An example is in an interview with The Daily Front Row, where the actor stated that even though his girlfriend is beautiful and has red hair, she sometimes acts as a monster whenever they are role-playing.
Even though they have been in a relationship for more than three years, they seem strong, and many wonder when the couple may tie the knot.
The problem is that both of them are at the peak of their career, which may have made it difficult for them to plan for their future since they are focused on their professions.