January Jones became famous after playing Betty Draper, the resourceful housewife in "Mad Men".
Betty was known for being good at keeping secrets, including the one regarding Don Draper's true identity.
Well, this seems to be a common trait between the actress and her character.
Of course, we are talking about the mystery regarding the father of her child. In 2011, January Jones welcomed her son Xander to the world.
The interesting thing in this story is that nobody knows to this day who Xander's real dad is.
She said that it isn't important as she is going to raise him alone. "I want to raise him to be around women. I believe in female energy."
January joked a few times on this topic, giving hints on who the father may be. But why is she so eager to keep it a secret?
Let's check out some of the most popular fan theories.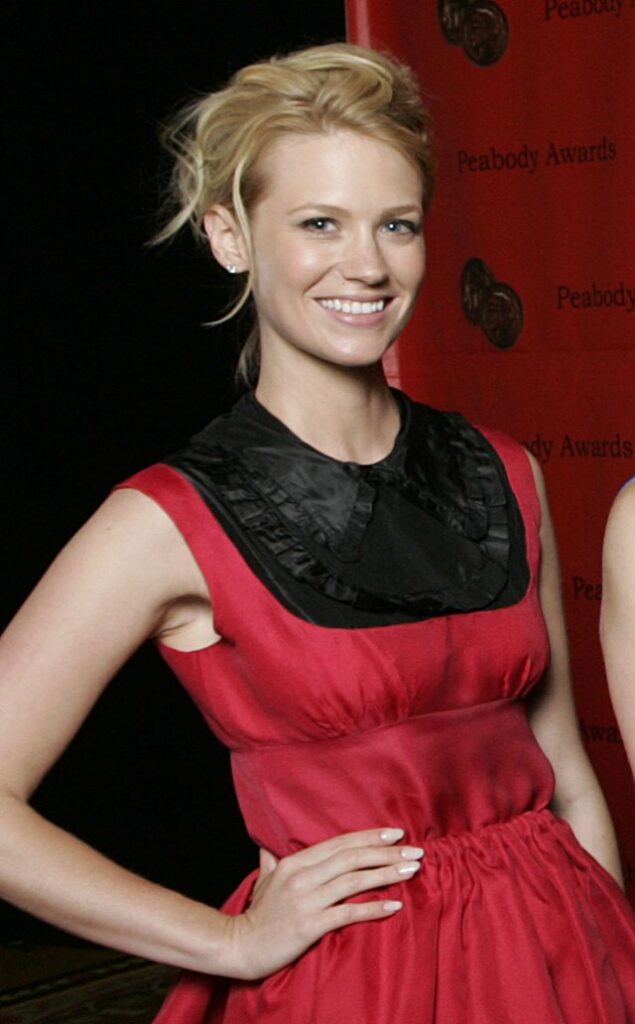 Who is the father of January Jones baby?
Jones starred in X-Men: First Class, a movie that was filmed in 2010.
Her role in the movie hasn't really gotten much praise, leading the fans to wonder exactly how she got the role in the first place.
There were quite a few interesting theories on Reddit that stated that the actress got the role through an affair with Matthew Vaughn, the director.
They also claimed that Xander is the spitting image of him.
The timeline seems to be accurate; however, Matthew seems to be happily married to Claudia Schiffer, a supermodel.
He has denied the affair rumors on multiple occasions.
Our next theory involves the A-list actor and her ex-boyfriend, Ashton Kutcher.
Many believe that these two have been romantically involved once again in 2010 which led to January's pregnancy.
This is nothing more than speculation of course, but it's a theory worth keeping in mind.
The next star in line is the famous singer Josh Groban. Josh has a history with January Jones since the pair dated from 2003 to 2006.
Groban frequently mentions how Jones was his "longest relationship" ever. This remark left the fans a bit confused since they only dated for 3 years.
However, there are those who believe that the two shared a few "wild nights" in 2010 and that Xander is the result of that adventure.
If you found these theories intriguing, you will enjoy this one – Don Draper is the dad. That's right, a lot of fans link January and Jon Hamm together as the likely parents of Xander.
When Jones gave birth, Jon Hamm said, "Xander is such a cutie, I love it when he visits the set." According to different reporters, Don Draper has quite the soft spot for the little one.
Considering Jon and January dated after "Mad Men", this caused all kinds of speculations from the fans.
The latest speculation regarding the baby daddy was caused by January herself.
She made a remark on Dax Shepard's podcast recently where she said that her son looked like Bradley Cooper.
"My son is cute? Of course, he is, he is the Bradley Cooper type! Oh, who knows? He may even be Bradley's!"
Although it's most likely that she was only joking, she triggered fans' imaginations nonetheless.
More than a decade has passed since January gave birth and we are nowhere closer to finding out who the baby daddy is. Will we ever find out? In Hollywood, these kinds of things seem to float out eventually so we are keeping fate.