Hayley Erbert and Derek Hough are one of the most loved couples to have emerged from Dancing With the Stars.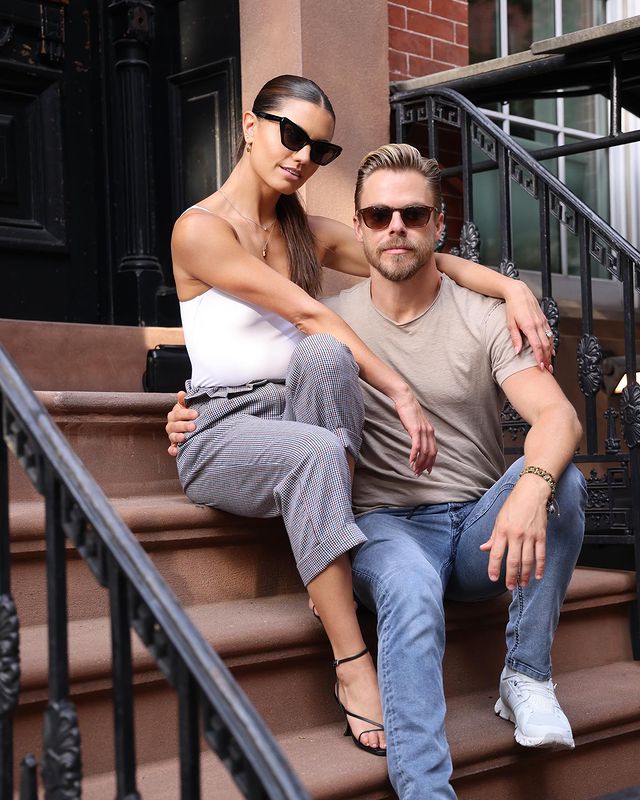 The two have been in a happy relationship since 2015 and always impress their audience with their lovely performance, and a peek into their relationship thanks to their YouTube channel.
Derek Hough and Hayley Erbert announced they were engaged in June 2022 after dating for seven years.  The pair shared the news with a picture on their Instagram pages that showed Hough holding Erbert as she wrapped her legs around him. 
The picture was captioned, "It's only the beginning…the beginning of forever."
The two are known to be professional dancers who met when Erbert joined Dered and Julianne Hough's MOVE Tour in 2014.  Their paths crossed again when she was included in season 21 of Dancing With the Stars, which ended with Derek winning with his dance partner Bindi Irwin. 
The two started dating after that but decided to keep their relationship to themselves until 2017.
Apart from being a dancer, Erbert loves nature and has many talents.
Who is Hayley Erbert?
Erbert, a Texas native, has one brother, Collin Erbert, who is a few years older than her.
She has mentioned him several times on her Instagram page.
It is not known what he does for a living, but he graduated from college in 2015.
It seems even though he prefers life away from the spotlight, he has previously interacted with stars.
In 2016, he uploaded a picture with Julianne Hough when she acted in Fox's Grease Live!
Hayley Erbert Loves Pageantry
The dancer shot to fame when she reached the finals of So You Think You Can Dance season 10, and this cemented her career as a professional dancer.
She also has a passion for pageantry since she clinched first runner-up at the Miss Kansas Teen USA pageant in 2013.
Erbert is an Athlete
The dancer has proven in various instances that she is athletic when not on the dance floor.
She uploaded pictures of her engaging in water sports like surfing and wake surfing.
She tried to surf in 2021, and even though the video she uploaded of herself in the water did not show her standing, she seemed like she was on the right foot to being a pro.
Additionally, the picture of her wake surfing made it seem like it was an easy task.
Hayley Ebert's Loves Nature
If her abilities in watersports do not show that the dancer enjoys her time with nature, she contains various posts on her Instagram that show it. She uploaded multiple pictures on her Instagram on Earth Day in 2022 and captioned them, "How lucky are we that we get to call this place home?! Happy Earth Day!" The pictures she posted include a selfie with a gorilla, enjoying a waterfall, swimming alongside dolphins, walking on sand dunes, and gazing at the sunset. In 2021, she uploaded pictures of herself and Derek in Kenya.
They visited Joshua Tree National Park and later went scuba diving in Hawaii.
She also never hides her love for animals which she has posted since 2012.
The Dancer Loves Pets, Particularly Dogs and Cats
Even though she does not have children, she has a few pets.
She and Derek own two cats and two dogs.
The dogs are known as Romie and Luna, while the cats are known as Lily and Palo.
The professional dancer uploaded a picture in October 2020 of the animals playing, and she revealed they summed up her life and there was nothing she would change the experience for.