Adam Huber has no wife, but he has been in a few relationships.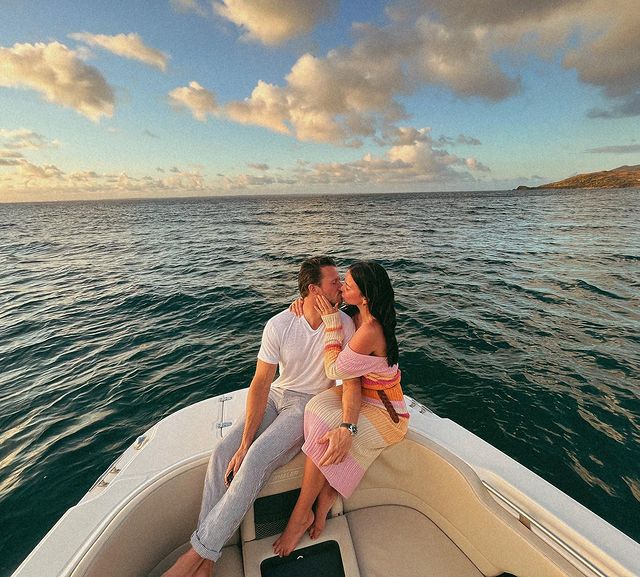 The Dynasty star is currently dating social media sensation Rachel Rigler.
Huber is a famous American model and actor with a massive following because of his good looks and acting skills.
He delighted his audience after performing the role of Liam Ridley in the CW series Dynasty, an American series based on the 1980s soap opera with the same name.
Who is his girlfriend, Rachel Rigler?
Rigler is a Youtuber, social media influencer, and Tik Tok star.
She has more than 900k followers and 40 million likes on her Tik Tok account @rachelrigler.
She posts lifestyle videos and makeup tutorials on her profile, and Huber has appeared on her videos on various occasions.
She also has more than 43k followers on her Instagram, which goes by the name @rachrigler, where there are many photos of her with her boyfriend.
The social media sensation has various brand endorsement posts of Makeup products on her profile.
Adam Huber is 35 years as of 2022, and his girlfriend is 21 years old.
Many quickly commented on their huge age difference the first time their fans realized they were dating.
According to her website, https://www.rachelrigler.com/, Rigler is a college student working towards her B.F.A. in Business of Beauty and Fragrance at the Savannah College of Art and Design.
She started as a student learning photography since it was her creative passion while she was in high school.
After completing her studies, she realized she was interested in the beauty industry, and her heart pulled her in that direction.
She started her Tik Tok account in March 2020 and has grown to more than 900k followers.
She reveals that social media gave her a way of showing her love for the beauty industry and allowed her to create a community of beauty fans.
Her dream is to own a beauty brand though she has not decided whether to focus on skincare products or makeup products since she loves both.
They Posted Pictures of them Together
The actor recently posted pictures on Instagram of them having a trip.
The caption read, "Had the most amazing time in St. Martin. Huge thanks to @grandcasebeachclub for your amazing hospitality. We will be back very soon 🏝."
In the first picture, the actor was seen posing while on a boat in St. Martin.
This was in the Leeward Islands in the Caribbean Sea.
The second picture shows the couple sharing a kiss.
The pictures also include the cotton candy skies and another shot of them in water.
This was followed by a fantastic take on food and other lovely photos.
His Relationship With Jordan Hinson
Adam Huber's previous relationship was with Jordan Hinson.
Their relationship was known to many, particularly in 2016.
The two visited several places together, showing they were in love.
The two also worked together in the 2018 movie Breaking & Exiting.
After its release, many felt their relationship was strange since they stopped appearing together.
Many felt they had ended their relationship, which was true, though the reason for this is still unknown.
Huber found love in Rigler, and the two seem happy.
Many hope their relationship will last long since they are a cute couple.