Sir Barry Alan Crompton Gibb is a British-American record producer, singer, and songwriter. He became world-famous as the leader of the Bee Gees, one of the most commercially successful musical acts in history.
Gibb began collaborating with his twin brothers, Robin and Maurice Gibb, to write songs in 1955.
Many people are curious about this legend's bio and information. Keep reading to find out more about him.
Barry Alan Crompton Gibb was born on 1 September 1946, to Hugh Gibb, a drummer, and Barbara Gibb. Gibb has Scottish, English, and Irish ancestry. His older sister is Lesley Evans.
His second name, according to tradition, was Alan after his father's youngest brother, who perished in childhood.
According to Hugh Gibb, his third name, Crompton, was given to commemorate his illustrious ancestor, 'Sir Isaac Crompton,' in a mix of fact and fiction.
His father was a musician who traveled from hotel to hotel in Douglas while his mother stayed at home looking after the kids, at the time of his birth.
Come the year 1949, his family moved to St. Catherine's Drive. Gibb's younger brothers (Maurice and Robin) were born later that year on 22nd December. When the twins were still young, the Gibb family moved to Smedley Cottage. Gibb began schooling at 5 years in Braddan School.
Personal Life
On August 22, 1966, Gibb married Maureen Bates, when he was 19 years old. However, the marriage did not last and dissolved in July 1970.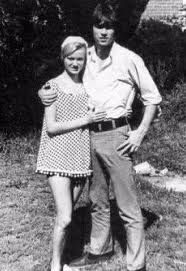 During Top of the Pops recording in London, the star then met Linda Gray, the former Miss Edinburgh. Gibb married her in September 1970 when he was 24 years old. They had five children together, Stephen, Ashley, Travis, Michael, and Alexandra. Gray and Gibb also have seven grandchildren.
Gibb also admitted that he had a close friendship with pop star Michael Jackson. In an interview, he said about Michael Jackson, "He would come to Miami and stay in our house.
He'd sit in the kitchen and watch the fans outside his hotel on TV, just giggling – 'Hee hee!'." Michael Jackson had lived in the same house as the legend before his child molestation charges commenced.
Gibb bought the home of former country music singers June Carter Cash and Johnny Cash in January 2006. He intended to restore the structure and convert it into a songwriting retreat. The house had been destroyed by fire in March 2007.
Come 2009, Gibb and his wife, Linda Gray became American citizens. However, they retained their UK citizenship.
Career
Barry Gibb began his career in 1958 when he formed the skiffle group The Rattlesnakes with brothers Robin and Maurice. They later changed their name to Wee Johnny Hayes & The Bluecats before renaming themselves as Bee Gees in 1960.
In 1971, Gibb teamed up with Barbra Streisand for her album Stoney End. His contribution earned him a Grammy Award nomination for Best Male Vocal Performance of 1972. That same year he recorded his first solo album, the soundtrack to the film Melody. This was released in 1973 along with another compilation called After Dark under Polydor Records which included unreleased early recordings made between 1962-1966 while Gibb was still living at home. Both albums were moderately successful but failed commercially compared to that of his brothers.
What Happened to Barry Gibb's First Wife?
Barry Gibb's first wife was Maureen Bates whom he married on 22nd August 1966 and divorced within three years (1970). The couple had one child, a daughter called Lesley Evans who was born on 28th May 1968.
The 'How Deep Is Your Love' singer then went on marrying Linda Gray after meeting her at the Top of the Pops studios in London back in 1969 when she visited friend Dusty Springfield with Mick Jagger and Marianne Faithful during filming for Ned Kelly movie where Gibb held an acting role as well as doing soundtrack songs for the film.
Legacy
Gibb has been honored with a Star on the Hollywood Walk of Fame at 7060 Hollywood Blvd in Los Angeles. In addition, he was inducted into the Songwriters Hall of Fame in 1994 and the Rock and Roll Hall of Fame as a member of Bee Gees band in 1997 by Bono from U-N-I. He also received an OBE title from Elizabeth II for his contribution to the music industry worldwide since 2004. After all these awards given to him, we can say that Barry Gibb's life journey will be legendary!