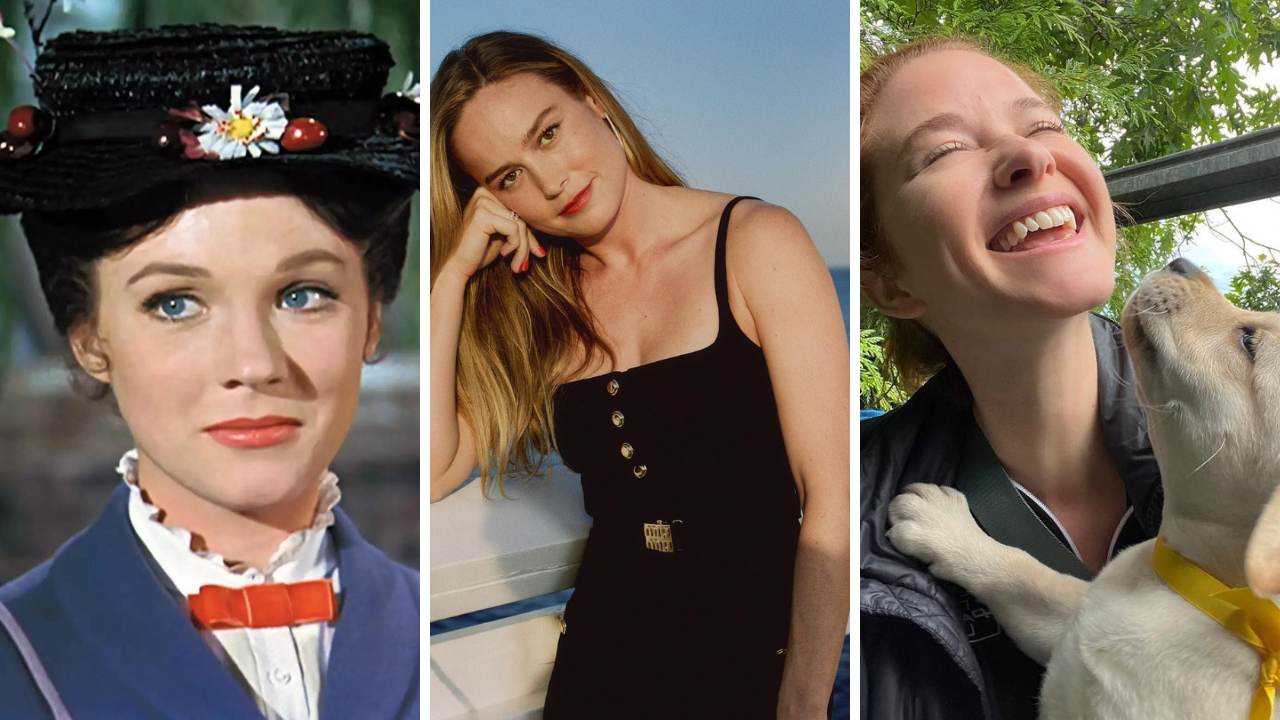 As the leaves begin to change color and the air turns crisp, October brings us not just the joys of fall but also a slate of birthdays of some notable celebrities.
Among those celebrating another journey around the sun on October 1 are Academy Award-winner Brie Larson, the legendary Julie Andrews, and "Grey's Anatomy" star Sarah Drew. Let's dive into what makes each of these October 1 babies special, including their impressive net worths.
Brie Larson
Born in 1989, Brie Larson made her Hollywood debut at a young age but truly rose to fame with her Oscar-winning role in the movie "Room." She has since donned the iconic Captain Marvel suit, taking her career to new heights. She's not just an actor but also a singer and a director, proving that her talents know no bounds.
Net Worth: Brie Larson's estimated net worth is around $25 million, according to multiple reports.
Julie Andrews
Julie Andrews, born in 1935, is a timeless icon who has graced both stage and screen. She stole hearts as Maria in "The Sound of Music" and has continued to mesmerize audiences with her voice and acting prowess. She is the epitome of Hollywood royalty, and her grace and talent have made her a beloved figure for generations.
Net Worth: Julie Andrews has an estimated net worth of $30 million, showcasing a career that has been both long-lasting and lucrative.
Sarah Drew
Born in 1980, Sarah Drew catapulted to fame with her role as Dr. April Kepner on the hit TV show "Grey's Anatomy." Though she has left the show, her career has shown no signs of slowing down. She's ventured into directing and continues to act in various television and film projects.
Net Worth: Sarah Drew's net worth is estimated to be around $3 million, a testament to her hard work and talent in the TV industry.
Esai Morales
Esai Morales, born in 1962, is an American actor best known for his roles in movies like "La Bamba" and the TV series "NYPD Blue" and "Ozark." His ability to adapt to various genres has made him a versatile talent in Hollywood.
Net Worth: Esai Morales has an estimated net worth of $2 million, a testament to his consistent work in film and television.
Jurnee Smollett
Jurnee Smollett, born in 1986, is an American actress widely recognized for her work in TV shows like "Friday Night Lights" and "Lovecraft Country," as well as films such as "Birds of Prey." She's been acting since childhood and has built a diverse and notable portfolio.
Net Worth: Jurnee Smollett has an estimated net worth of $2 million, underlining her rising stock in the entertainment world.
Sarah Drew
Sarah Drew, born in 1980, has made her name in TV dramas, most notably as Dr. April Kepner in the medical drama "Grey's Anatomy." Her portrayal has earned her a significant fan following and critical acclaim.
Net Worth: Sarah Drew has an estimated net worth of $3 million, reflecting her steady success in the television industry.
Rupert Friend
Rupert Friend, born in 1981, is an English actor and producer who gained fame for his role as Peter Quinn in the TV series "Homeland." His work has garnered him critical acclaim and several award nominations.
Net Worth: Rupert Friend has an estimated net worth of $4 million, largely due to his impactful roles in both TV and film.
Dan O'Bannon
The late Dan O'Bannon, born in 1946, is an unforgettable name in the world of science fiction. As the screenwriter, director, and producer of the original "Alien" film, he left an indelible mark on the genre. His work continues to influence filmmakers and audiences alike.
Net Worth: Though it's hard to pinpoint the net worth of someone who has passed, Dan O'Bannon's contribution to cinema is unquestionably priceless.
Tom Bosley
Tom Bosley, born in 1927, was a cherished actor best known for his role as Howard Cunningham in the iconic TV show "Happy Days." He had a warmth and relatability that made him a fixture in American households during the show's run.
Net Worth: Before his passing, Tom Bosley had an estimated net worth of $5 million, earned largely through a successful television career.
Walter Matthau
Walter Matthau, born in 1920, was an actor who achieved legendary status through roles in timeless classics like "The Odd Couple." His comedic timing and unique screen presence made him one of Hollywood's most beloved actors.
Net Worth: At the time of his passing, Walter Matthau had an estimated net worth of $10 million, accumulated through a long and celebrated career in film and television.
More: Brie Larson Was Turned Down For Parts in 'Sucker Punch,' 'Thor,' 'Iron Man 2' And 'Legion'