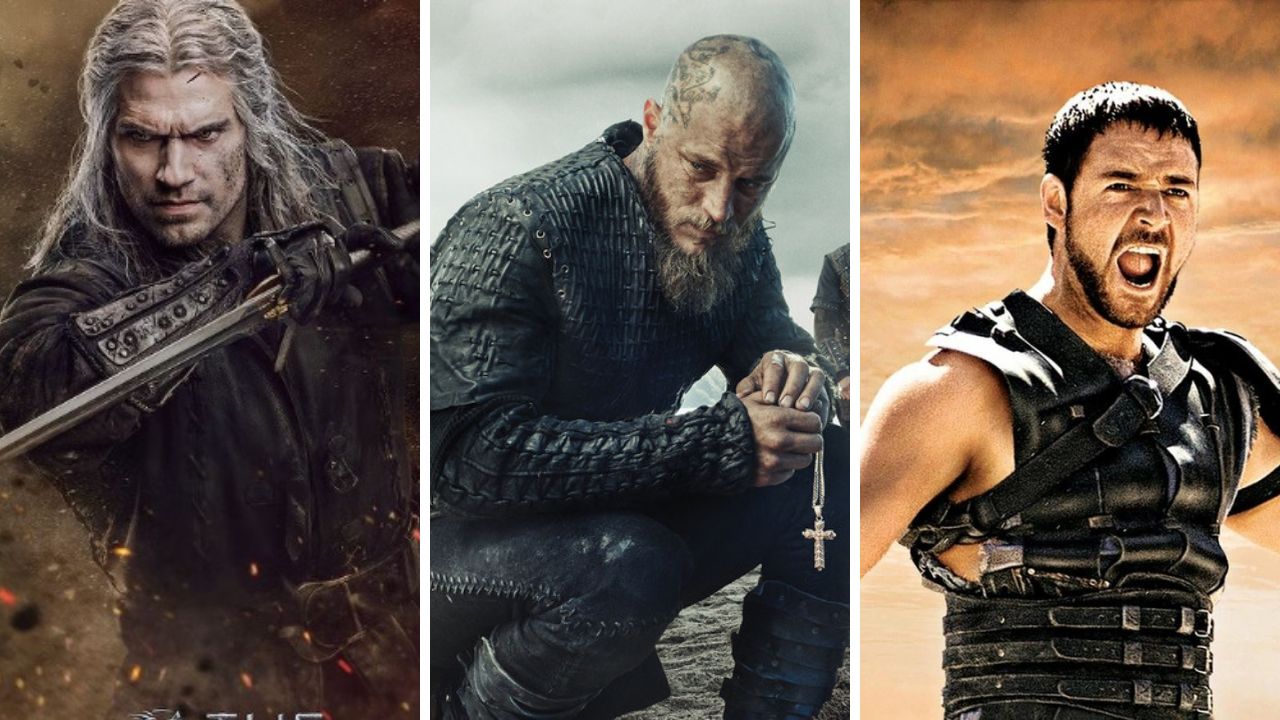 Craving tales of knights, castles, and epic battles? Look no further! From big-screen blockbusters to binge-worthy TV series, here's our ultimate guide to the best medieval movies and shows of the 21st century that transport you straight into the heart of swords and sorcery.
The Best Medieval Movies
Here is our curated list of the best medieval movies of the 21st century.
Gladiator (2000)
Directed by Ridley Scott, "Gladiator" may technically be at the cusp of the 21st century, but its influence reverberates through the years. Starring Russell Crowe as Maximus, a Roman General turned slave, the film combines historical elements with fictional drama. The film was a huge success both critically and commercially, earning $457.6 million worldwide and winning multiple Academy Awards, including Best Picture.
The Lord of the Rings Trilogy (2001-2003)
While not strictly historical, Peter Jackson's adaptation of J.R.R. Tolkien's medieval-inspired fantasy epic is a masterpiece in every sense. The trilogy, comprising "The Fellowship of the Ring," "The Two Towers," and "The Return of the King," garnered widespread acclaim and numerous awards, including 17 Academy Awards. The trilogy earned a staggering $2.9 billion worldwide.
Kingdom of Heaven (2005)
Also directed by Ridley Scott, "Kingdom of Heaven" is set during the Crusades and follows a French blacksmith who becomes a knight and defends Jerusalem. Though the film's historical accuracy is debated, it provides a visually stunning look at medieval warfare and politics. The film had a moderate box office performance, earning approximately $211.6 million worldwide.
Braveheart (1995)
Yes, it's a '90s film, but its influence on medieval movies in the 21st century is undeniable. Directed by and starring Mel Gibson, "Braveheart" chronicles the life of Scottish knight William Wallace and his struggle against English rule. The film was a massive success, both critically and commercially, earning $210.4 million worldwide and winning five Academy Awards.
A Knight's Tale (2001)
Though not as critically acclaimed as other entries on this list, "A Knight's Tale" deserves mention for its unique blending of medieval themes with modern music and sensibilities. Starring Heath Ledger as a squire who impersonates a knight, the film offers a more lighthearted take on the medieval genre. It earned a respectable $117.5 million at the worldwide box office.
The Best Medieval TV Shows
Now let us jump to the best medieval TV Shows of the 21st century.
Game of Thrones (2011-2019)
Seasons: 8 | Episodes: 73 | Episode Length: 50-82 minutes
Cast: Emilia Clarke, Kit Harington, Peter Dinklage, Lena Headey, Nikolaj Coster-Waldau
Based on George R. R. Martin's "A Song of Ice and Fire" series, "Game of Thrones" combines medieval politics, war, and fantasy in a gripping tale of families vying for the Iron Throne. The show became a cultural phenomenon, garnering numerous awards and becoming one of the most-watched series in history.
Vikings (2013-2020)
Seasons: 6 | Episodes: 89 | Episode Length: 44-60 minutes
Cast: Travis Fimmel, Katheryn Winnick, Alexander Ludwig, Gustaf Skarsgård
"Vikings" takes viewers into the brutal and mysterious world of Ragnar Lothbrok, a legendary Norse hero. While the series takes some liberties with history, it offers an engaging look at Viking culture, exploration, and warfare.
The Witcher (2019-present)
Seasons: 2 | Episodes: 16 | Episode Length: 47-67 minutes
Cast: Henry Cavill, Freya Allan, Anya Chalotra
Based on a popular book series, "The Witcher" blends medieval elements with fantasy, focusing on Geralt of Rivia, a monster hunter. While it leans more towards fantasy, the show is rooted in a medieval-like setting, complete with knights, castles, and political intrigue.
Marco Polo (2014-2016)
Seasons: 2 | Episodes: 21 | Episode Length: 44-65 minutes
Cast: Lorenzo Richelmy, Benedict Wong, Joan Chen
Inspired by the Venetian explorer's early years in the court of Kublai Khan, "Marco Polo" explores the clash of civilizations and the intricacies of medieval politics in a richly textured setting.
Knightfall (2017-2019)
Seasons: 2 | Episodes: 18 | Episode Length: 40-45 minutes
Cast: Tom Cullen, Pádraic Delaney, Simon Merrells
The series dives into the last days of the Templar Order in the 14th century, offering viewers an action-packed look at medieval knights, their codes, and their ultimate downfall.
More: Henry Cavill's Upcoming Projects After 'The Witcher' Season 3