When you see celebrities with the same last name, the first question that typically comes to mind is – Are they related?
Today, we are going to review the case of Jenna and Danny Elfman, two celebrities from different industries that just happen to carry the same surname around.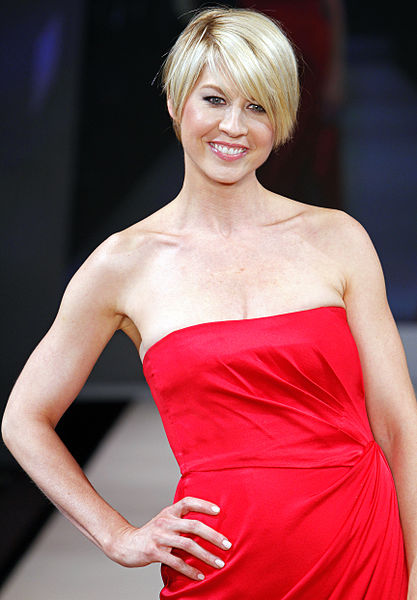 Who is Jenna Elfman?
Jennifer Mary Elfman is an American actress and producer born in LA, California.
She attended the St. Genevieve High School in the San Fernando Valley for a year before graduating from the Los Angeles County High School. Later, she attended California State University where she studied art and drama.
Interestingly, Jenna's career started as a professional dancer. She appeared in some high-end music videos such as Depeche Mode "Halo," Anthrax "Black Lodge," and she toured with the famous rock band ZZ Top on their famous 1994 tour.
After appearing in several commercials, directors set their eyes on this beautiful and talented actress. Her TV series debut was in the 1996 American sitcom "Townies" on ABC.
Even though her acting career wasn't as successful as she had imagined it would be, Jenna had her fair share of movie and TV series roles.
Some of her most memorable appearances are in "Dharma & Greg," for which she won The Golden Globe award for Best Actress, "1600 Penn," "Fear the Walking Dead," "Imaginary Mary," and "Barry."
Jenna is also a devoted member of the Church of Scientology which is madly popular among American celebrities. She had the opportunity to co-host a well-known Scientology-affiliated Workers Detox Charity Event at Geisha House with Charlie Sheen.
Who is Danny Elfman?
Daniel Robert Elfman is an American composer, singer, and songwriter that made quite a few hit songs and records back in the day.
Danny's popularity peaked in the 1980s when he became the singer-songwriter for the new wave band called 'Oingo Boingo'.
He spent some time in Africa and when he came back in the 1970s, he was asked to work as a musical director of the street theatre art troupe called "The Mystic Knights of Oingo Boingo".
Throughout the years, the troupe got popular among fans by performing on the streets and nightclubs all over LA. This was until one of the key members decided to pursue filmmaking instead and left the band.
In that period, Danny had a different vision for the well-appreciated troupe. He shortened the name to "Oingo Boingo" and pared the group down to just eight players.
The biggest success of the new wave band was the 1985 "Dead Man's Party" album that featured the hit song "Weird Science".
As time passed, Elfman shifted the band to a more guitar-oriented rock sound in the late 1980s. Their last album, "Boingo," filmed in 1994, is an example of this new sound.
Danny suffered from permanent hearing damage as a side effect from their live performances and had to leave the band in 1995. However, he decided to first arrange five farewell concerts at the Universal Amphitheatre, which were all sold-out.
Are Jenna and Danny related?
So, are the famous musician and actress related? The answer is yes – but not in the way you think.
To provide a short backstory, Danny's brother was Richard Elfman, a well-known actor, musician, and journalist.
In 1991, Jenna met her future husband, actor Bodhi Elfman, who was actually Richard Elfman's son.
These two dated for about four years, until they decided to tie the knot in 1995.
So to be precise, Jenna and Danny are related – but not in a brother/sister kind of way.
Danny Elfman is Jenna's uncle-in–law.
Jenna and Danny are seen together quite often and they attend numerous ceremonies together. The actress often refers to Danny as a "loving human being who is very positive to be around".