The 2010s were the years in which we got to see some of Hollywood's cutest couples to date, including Emma Stone and Andrew Garfield.
After starring together in "The Amazing Spider-Man", it didn't take long for these two to fall for each other and start dating.
Even though they broke up years ago, some rumours in the past few months suggest that they have gotten back together.
Is this true? Let's take a look.
Why Did Emma Stone and Andrew Garfield Break Up?
Andrew and Emma first met on the set of "The Amazing Spider-Man" back in 2011 and they quickly fell for one another.
But sadly, after four years, in 2015, they decided that the best decision was to split. An insider told US Weekly in 2015 that they separated just a couple of months before the announcement, but still remained in contact as good friends.
"They both have love and respect for one another and they decided to stay friends and not hold any grudges. Nothing special happened, no drama, they just decided that it's not working anymore," a source told US Weekly.
The insider also stated that the couple broke up during a separation caused by busy work schedules and that that was maybe one of the reasons for the breakup.
They were both working on different projects and were separated for too long. At the time, Andrew was filming "Silence" in Taiwan, while Emma was also stuffed with numerous projects.
At the time, Emma had been nominated for the Best Supporting Actress in the movie "Birdman", and Andrew didn't manage to be there to support her due to this obligations.
One source told People magazine back then that "Emma fully understands how stressful work is for Andrew and it's one of the reasons why she pulled out of 'Cabaret' last year."
While preparing for his role in "Silence," Andrew was in a dark place and he even lost 40 pounds to get into character.
Although they agreed to split, they decided to do it in person the next time they saw each other rather than on the telephone or on FaceTime.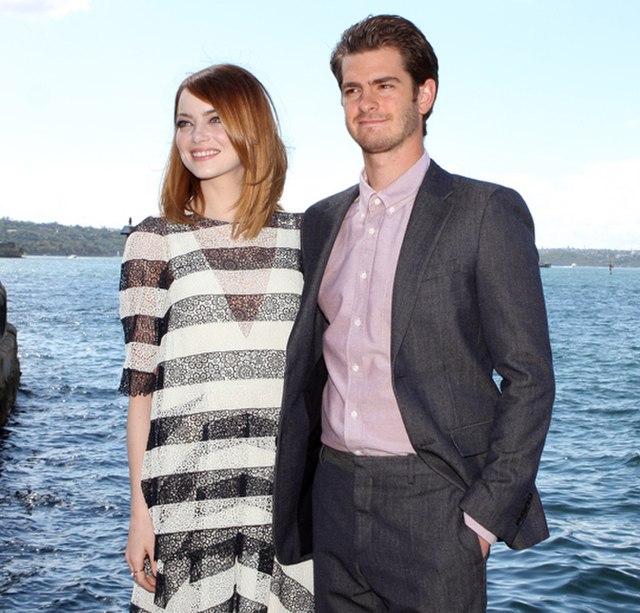 Are Emma Stone and Andrew Garfield Back Together?
The simple answer is simply no – Emma Stone and Andrew Garfield are not back together.
Emma is happily married and Andrew was in a serious relationship until very recently.
In 2017m two years after they decided to end their relationship, Emma started dating Dave McCary, the Saturday Night Live director.
Two years into their relationship Emma and Dave got engaged in December 2019 and just a year after, they officially tied the knot.
When it comes to Andrew, he was in a very serious relationship until a few months ago. In 2021, he revealed that he was dating Alyssa Miller, a Sports Illustrated swimsuit model.
Alyssa became famous in the modelling industry for her runway walking for some of the world's largest modelling companies like Vogue, Elle, and Guess.
Although it seemed that everything was going well for the two, the couple broke up after making their red carpet debut in 2022. This was confirmed by Life & Style.