Popular actress Jennifer Love Hewitt married her 9-1-1 co-star back in 2013, and they've been married for almost 10 years!
We love to see when marriages between actors work out.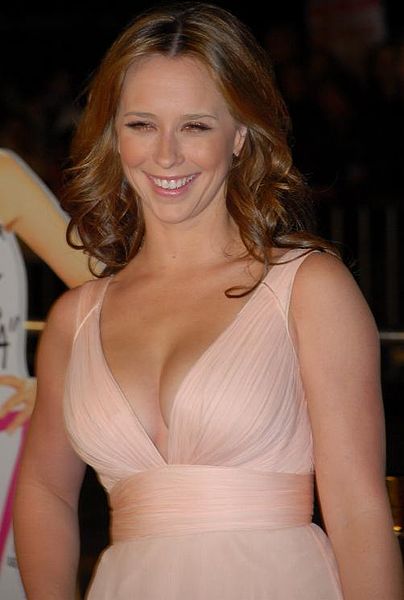 Jennifer started her acting career in the 1990s, with minor roles in the movies "Boy Meets World" and "Party of Five".
From 2000 to 2020, she landed mostly major roles in the movies "The Suburbans", "If Only", "I Know What You Did Last Summer", "Ghost Whisperer", and "Hot in Cleveland".
One of her biggest roles so far, and also her latest role, is her portrayal of Maddie in 9-1-1.
Jennifer made us feel empathy, and a whole lot of sadness and compassion, through her portrayal of Maddie, who responds to emergency 9-1-1 calls.
9-1-1 Spoiler: She's also made a lot of women feel empowered and able to finally break free – by her character killing her abusive ex-husband!
The 43-years-old actress Jennifer Hewitt is also passionate about producing and directing. She was a director for the movies called "Ghost Whisperer" and "The Client List".
Jennifer was also the producer of "Ghost Whisperer".
How did Jennifer meet Brian?
The way this couple got together seems pretty normal in the acting industry. They met on the filming set of the NBC TV series called "Love Bites" from 2011.
Unfortunately, the show never aired on TV, but these filming sessions are an important first step in Jennifer and Brian's relationship.
The two started dating soon after they finished with the filming.
After dating for almost two years, Jennifer and Brian took the next big step and decided to get married.
Jennifer and Brian expanded their family three times in total, welcoming their children Autumn, Atticus and Aidan James.
Brian dreamed about becoming an actor
Before becoming a successful actor like he'd always dreamed of, Brian Hallisay decided to pursue a degree in Economics.
After graduating from Cornell University and working on Wall Street for quite some time, Brian wanted to fulfill his childhood dream.
After numerous minor roles in the movies, Brian finally gets his breakthrough as an actor in 2006.
During the year of 2006, Hallisay landed three major roles in "Bottoms Up", "CSI: NY", as well as in "Without a Trace".
From 2010 to 2020, he was also cast for both major and minor roles in TV shows and movies such as "Eastwick", "The Client List", "Revenge", and "Code Black".
In 2019, he nails another role with his wife Jennifer in the popular TV series called "9-1-1". Completely opposite of their marriage in real life, Brian's character Doug is very aggressive and abusive towards Jennifer's character Maddie.
P.S. Spoiler alert in the following video!