Jason Momoa's Top-Grossing Movies Show He's a Box Office Hit.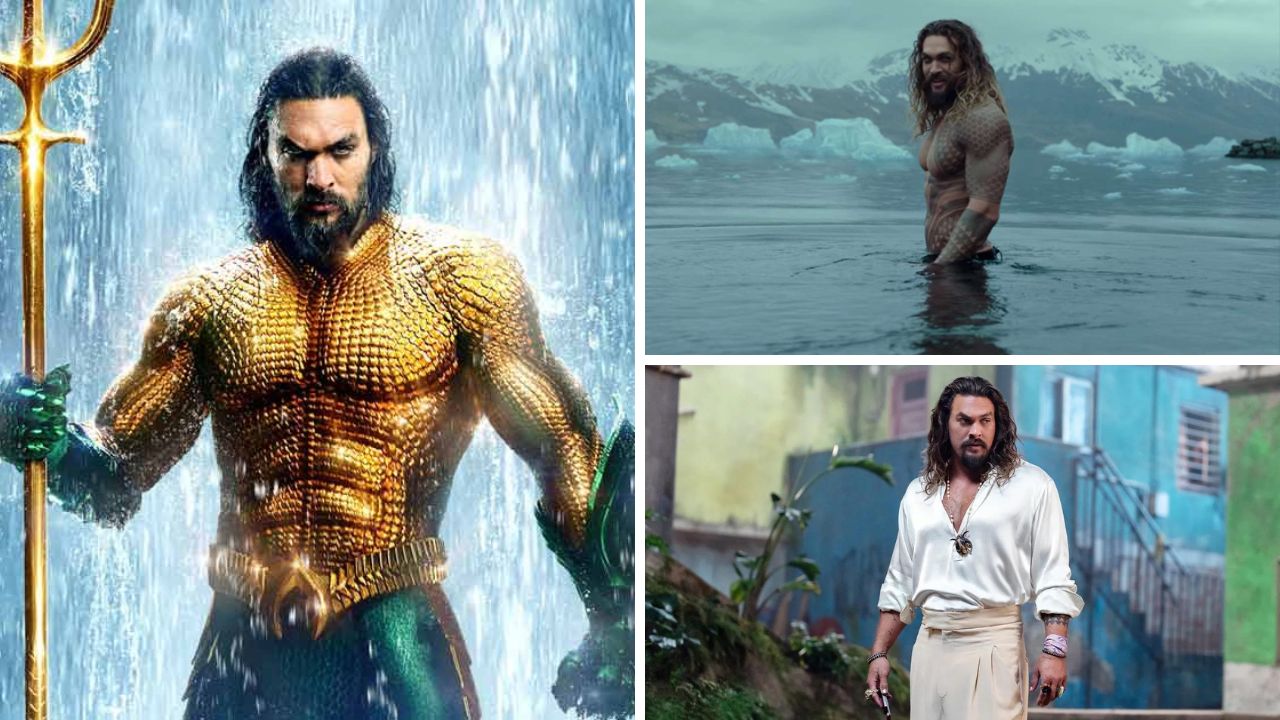 You know him as the larger-than-life character Aquaman, or perhaps as the fierce Khal Drogo from Game of Thrones.
Yes, we're talking about Jason Momoa, the charismatic actor whose vibrant screen presence and powerful performances have left a lasting impression on audiences worldwide.
From his breakthrough in TV to his success in Hollywood, Momoa has had quite the journey. Now, let's dive into the times this versatile actor made a big splash at the box office.
Here's every Jason Momoa movie that has grossed over $100 million.
MORE: Every Henry Cavill's Movie That Has Grossed Over $100 Million At The Box Office
Aquaman (2018)
Aquaman made a gargantuan splash at the box office, reeling in a staggering $1.149 billion worldwide. This underwater adventure saw Jason Momoa in the title role, a casting decision that thrilled fans of the DC comics.
With his hulking physique and rugged charm, Momoa was the perfect fit for the aquatic superhero, Arthur Curry, aka Aquaman.
Directed by James Wan, known for his work on the Conjuring series, this film brought to life the fantastical underwater world of Atlantis.
Featuring epic battles, vibrant marine landscapes, and a compelling narrative, Aquaman was a visual spectacle that had audiences around the world hooked.
The film's grand scale, coupled with Momoa's charismatic performance and a star-studded cast including Amber Heard, Willem Dafoe, and Nicole Kidman, made it a must-watch.
Aquaman's triumph at the box office showed just how powerful the pull of the ocean — and of course, Momoa's acting chops — could be.
Adjusted for recent inflation, the film's box office earnings are even more impressive. It's no wonder then that a sequel is already in the works, promising to take audiences on another deep-sea adventure with our favorite underwater superhero.
Batman v. Superman: Dawn of Justice (2016)
The battle of the titans, Batman v. Superman: Dawn of Justice, had moviegoers around the globe flocking to the cinemas and raked in a hefty $873.6 million at the box office.
Even though Momoa's role as Aquaman was just a brief cameo, his presence added a new dimension to the DC Extended Universe and left audiences craving more.
Directed by Zack Snyder, this film marked the first live-action movie to feature both Batman and Superman, portrayed by Ben Affleck and Henry Cavill respectively. It's a high-octane showdown filled with gritty battles, explosive special effects, and an emotionally charged narrative.
Momoa's Aquaman made his screen debut in this film. Though his appearance was short, it was memorable, giving fans a tantalizing glimpse of the underwater hero.
This film was also a springboard that propelled Momoa to superhero stardom and set the stage for his leading role in Aquaman.
Justice League (2017)
In 2017, Momoa reprised his role as the underwater superhero in Justice League, another DC Extended Universe blockbuster. This time, Aquaman had more screen time, contributing to the film's impressive box office earnings of $657.9 million.
The film united several of DC's most famous superheroes — Batman, Superman, Wonder Woman, The Flash, Aquaman, and Cyborg.
Together, they form the Justice League to protect Earth from the villainous Steppenwolf and his army of Parademons. Momoa's Aquaman stood out as the rebellious yet noble hero, adding a unique charm and depth to the ensemble cast.
Directed by Zack Snyder (and Joss Whedon, who completed the film after Snyder had to step away due to a family tragedy), Justice League faced mixed reviews.
However, the film's high-energy action sequences, captivating visuals, and the charisma of its all-star cast managed to win over a substantial audience.
Dune (2021)
2021 brought a new universe for Momoa to conquer with his role as Duncan Idaho in Denis Villeneuve's highly anticipated adaptation of Frank Herbert's science fiction epic, Dune.
As the fiercely loyal swordmaster to the noble House Atreides, Momoa showcased his knack for playing heroic characters.
The film, which garnered rave reviews for its stunning visuals and faithful adaptation of the source material, pulled in a whopping $402 million at the global box office.
Not only did it score at the box office, but it also received multiple awards and nominations, including several at the Academy Awards.
As Duncan Idaho, Momoa got a chance to prove his acting mettle outside of the superhero genre. The character, a skilled fighter and charismatic mentor to the film's protagonist, Paul Atreides, allowed Momoa to display a range of emotions and depth.
Dune's box-office success was also bolstered by a stellar cast that included Timothée Chalamet, Rebecca Ferguson, Oscar Isaac, Josh Brolin, Stellan Skarsgård, Dave Bautista, Stephen McKinley Henderson, Zendaya, Chang Chen, Sharon Duncan-Brewster, and Charlotte Rampling, alongside Momoa.
Fast X (2023)
Vroom, vroom! Jason Momoa switched gears and jumped into the fast-paced, high-octane world of the "Fast & Furious" franchise in 2023, adding another feather to his cap.
He played the antagonist in the tenth installment of the franchise, "Fast X," a role which allowed him to show off his menacing presence and exceptional combat skills.
The film continues to race at the box office, already having pulled in more than $318.9 million and counting.
The Lego Movie 2: The Second Part (2019)
In 2019, he lent his voice to the character of Aquaman in "The Lego Movie 2: The Second Part". This animated sequel pulled in a respectable $192.5 million at the box office, proving Momoa's versatility as an actor.
"The Lego Movie 2" is the much-anticipated sequel to the 2014 original, which was hailed for its creativity, humor, and surprisingly heartwarming story.
The follow-up film continued this successful formula, delighting audiences of all ages with its witty dialogue, inventive visuals, and compelling characters.
In this film, Momoa's Aquaman is part of a star-studded ensemble cast that includes Chris Pratt, Elizabeth Banks, and Will Arnett.
Despite being a supporting character, Momoa's Aquaman left a memorable impression on viewers, thanks to his charismatic performance and the movie's clever writing.