Dwayne 'The Rock' Johnson's Top-Grossing Films.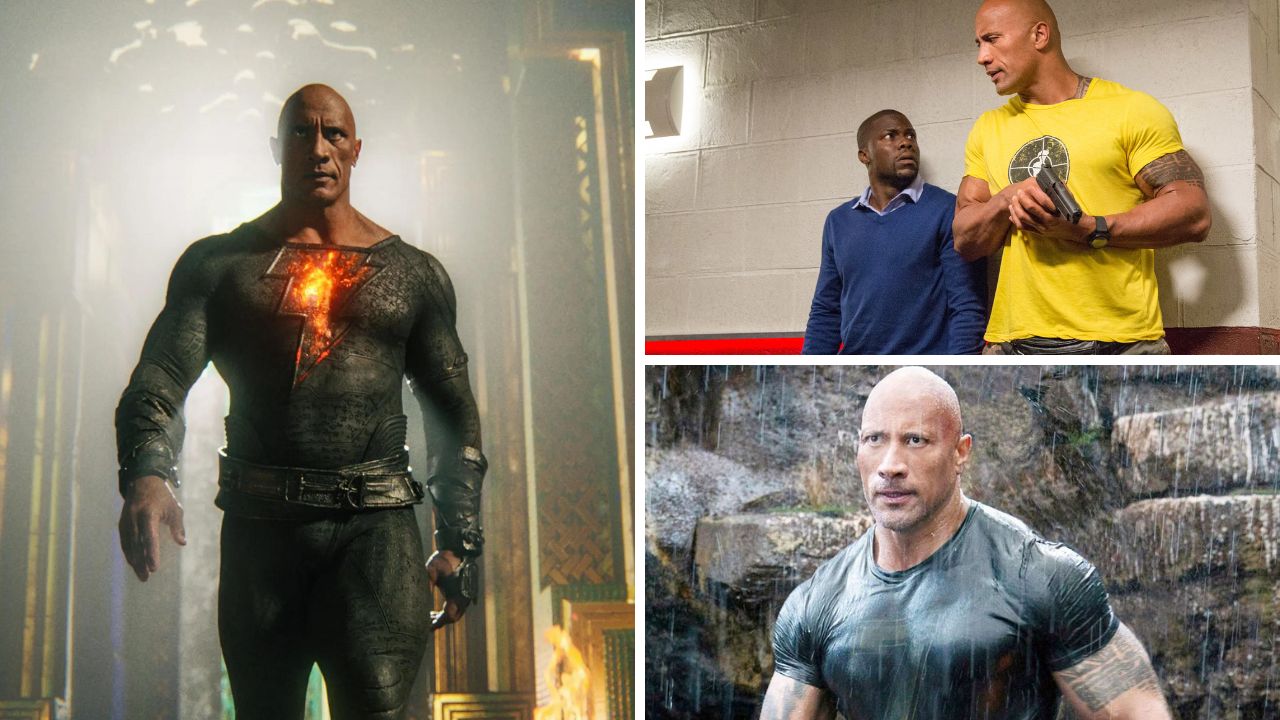 Dwayne "The Rock" Johnson, a name synonymous with action-packed blockbusters and charismatic performances, has had a movie career as solid as, well, a rock.
With his transition from wrestling ring to the big screen, Johnson has delivered a range of performances in movies that have raked in big bucks at the box office.
Here, we break down each of his movies that have surpassed the $100 million mark at the box office, ranked chronologically.
"The Mummy Returns" (2001)
In this sequel to the 1999 hit "The Mummy", Dwayne Johnson made his film debut as the Scorpion King, a role that would later earn him a spin-off. The film grossed over $433 million worldwide, and when adjusted for inflation, that number leaps up to over $645 million, showcasing just how explosive Johnson's entry into Hollywood was.
"The Scorpion King" (2002)
Building on his "Mummy Returns" fame, Johnson took the leading role in "The Scorpion King". The film was a moderate success, grossing over $165 million worldwide. Adjusted for inflation, that equates to approximately $233 million today.
"Walking Tall" (2004)
Johnson played a U.S. Army Special Forces sergeant in "Walking Tall", which grossed over $57 million worldwide. However, when you factor in DVD and Blu-ray sales, the movie easily surpassed the $100 million mark.
"Gridiron Gang" (2006)
In "Gridiron Gang", Johnson showcased his skills in a more dramatic role, proving his versatility as an actor. The film, about a detention camp for juvenile delinquents, grossed over $41 million worldwide but made well over $100 million when you include home media sales.
"Get Smart" (2008)
In this comedic spy movie, Johnson played Agent 23 alongside Steve Carell and Anne Hathaway. The film raked in over $230 million worldwide. It was a chance for audiences to see Johnson flex his comedic muscles, proving he could do far more than just action roles.
"Race to Witch Mountain" (2009)
In this family adventure film, Johnson plays a Las Vegas taxi driver who gets caught up in an extraterrestrial adventure. The film grossed over $106 million worldwide. With plenty of action and a dash of humor, it was a crowd pleaser that appealed to audiences of all ages.
"Fast Five" (2011)
In this fifth installment of the "Fast and Furious" franchise, Johnson joined the star-studded cast as Luke Hobbs, a Diplomatic Security Service (DSS) agent. The movie was a huge success, grossing over $626 million worldwide, making it clear that adding Johnson to the cast was a winning move.
"Journey 2: The Mysterious Island" (2012)
In this sequel to 2008's "Journey to the Center of the Earth", Johnson came onboard as the new lead. The film earned over $335 million worldwide. His portrayal of Hank Parsons, a stepfather trying to bond with his stepson, was both heartwarming and humorous.
OTHERS WERE INTERESTED IN:
How Dwayne 'The Rock' Johnson Became Famous: Football, WWF, Hilarious SNL Hosting Gigs
Ranking the Last 20 'Sexiest Man Alive' Winners – From Least to Most Deserving
Every Arnold Schwarzenegger's Movie That Has Grossed Over $100 Million At The Box Office
"G.I. Joe: Retaliation" (2013)
Stepping into the boots of Roadblock, Johnson brought his own brand of charm to this action-packed sequel. The film grossed over $375 million worldwide. Johnson's addition to the cast was well-received, bringing in fresh energy to the franchise.
"Fast & Furious 6" (2013)
Johnson reprised his role as Luke Hobbs in this sixth installment of the popular franchise. The film grossed an impressive $788 million worldwide, further establishing the "Fast and Furious" franchise as a box office juggernaut.
"Hercules" (2014)
Embodying the role of the legendary Greek hero, Dwayne Johnson showed off his physical prowess in "Hercules". The film had a global box office haul of $244 million, showing that audiences were keen to see Johnson in mythological action.
"Furious 7" (2015)
Back again as Luke Hobbs, Johnson's presence in "Furious 7" helped drive the film to earn over $1.5 billion worldwide, making it one of the highest-grossing films of all time. This action-packed movie was a tribute to the late Paul Walker, resonating with audiences globally.
"San Andreas" (2015)
In "San Andreas", Johnson played a search and rescue helicopter pilot navigating the chaos of a massive earthquake. The disaster film shook up the box office, bringing in over $474 million worldwide.
"Central Intelligence" (2016)
Pairing up with funnyman Kevin Hart, Johnson showcased his comedic skills in this action comedy about a mild-mannered accountant being pulled into the world of international espionage. The film had audiences laughing their way to a global box office total of $217 million.
"Moana" (2016)
In a departure from his typical roles, Johnson lent his voice to the demi-god Maui in this beloved Disney animated film. The movie sailed to a worldwide gross of over $690 million, showing that Johnson's appeal extends to animation too.
"The Fate of the Furious" (2017)
Johnson reprised his role as Luke Hobbs in the eighth installment of the "Fast & Furious" franchise. The film sped to over $1.2 billion in worldwide box office receipts, proving that the franchise still had plenty of gas left in the tank.
"Jumanji: Welcome to the Jungle" (2017)
In a surprising turn, Johnson starred in this successful reboot of the "Jumanji" franchise, playing the avatar of a video game character. The film was a smash hit, earning nearly $962 million worldwide and spawning a sequel.
"Baywatch" (2017)
While the film received less-than-stellar reviews from critics, it nonetheless enjoyed a solid box office performance, grossing $58 million domestically and $119.9 million in other territories for a worldwide total of $177.9 million.
Despite the light-hearted banter and comedic timing of its star-studded cast, the film couldn't replicate the success of the original TV series. However, Johnson's charisma and charm managed to keep the audiences entertained, securing another $100+ million box office achievement for his career.
"Rampage" (2018)
Based on the video game of the same name, "Rampage" saw Johnson battling giant mutated animals. The film was a hit, stomping its way to over $428 million worldwide.
"Skyscraper" (2018)
Scaling new heights in "Skyscraper", Johnson played a former FBI agent tasked with rescuing his family from a towering inferno. The action thriller raked in over $304 million at the global box office, showing Johnson's pull as an action star.
"Jumanji: The Next Level" (2019)
Returning to the world of Jumanji, Johnson reprised his role as Dr. Smolder Bravestone in this sequel. The movie levelled up from its predecessor, earning an impressive $800 million worldwide.
"Fast & Furious Presents: Hobbs & Shaw" (2019)
Spinning off from the main "Fast & Furious" franchise, Johnson's character, Luke Hobbs, teamed up with Jason Statham's Deckard Shaw. The film delivered high-octane action and humor, earning over $759 million at the box office worldwide.
"Jungle Cruise" (2021)
In "Jungle Cruise", Johnson teamed up with Emily Blunt for a fun-filled adventure based on the Disney theme park attraction. The film navigated its way to a worldwide gross of over $200 million, despite the challenges of the COVID-19 pandemic affecting theater capacities.
"Black Adam" (2022)
Dwayne Johnson took on the role of Teth-Adam / Black Adam in the 2022 DC superhero film "Black Adam". In this movie, an ancient superhuman, Black Adam, is released from his magic imprisonment by a group of archaeologists. His mission? To free the nation of Kahndaq from the clutches of the crime syndicate Intergang.
With a star-studded supporting cast that includes Aldis Hodge, Noah Centineo, Sarah Shahi, Marwan Kenzari, Quintessa Swindell, and Pierce Brosnan, "Black Adam" kept audiences on the edge of their seats. The film grossed an impressive $168.2 million in the United States and Canada, and $224.8 million in other territories, for a worldwide total of $393 million.
Whether he's battling creatures, flexing his comedic muscles, or saving the day in action-packed sequences, audiences worldwide can't get enough of "The Rock".
His filmography, punctuated by these high-grossing movies, show he is indeed one of the most bankable stars in Hollywood today.