Rejection of Pitt's Cobain Movie Proposal Allegedly Leads to Love's 'Fight Club' Dismissal.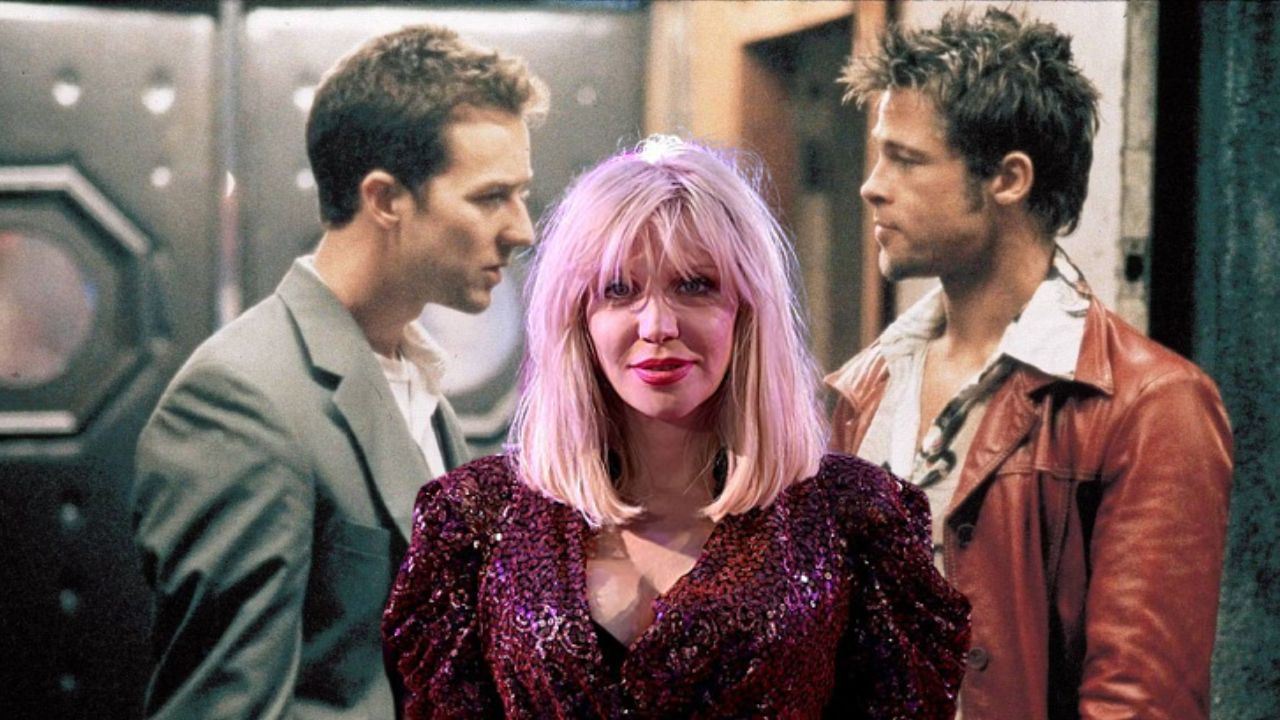 Courtney Love, the lead singer of the rock band Hole and widow of Nirvana frontman Kurt Cobain, has made an intriguing claim about her missed opportunity to star in the 1999 cult classic movie 'Fight Club.'
In an interview on WTF With Marc Maron, Love revealed that she was initially set to play Marla Singer, but was supposedly let go after she rejected Brad Pitt's idea to portray her late husband, Kurt Cobain, in a different film.
MORE: Courtney Love's 2005 Warning: If Harvey Weinstein Invites You to a Private Party at the Four Seasons, Don't Go!
It all started when Brad Pitt, who co-starred in Fight Club, expressed his interest to Love about portraying Kurt Cobain in a project helmed by Gus Van Sant. Courtney Love, though, was not on board with the idea, stating that she had reservations about whether Pitt truly understood her or Kurt.
"I don't know if I trust you, and I don't know that your movies are for profit. They're really good social justice movies, but…if you don't get me, you kind of don't get Kurt, and I don't feel like you do, Brad," Love said.
After her dismissal of Pitt's proposition, Love claims she was subsequently fired from Fight Club. The role of Marla Singer was then given to Helena Bonham Carter. According to Love, Edward Norton, her boyfriend at the time, broke the news to her, which he found quite distressing.
However, The Hollywood Reporter cited a source close to the film who challenged Love's claims. The source stated that Love had only auditioned for the part and was not officially offered the role. Therefore, the source argued, Love could not have been fired from a role she did not have in the first place.
Gus Van Sant ended up directing 'Last Days,' a Cobain-inspired movie starring Michael Pitt, though Love asserts that this was not the initial project discussed.
On her now deleted Instagram account, Courtney Love elaborated on her situation with Brad Pitt regarding Fight Club and the proposed Cobain biopic. She claimed her main issue lies with Pitt's business conduct rather than the missed opportunity to be part of Fight Club.
"I understand how much of a game of roulette casting is. I am not here 22 years later bitching about losing a part playing someone's side piece in a movie," Love expressed. She clarified that she bears no grudges against Helena Bonham Carter, Edward Norton, David Fincher, or Art Linson — all of whom she deeply respects.
Yet, Love was perturbed by Pitt's persistence about the Cobain film. "The point is Brad kept on stalking me about Kurt," she stated. According to Love, she had a Zoom meeting with Pitt in 2020 where she declined his production company's proposition for a Cobain film. When her refusal was ignored, she felt the need to bring the story to public attention.