Erika Jayne went through one of her most trying times on The Real Housewives of Beverly Hills when it came to those she considered her friends.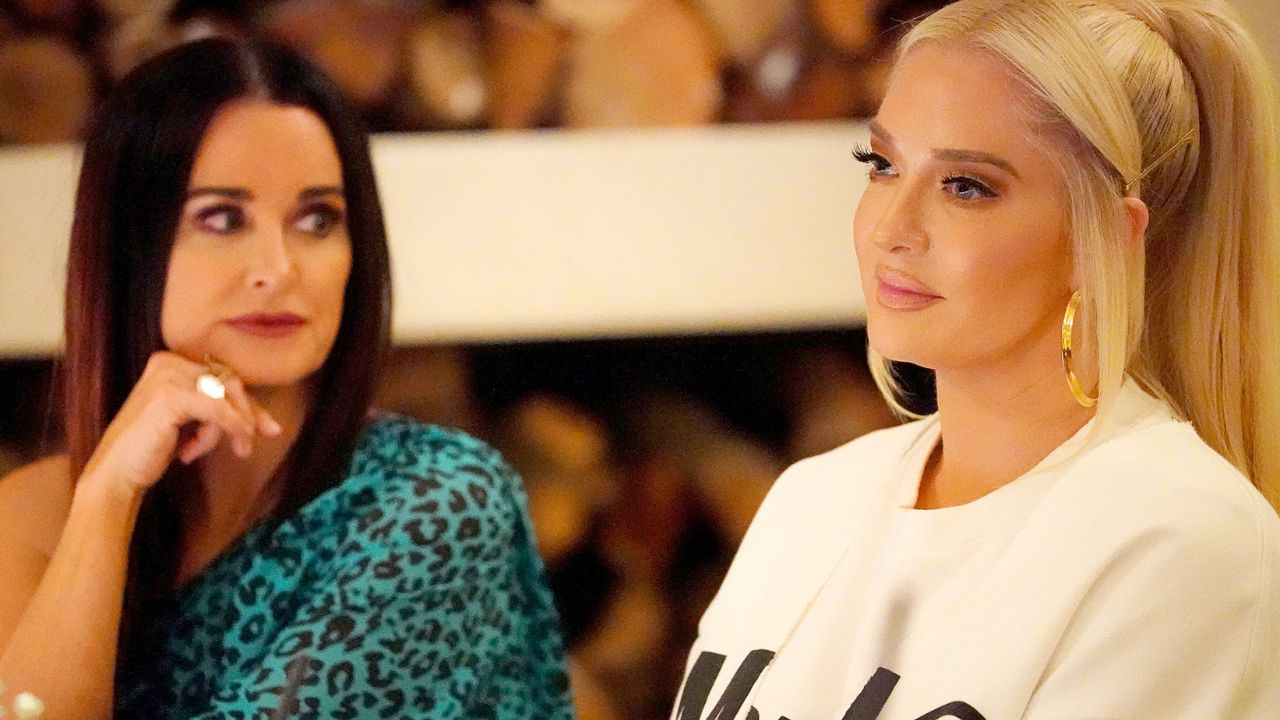 This included Kyle Richards, which left many wondering whether the two are still friends.
They went for the four-part reunion in which they were interviewed by Andy Cohen.
The two sorted their differences and confirmed everything between them was good.
A source close to the show stated, "Kyle and Erika made up at the 'RHOBH' reunion a few weeks ago.
They both talked it out and are happy with where they're at."
Kyle Richards gave fans an update about her relationship with Jayne.
While going through her husband Tom Girardi's scandal, Jayne conflicted with almost everyone.
Lisa Vanderpump also accused Kyle of circulating gossip.
During the season finale, Kyle confirmed her support for her friend.
She confessed she could not defend her friend, especially on the unanswered questions on whether she knew To engaged in illegal activities.
The reunion revealed how much trouble Jayne was in, and Andy Cohen seemed to rub it in.
It also showed her confronting Richards about a few mockeries made by Mauricio.
Also, fans noticed that Erika failed to attend Richard's daughter's Bat Mitzvah.
Before airing the four-part special, Richards stated how the reunion influenced their relationship.
It Does Not Mean Everything is Okay
While promoting her movie Halloween Kills, she revealed to Page Six that she and Erika were on good terms.
She said, "We're actually good; we're in a good place.
We worked through our issues during the reunion."
She revealed that she had texted her before appearing at the event.
When talking about the legal problems Jayne was facing, she said, "It was just confusing…We had a lot of questions, and it was unfolding in real-time, but we worked through that stuff, so I'm grateful."
She revealed that "I think many things get answered, so I think they're going to be happy and shocked.
Some things were cleared up to make things clearer for the audience."
Just because everything seems okay does not mean that the reunion was without its fair share of drama.
While comparing it to her movie, Richards stated, "I can tell you that I can be chased by Michael Myers into a swamp where there are alligators and snakes, legitimately, and feel less tired and drained than when I do a reunion with the 'Housewives.'"
Jayne Felt Bad They Made Fun of Her Situation
Mauricio Umansky and Richards revealed their position after Jayne stated that they mocked her during one of the show's previous seasons.
She admitted that she felt bad when she saw a dinner scene in which Mauricio, Kyle, Dorit, and her spouse PK talked about her family issues and divorce.
Kyle confessed to E! News while talking about The Knot Magazine's cover: "We did talk about it.
It did hurt her feelings.
And Mauricio also spoke to Erika as well as PK."
Mauricio revealed, "I apologized; PK and I both apologized to her.
And the reality is we weren't making fun of her, of her, we were just in a very funny conversation."
Kyle also added, "Better to stop while you're ahead.
They apologized.
We apologized and moved on.
It was confusing."
She continued, "I understand why you do get stressed when you're explaining a story like that with the cameras.
I understand she was stressed, so that's why there were missing pieces, and it was overwhelming, and she was probably analyzing everything she said because she's married to this lawyer."
Before the reunion, it was revealed that Jayne's legal team was worried that some of the utterances made might weaken their defense, considering the amount of money involved.