David Dobrik is an internet personality whose resume shows he is busy.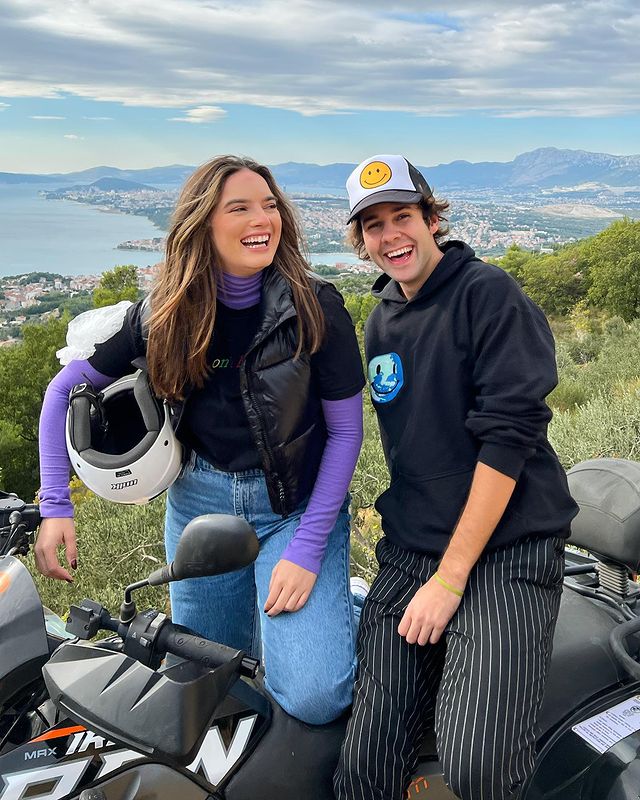 During his time in the limelight, he has been rumored to be dating several people, and there is only one relationship the public knows of. Many also feel he may be gay.
Let us look at whether he is dating anyone.
David Dobrik's Only Confirmed Relationship
His first and only confirmed relationship was with Liza Koshy, which lasted two years.
They were one of the most famous couples on YouTube, but they separated in 2018 and told the world in a YouTube clip.
Dobrik stated that their relationship became untenable but never went into details about what led to their separation, but they confessed their professions affected their relationship.
Dobrik continued that Liza left him since she felt like they had become distant due to their busy schedules. They felt like they lived different lives, but neither wanted to accept that.
They felt they should break up and initially wanted to keep it a secret since they were angry that they had grown distant.
David Dobrik Dating Rumors
Some feel the internet sensation may be dating his friend and assistant Natalie Mariduena since she usually appears with him in many places and they always have a lovely time together.
The comment sections of their pictures together are usually filled with people saying they are a couple, but they have constantly stated they are friends and work together.
Some also came to his defense and revealed that they do not think he would date one of his employees since he always has a good relationship with the ladies he works with, and the fact they work together means she has to be in some of the pictures.
There are also suggestions that he may be dating someone, but he does not want the public to know about it since they feel it would not be a struggle for him to get a girlfriend.
Others also state that he is concentrating on his career since he is involved in many projects and also feel that he may be dating but has decided not to post until he feels they are serious about the relationship.
Another conversation popped up that she may have a girlfriend but prefers to hide her identity since he has some crazy fans that can be intrusive.
David Dobrik Gay Rumors
There are allegations that he may be gay.
There were various reasons fans felt he was gay, including an Instagram photo with a rainbow behind him.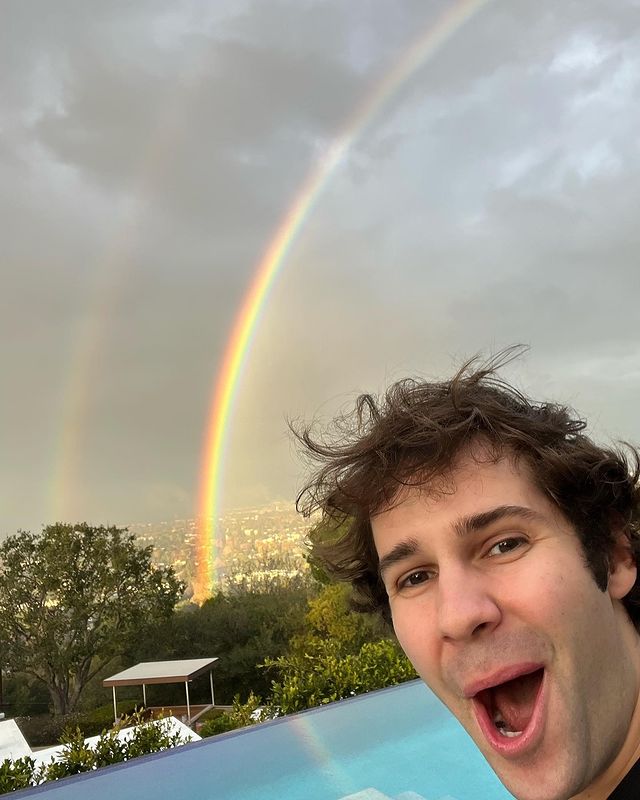 One user quickly asked whether this was David admitting he was gay, considering his only known relationship was with Liza Koshy.
Luckily, he once addressed the rumors in an episode of the VIEWS podcast, stating that he saw a Twitter thread in which there was a debate regarding his sexuality.
He found the conversation hilarious, considering there were those who were bashing him for "rejecting" Corinna and Madison Beer.
Others felt he was bi-sexual, making him clarify that he is not bisexual or bicurious.
David Dobrik Got Married and Divorced Within a Month
Even though David may be young, he has already experienced marriage and divorce.
The celebrity married and divorced within a month, but it was a joke.
One of his friends and YouTuber, Jason Nash, joked that no one would agree to marry him.
He took the challenge, traveled to Boston, and married Lorrain Nash, Jason's mom.
He did it to prove him wrong and be his stepfather. They married in Las Vegas and went on a honeymoon in Hawaii.
A month later, David revealed they had divorced on reasonable grounds, and the operation cost $30,000. The YouTube sensation seems like he has not found the right person, or he could be hiding his new girlfriend's status to maintain her privacy, considering he has an overenthusiastic following.