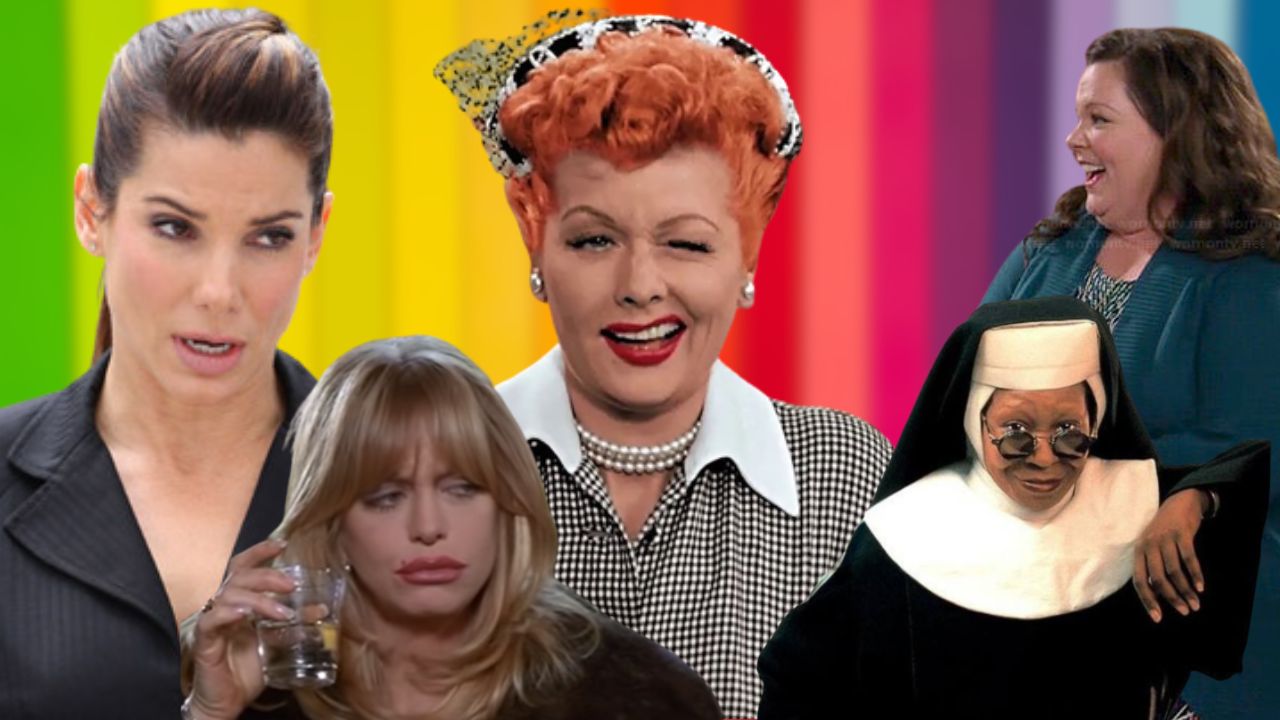 Everyone needs a good laugh from time to time, and few things deliver those hearty chuckles like a well-crafted comedy movie.
But it takes an exceptional talent to rise to the top in the world of comedic acting, and that's what we're focusing on today. We're diving into the laughter-filled archives of cinema to honor those women who have consistently kept us in stitches with their memorable roles.
From the early days of the silver screen to modern comedic gems, these women have redefined the comedy genre with their brilliant performances.
Lucille Ball
There's no denying that Lucille Ball's name is synonymous with comedy. The star of the iconic television show "I Love Lucy" also graced the silver screen with films like "The Long, Long Trailer" and "Yours, Mine and Ours".
Ball had an innate talent for physical comedy and facial expressions, getting laughs without even uttering a word. Her comedic influence has spanned generations and she's paved the way for many women in comedy.
Melissa McCarthy
Melissa McCarthy is a comedy powerhouse, whether she's leading her own movies or stealing scenes in a supporting role. Her breakout role in "Bridesmaids" showed the world her gift for creating laughs, earning her an Academy Award nomination for Best Supporting Actress.
Since then, she has proven her comedic chops with hits like "The Heat", "Spy", and "Ghostbusters". Known for her physical comedy and impeccable timing, McCarthy isn't afraid to go for broke in her performances.
Whoopi Goldberg
A multi-faceted talent, Whoopi Goldberg is an accomplished comedian, actress, and host. Her comedic prowess shone in movies like "Sister Act" and "Ghost", the latter earning her an Academy Award for Best Supporting Actress. Goldberg's charm, quick wit, and natural comedic timing have endeared her to audiences worldwide.
Her roles often blend humor with heartfelt moments, showing the depth of her talent. Whoopi Goldberg is a comedy titan whose work has not only entertained but also broken barriers in Hollywood.
Carol Burnett
A comedy pioneer, Carol Burnett is known for her variety show "The Carol Burnett Show", but her movie roles shouldn't be overlooked. Films like "Annie" and "Noises Off" showcased her ability to create memorable comedic characters. Burnett's physical comedy, humorous expressions, and hilarious character voices make her a standout in the comedy genre.
Her influence on female comedians is immense, and her contributions to the field of comedy are immeasurable. Carol Burnett's enduring humor and charm have solidified her place as one of the best female comedy stars of all time.
Kristen Wiig
Known for her memorable characters on "Saturday Night Live", Kristen Wiig made a successful transition to the big screen. Her co-writing and starring role in "Bridesmaids" was a comedic triumph, earning her an Oscar nomination for Best Original Screenplay.
Wiig's performances in movies like "Ghostbusters" and "The Secret Life of Walter Mitty" have shown her versatility in comedy. Her talent for creating unique, funny characters and her sharp comedic timing set her apart in the comedy genre.
Tina Fey
Tina Fey, the brain behind the critically acclaimed TV series "30 Rock" and the timeless high school comedy "Mean Girls", has had a monumental influence on the comedy world. Fey's wit and incisive humor, both in her writing and acting, have set a high standard for comedy in film and television.
Her performances in films like "Date Night", "Sisters", and "Whiskey Tango Foxtrot" showcase her versatility in both comedic and semi-dramatic roles. Fey's combination of sharp wit, self-deprecating humor, and clever writing make her a comedic force to be reckoned with. She continues to create and star in projects, cementing her status as one of the best female comedy movie stars of all time.
Amy Poehler
Best known for her role in the hit TV show "Parks and Recreation", Amy Poehler has also made significant contributions to comedy cinema. Poehler's roles in "Baby Mama", "Sisters", and "Inside Out" have demonstrated her ability to make audiences laugh, whether she's playing a stressed-out new mom or the personification of Joy.
Her humor often plays on her charming, upbeat persona, but she isn't afraid to tackle physical comedy or satirical humor. Poehler's ability to embody her characters and her brilliant comedic timing have earned her a spot among the top female comedy stars. With her ongoing work in both film and television, she continues to entertain and inspire with her humor.
Goldie Hawn
With her blonde hair and dazzling smile, Goldie Hawn might seem like just another Hollywood starlet, but she's proven herself to be a comedy legend. Her roles in classic films like "Cactus Flower", "Overboard", and "The First Wives Club" showcased her endearing charm and flawless comedic timing.
Hawn's knack for playing quirky, slightly ditzy characters, coupled with her ability to pull at the heartstrings, has made her a beloved figure in the comedy genre. Her roles have not only entertained but also demonstrated the strength and resilience of her characters, often in the face of adversity. Goldie Hawn's comedic legacy remains a benchmark for those in the industry, demonstrating that humor can be both light-hearted and impactful.
Lily Tomlin
Lily Tomlin, with her incredible range and comedic genius, has been making audiences laugh for decades. Her film roles, including turns in "9 to 5", "All of Me", and "Big Business", demonstrated her knack for creating funny, believable, and deeply human characters. Tomlin's comedy often includes social commentary, but it's her warm-hearted and empathetic approach to her characters that makes her performances so memorable.
Her iconic characters and timeless humor continue to inspire comedians today, securing her place as one of the best female comedy movie stars of all time. With her continuing work in film and television, Tomlin shows no signs of slowing down, much to the delight of comedy lovers everywhere.
Sandra Bullock
Sandra Bullock may have won an Academy Award for a dramatic role, but she's proven time and time again that she's got comedy chops too. With her performances in films like "Miss Congeniality", "The Proposal", and "The Heat", Bullock has shown her ability to make audiences laugh with her versatile acting skills and endearing on-screen presence.
Her comedic style often incorporates physical humor and slapstick, all while maintaining a strong, relatable character. Despite her success in dramatic roles, Bullock's ability to navigate comedic roles with charm and finesse marks her as one of the best in comedic cinema.