A small change in the structure of your body rarely goes unnoticed if you are a public figure. This was the same case with the famous American actress and comedian, Kaitlin Olson.
In 2018, when the 13th season of the TV show It's Always Sunny In Philadelphia premiered, rumors surfaced that the star was not looking the same.
After airing the first episode of the series, fans engaged in a heated discussion on Reddit about the 44-year old "transformation."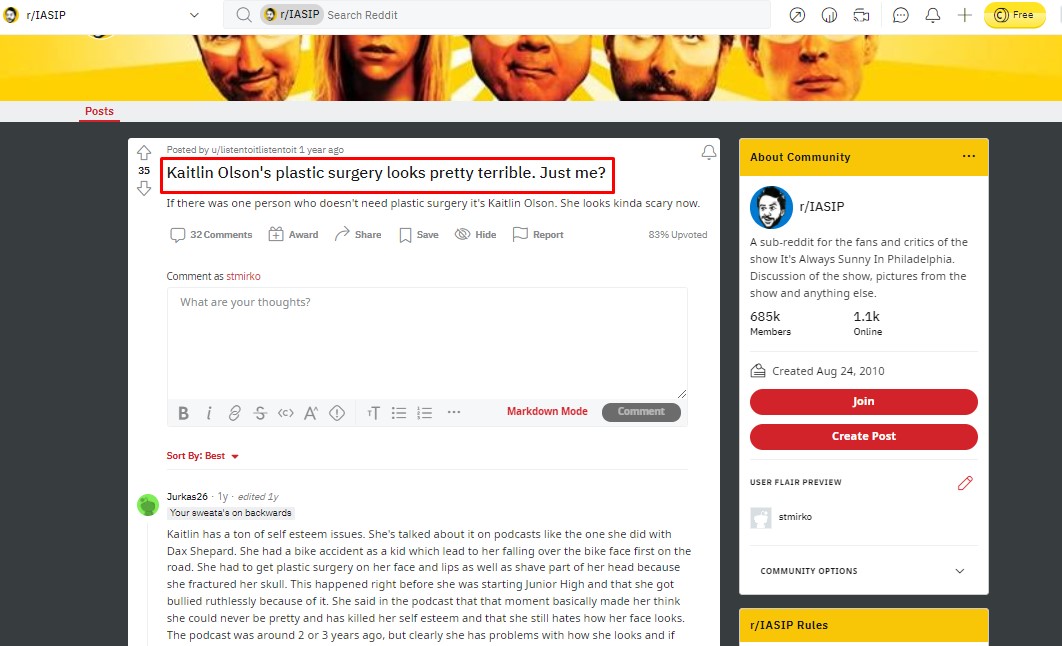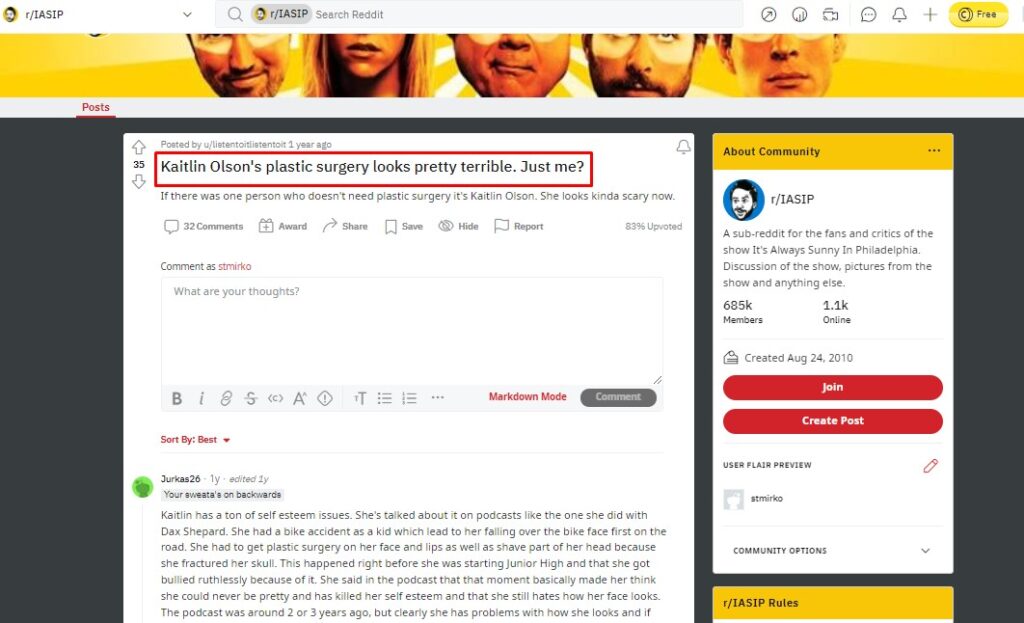 Surgery rumors
Many of the It's Always Sunny In Philadelphia fans claimed she had undergone cosmetic surgery.
Some claimed they had to google if it was true that she had done surgery on her face after the first episode was aired.
A person commented, 'it was disappointing to see Kaitlin was unable to change her facial expressions."
Some claimed her eyebrows were not moving when she was speaking or moving her eyes wide. (See Video).
Several participants in the discussion had a similar opinion that she had undergone cosmetic surgery on her face.
Some slammed her for doing it, claiming "her facial expressions are what made her a great actress," but she had lost it.
A few fans supported her decision and found her looking more beautiful than in her previous episodes.
Did Kaitlin Olson have plastic surgery?
So, did Olson perform a surgery? Here is the real truth.
Although the star has not yet come out clean on the matter, it appears that she enhanced her facial appearance.
Olson has not admitted to performing any surgeries or any sort of facelifts. But if you compare her recent photos with the older ones, you can be the judge.
Olson underwent surgery during her childhood
If you are her die-hard fan, you are probably familiar with what happened to her in her childhood.
When she was 12, the star had a nearly fatal bike accident that left a hole in her head.
Kaitlin shared this horrific childhood incident in 2017 when she talked to Glamour. She said she had smashed her head that she needed to undergo some reconstructive surgeries.
The accident impacted her life intensely and she had to shave her head while going into junior high school.
"I still have a hole in my head, the size of a lime. It also smashed my face, and I had to have surgery. It was bad. It was really, really bad." She said.
Olson added that walking on her first day to school with a shaved head was not good for her.
"Honestly, it's probably the greatest thing that ever happened to me. That was a real serious source of adversity that took years to fight back from that."
Over the years, she has learned to cope up with the situation through the tough times.
The accident made her suffer bullying at school.
The actress said some people were kind to her while others were so mean. She remembers a kid named Casey Johnson behind her in line throwing jelly beans at her, aiming for the hole in her head.
There are two purposes why one performs plastic surgery on themselves:
Reconstructive purposes: The purpose of reconstructive surgery is to restore the looks that were damaged due to accidents, deep cuts, or even burns.
Cosmetic surgery: Cosmetic surgery is performed to enhance a person's looks. Being public figures with all eyes on them, most celebrities undergo cosmetic surgeries to look more attractive. The purposes may be to remove wrinkles, lift eyebrows, shape the face, breast enhancement, and more.
So which surgery did Kaitlin Olson perform?
While many claims that her latest facial appearance could mean she had surgery recently, all we know is that she had reconstructive surgery when she was 12.
Unless she talks about the recent cosmetic surgery rumors, we leave you to decide.
Kaitlin Olson's husband and kids
In 2005, Kaitlin landed a role as 'Deandra Reynolds' in the It's Always Sunny in Philadelphia show.
She met Robert McElhenney, who played a role in the show as 'Mac,' and was also the executive producer and co-creator of the series.
The couple started dating secretly before making it public. On September 1, 2010, they had their first child, a boy, Axel Lee McElhenney.
On April 12, 2012, the couple had their second son, Leo Grey McElhenney.
The family currently lives in LA, California.