The 'House of Gucci' star Adam Driver, who portrayed Maurizio Gucci, has been in a happy marriage for 10 years now.
Find out more about him and his wife Joanne Tucker in the text below.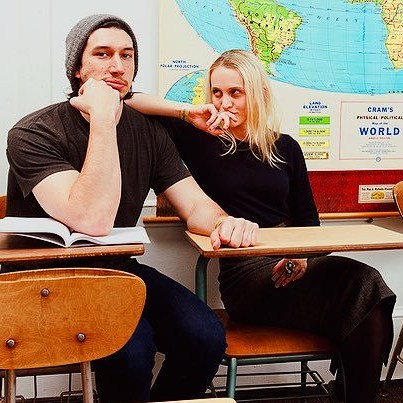 Who is Joanne Tucker?
Joanne made her debut TV appearance after graduating from Juilliard in 2010.
She appeared in two short movies in 2010 titled "Party Trick", and "After You Left".
From 2010 to 2015, Tucker starred in the horror movies "The Basement", and "Loft".
Her performances in the comedy movie "Give or Take", and in "The Report" are considered her best ones so far.
She portrayed Pam for several episodes of the recently filmed TV series titled "American Rust".
Adam Driver and Joanne Tucker Relationship timeline
Unlike their movie roles, Adam and Joanne's life together is a very quiet and peaceful one. 
They have been together for 15 years now, so let's see how and when they met.
How did Adam Driver and Joanne Tucker meet?
The two met while studying at Juilliard together.
Although we're not pretty sure when this took place, we know it's sometime from 2002 – 2005.
Adam and Joanne bonded over their time spent together as classmates at Juilliard, as the actor addressed their relationship in the 2009 interview with, saying she taught him what Gouda cheese is.
Isn't that cheesy? (pun intended)
AITAF organization
Another situation that brought the two even closer is co-founding an organization together titled Arts in the Armed Forces, or AITAF.
Adam and Joanne co-founded the organization in order to honor the armed forces, and give them unlimited access to arts such as theatre exhibitions, movies, and the possibility to do art themselves. 
Secret wedding & children
Adam and Joanne have been very good at keeping their private life away from the cameras.
The two secretly got married in 2012 after several years of dating.
Yet another secret about their life was revealed in 2016, as the couple welcomed a baby boy together.
Working together
Despite keeping their love life and children away from the paparazzi, the couple is very fond of attending events together, such as the Emmys, Cannes Film Festival, and even the Oscars. 
Adam and Joanne have had several appearances together in movies such as "The Basement" (their short movie), and the 2019 movie titled "The Report".