Remember the feeling of sitting down with a bucket of popcorn and just enjoying a good ol' crowd-pleaser without any pretensions? Yeah, that's right.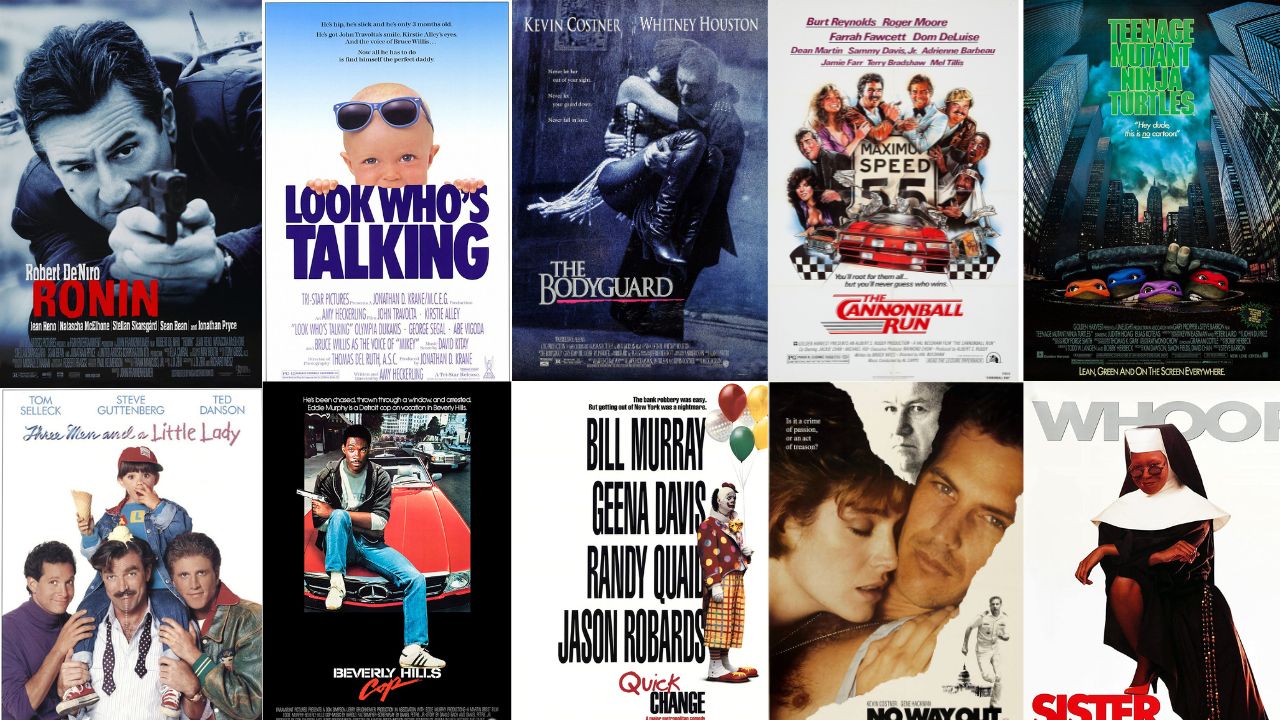 We're talking about movies like Sister Act, which was not only fun but raked in the dough at the box office.
These are the films that somehow, over time, lost their spot in the limelight but were once blockbusters that had us all talking. They may not have made it to the AFI top 100 or IMDb's top 250, but they certainly entertained the masses. Today, we're going to shed some light on popular movies from decades ago that deserve their time in the sun again.
Three Men and a Baby (1987)
Directed by Leonard Nimoy (yes, Spock himself), Three Men and a Baby was the fifth highest-grossing movie of 1987, making $167 million domestically off a $10 million budget. It beat out big-name flicks like Predator, Robocop, Lethal Weapon, and Good Morning, Vietnam. While it may not have won any awards, this comedy about three bachelors trying to take care of an infant was a massive hit and deserves a revisit.
No Way Out (1987)
This thrilling political drama, starring Kevin Costner, Gene Hackman, and Sean Young, might not have made it onto critics' top lists, but it sure had audiences on the edge of their seats. No Way Out follows a naval officer who becomes entangled in a web of conspiracy and espionage when he is falsely accused of murder. Featuring unexpected twists and top-notch performances, this suspenseful thriller is a hidden gem from the late '80s that is more than deserving of another look.
Look Who's Talking (1989)
Another baby-centric comedy, Look Who's Talking was an unexpected box office success. Featuring John Travolta, Kirstie Alley, and the voice of Bruce Willis, this quirky comedy grossed over $140 million in the US. With a talking baby's perspective adding a twist to the familiar rom-com formula, it's high time we gave this fun, lighthearted flick another chance.
Sister Act 2: Back in the Habit (1993)
Sister Act 2: Back in the Habit is a sequel that proves lightning can strike twice. With Whoopi Goldberg reprising her role as Deloris Van Cartier, she returns to the convent to teach music to a group of unruly teenagers at a struggling Catholic school.
One of the film's highlights is a young Lauryn Hill revealing her incredible talent before her meteoric rise to fame as a member of the Fugees and a successful solo artist. Filled with humor, heart, and toe-tapping musical numbers, Sister Act 2 is a feel-good movie that stands strong alongside the original and is certainly worth revisiting.
The Bodyguard (1992)
Starring Kevin Costner and Whitney Houston, The Bodyguard was a massive hit, earning over $410 million worldwide. The romantic thriller may not have garnered critical acclaim, but it gave us one of the best-selling soundtracks of all time, including the iconic "I Will Always Love You." With its blend of suspense, romance, and music, The Bodyguard is an entertaining ride worth revisiting.
See: 10 Movies Like Napoleon Dynamite to Watch Right Now
Teenage Mutant Ninja Turtles (1990)
Before the CGI-heavy adaptations, the original live-action Teenage Mutant Ninja Turtles was a huge success, earning over $200 million at the box office. The film brought our favorite pizza-loving, crime-fighting turtles to life in a fun, campy way. While it may not have been a critical darling, this nostalgic gem deserves a fresh look.
The Cannonball Run (1981)
This star-studded action-comedy, featuring Burt Reynolds, Roger Moore, and Farrah Fawcett, was a massive hit in the early '80s. The Cannonball Run follows a group of eccentric characters competing in a cross-country car race. Filled with slapstick humor and thrilling car chases, it's a perfect popcorn flick to revisit for some light-hearted fun.
Ronin (1998)
Ronin, directed by John Frankenheimer, is an action thriller with a stellar cast that includes Robert De Niro, Jean Reno, and Natascha McElhone. The film follows a team of mercenaries hired to steal a mysterious briefcase, only to find themselves caught in a deadly game of deception and betrayal.
Known for its intricate plot, intense car chases, and exceptional gunfight sequences, Ronin is an underappreciated gem from the late '90s. While it may not have garnered widespread acclaim or topped box office charts, this adrenaline-pumping thriller is a must-watch for action aficionados and deserves its time in the spotlight once again.
Quick Change (1990)
This criminally underrated comedy gem stars Bill Murray, who also co-directed the film, alongside Geena Davis and Randy Quaid. Quick Change follows a trio of hapless criminals trying to escape New York City after pulling off a heist, only to find themselves caught in a series of absurd and hilarious mishaps.
With an impressive ensemble cast that includes young Stanley Tucci, Jason Robards, Phil Hartman, and Kurtwood Smith (Red from That '70s Show), this fast-paced, witty comedy deserves to be rediscovered and celebrated for its clever humor and fantastic performances.
Beverly Hills Cop (1984)
Beverly Hills Cop is my favorite movie. It was a massive hit when it was released, and it remains a beloved classic to this day. Directed by Martin Brest and starring Eddie Murphy as the wise-cracking, street-smart Detroit cop Axel Foley, this action-comedy was a box office smash, becoming the highest-grossing film of 1984. Its blend of humor, action, and memorable one-liners made Beverly Hills Cop a standout film of the 1980s.
While it might not be a forgotten blockbuster, given its enduring popularity and iconic status, Beverly Hills Cop still holds a special place in the hearts of moviegoers who appreciate a good laugh combined with thrilling action sequences. The film's success even spawned two sequels and helped solidify Eddie Murphy's status as a leading man in Hollywood.
While these movies may not have won awards or found their way into critics' top lists, they were undoubtedly crowd-pleasers that once took the box office by storm. So grab your popcorn, sit back, and let's give these forgotten blockbusters the second chance they deserve. You never know, you might just find a new-old favorite!