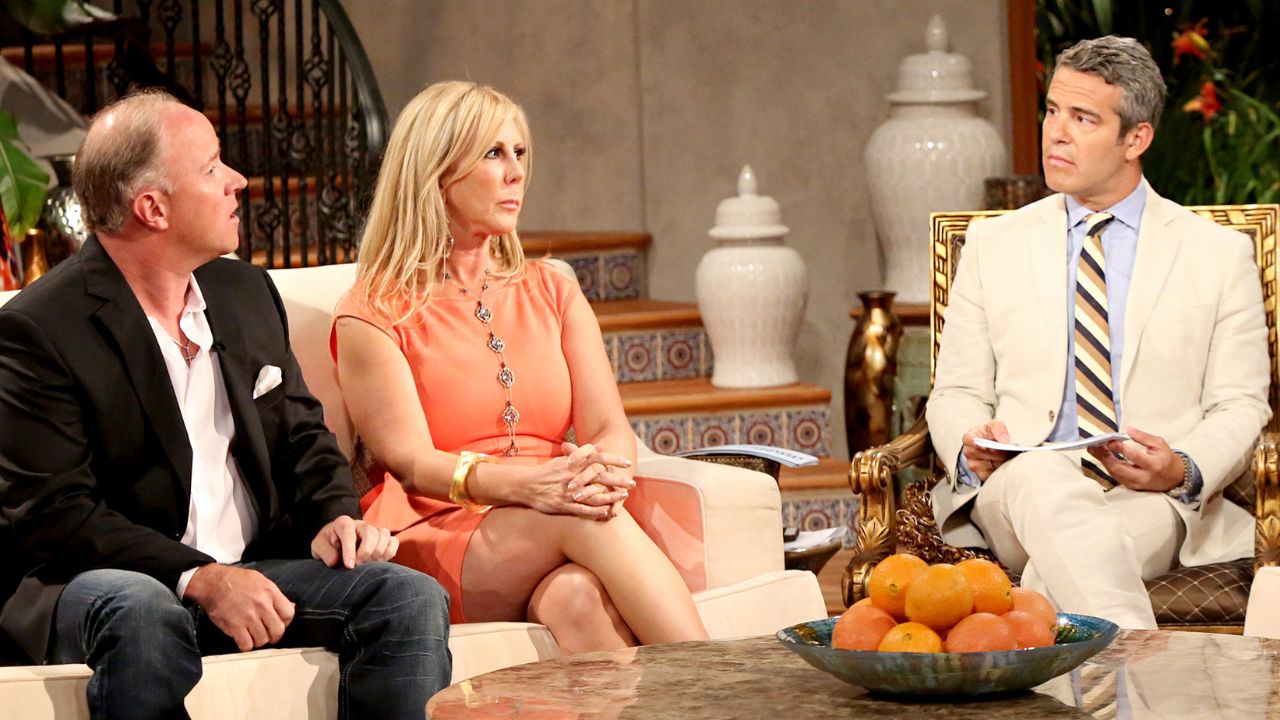 If you're a fan of reality TV, you probably know that the "Real Housewives" franchise has no shortage of drama.
From nasty fights to awkward moments, the housewives never fail to keep us entertained – or, sometimes, a little grossed out. Here are the top 5 cringe-worthy moments from the "Real Housewives" that had us all squirming in our seats.
Brooks Ayers Fakes Cancer Diagnosis – Real Housewives of Orange County, Season 10
One of the most notorious moments in Housewives history is when Vicki Gunvalson's then-boyfriend, Brooks Ayers, claimed he had cancer – only to later admit that he'd made the whole thing up.
He even went as far as showing Tamra Judge and Heather Dubrow a supposed PET scan proving his illness, which turned out to be a forgery. This awkward and unsettling saga left viewers and cast members feeling shocked and disgusted.
Dinner Party from Hell – Real Housewives of Beverly Hills, Season 1
In one of the franchise's most unforgettable episodes, Camille Grammer hosted a dinner party featuring Allison DuBois, a psychic medium, who took things to another level of cringe.
After one too many cocktails, she started making wild predictions and even lit up an electronic cigarette in a bizarre fashion, creating a truly awkward atmosphere.
Prosthetic Leg Throw – Real Housewives of New York City, Season 6
In a moment that's hard to forget, Aviva Drescher took off her prosthetic leg during a heated argument and tossed it across the room at Le Cirque, a high-end New York restaurant.
It was one of those moments that was as shocking as it was cringe-inducing, with many fans left speechless.
"Close Your Legs to Married Men!" – Real Housewives of Atlanta, Season 2
NeNe Leakes' legendary confrontation with Kim Zolciak over accusations of an affair was one of those moments that was both jaw-dropping and uncomfortable.
NeNe's infamous line, "Close your legs to married men!" became a classic Real Housewives quote, but the heated exchange was definitely a cringe-worthy moment.
Cake Toss – Real Housewives of New Jersey, Season 8
On a lighter note, we can't forget about the time when the Jersey housewives took a trip to Boca Raton to celebrate Melissa Gorga's birthday.
However, when Teresa Giudice decided to throw the beautiful (and expensive) birthday cake, it was more messy than festive, leaving us all cringing at the waste and the uncomfortable tension.
Wine Toss – Real Housewives of New Jersey, Season 1
A classic moment that launched a thousand memes is from the first season of RHONJ when Teresa Giudice got into a heated argument with Danielle Staub. Unable to keep her cool, Teresa flipped the dinner table while yelling at Danielle.
This over-the-top outburst became one of the most memorable moments in Housewives history. However, for many fans, it was definitely cringe-inducing and excessive.
Wig Pull – Real Housewives of Atlanta, Season 2
Perhaps one of the most talked-about scenes from RHOA is when Sheree Whitfield and Kim Zolciak got into a confrontation at a restaurant, and Sheree tugged at Kim's wig. The argument quickly escalated, leading to this shocking moment. It was quite uncomfortable to watch, and certainly cringe-worthy.