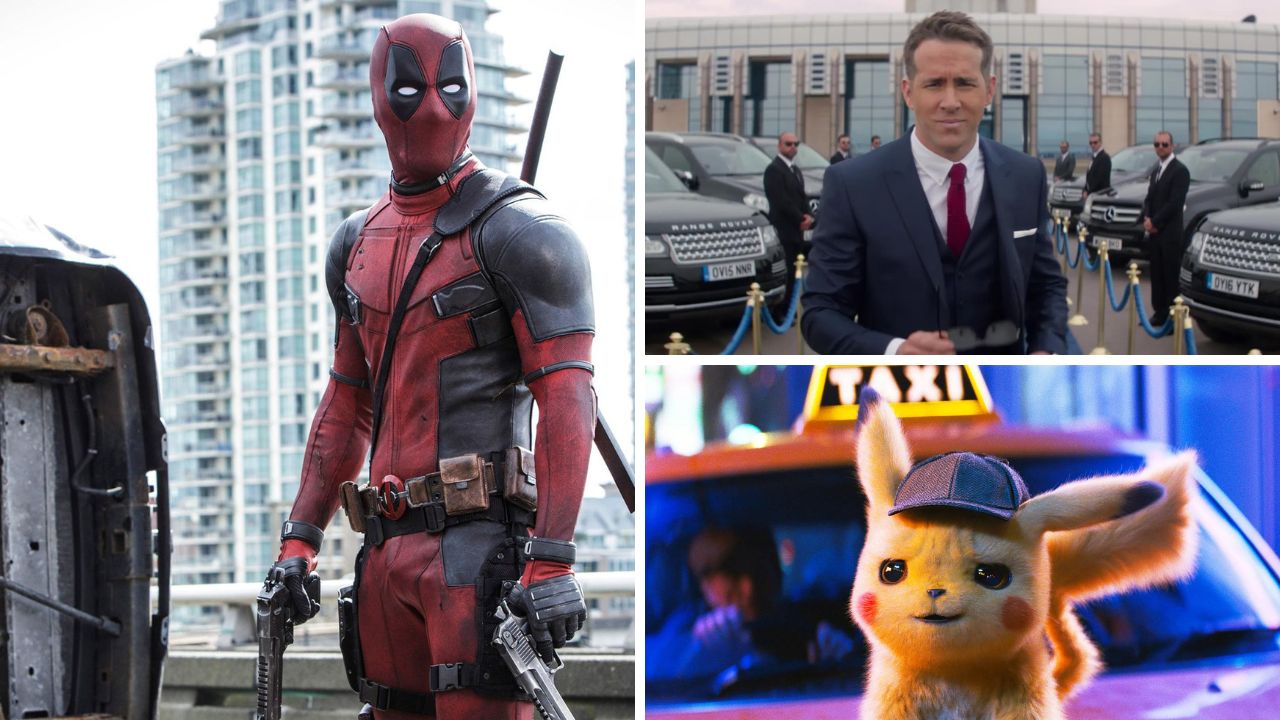 With the signature charm and comedic wit that Ryan Reynolds brings to the screen, it's no surprise that he's become a beloved figure in Hollywood.
First appearing in the early 2000s with memorable roles in rom-coms and comedies, Reynolds soon found his stride, carving out a unique niche for himself in the film industry. With a series of box-office hits under his belt, he's not just a star but a true force to be reckoned with in the world of cinema.
Known for his charismatic on-screen presence and quick-fire humor, Reynolds has proven his ability to draw audiences into theaters time and time again. Whether he's making audiences laugh as the unique superhero Deadpool or breathing life into animated characters, his broad collection of roles underlines his versatility and widespread popularity.
Now, let's jump into the treasure trove that is Ryan Reynolds' movie career. Here, we present you with every Ryan Reynolds movie that has grossed over $100M at the box office.
Deadpool (2016)
Ryan Reynolds brought to life one of the most beloved comic characters with his role as Wade Wilson, aka Deadpool, in 2016. Displaying his knack for quick-witted humor and sardonic charm, he transformed the superhero genre with this unapologetically R-rated flick. Deadpool received rave reviews for its fresh approach, helping it gross a whopping $782 million worldwide.
Deadpool 2 (2018)
Following the huge success of the first film, Reynolds donned the red and black suit again in Deadpool 2. This time around, Deadpool forms the team X-Force to protect a young mutant from the time-traveling soldier, Cable. The sequel was a box office hit as well, bringing in around $785 million globally.
The Croods (2013)
Ryan Reynolds showed his versatility by lending his voice to the character of Guy in this animated adventure-comedy. The film, which followed a prehistoric family navigating a rapidly changing world, was a hit among audiences of all ages and raked in approximately $587 million worldwide.
Detective Pikachu (2019)
In Detective Pikachu, Reynolds provided the voice and facial motion capture for the beloved Pokémon character. The live-action/CGI hybrid film follows a young man teaming up with Pikachu to uncover the mystery behind his father's disappearance. The movie's blend of nostalgia, humor, and heart helped it to gross around $433 million globally.
The Proposal (2009)
Reynolds teamed up with Sandra Bullock in this romantic comedy, playing the role of an assistant to a high-strung book editor who pretends to be engaged to avoid her deportation to Canada. The chemistry between the leads and the hilarious hijinks that ensue made The Proposal a hit, pulling in approximately $317 million at the box office worldwide.
Green Lantern (2011)
Before Deadpool, there was Green Lantern. Reynolds played the role of Hal Jordan, a test pilot chosen to become a member of an interstellar police force armed with special rings that create matter out of pure willpower. Despite its lukewarm reception, Green Lantern still managed to pull in around $219 million globally.
X-Men Origins: Wolverine (2009)
Reynolds' first venture into the superhero genre came with X-Men Origins: Wolverine, where he played the role of Wade Wilson/Weapon XI. The film traces the backstory of Wolverine and garnered a total of $373 million worldwide.
MORE: Not Hugh Jackman but THIS Actor Was The First Choice to Play Wolverine in The X-Men
The Hitman's Bodyguard (2017)
This action-comedy sees Ryan Reynolds as the world's top protection agent, assigned to guard the life of his mortal enemy, a notorious hitman played by Samuel L. Jackson. This hilarious odd-couple film, packed with high-energy action sequences, was well-received by audiences, leading to a worldwide gross of about $176 million.
Safe House (2012)
In Safe House, Reynolds stars as a young CIA agent tasked with looking after a fugitive, played by Denzel Washington, in a safe house. When the location is attacked, he finds himself on the run with his charge. This thriller captivated audiences and managed to pull in roughly $208 million globally.
Turbo (2013)
Showing his range in another animated feature, Reynolds voiced Turbo, a speed-loving garden snail who dreams of becoming the world's greatest racer. This family-friendly movie offered a blend of humor, excitement, and heart, managing to earn about $283 million at the box office worldwide.
Free Guy (2021)
In Free Guy, Reynolds plays Guy, a non-playable character in a video game who gains self-awareness and decides to become the hero of his own story. This unique and inventive film charmed audiences and critics alike, garnering around $331 million worldwide.
6 Underground (2019)
This action-thriller from director Michael Bay casts Reynolds as the leader of a group of operatives who fake their deaths to fight crime undercover. Even though it was primarily a Netflix release, 6 Underground still had a limited theatrical run, and combined with its streaming success, the film's estimated audience equivalent gross surpassed the $100 million mark.
The Croods: A New Age (2020)
Reynolds returned to voice Guy in this sequel to The Croods. This follow-up continued the prehistoric family's journey as they met another family claiming to be better evolved. Despite the pandemic affecting its theatrical run, The Croods: A New Age still managed to earn around $215 million worldwide.
The Croods (2013)
This animated feature introduces us to the prehistoric Crood family, who set off on a journey of a lifetime when their cave home is destroyed. Ryan Reynolds voices the character Guy, a more evolved caveman who helps the family along their journey. This fun, heartwarming family movie raked in approximately $587 million at the box office globally.
Deadpool 3 is coming to U.S. theaters on May 3, 2024. It's part of Phase Five of the Marvel movies. Just like the past movies, we can expect this one to make more than $100M too.