Matthew McConaughey's Blockbuster Hits!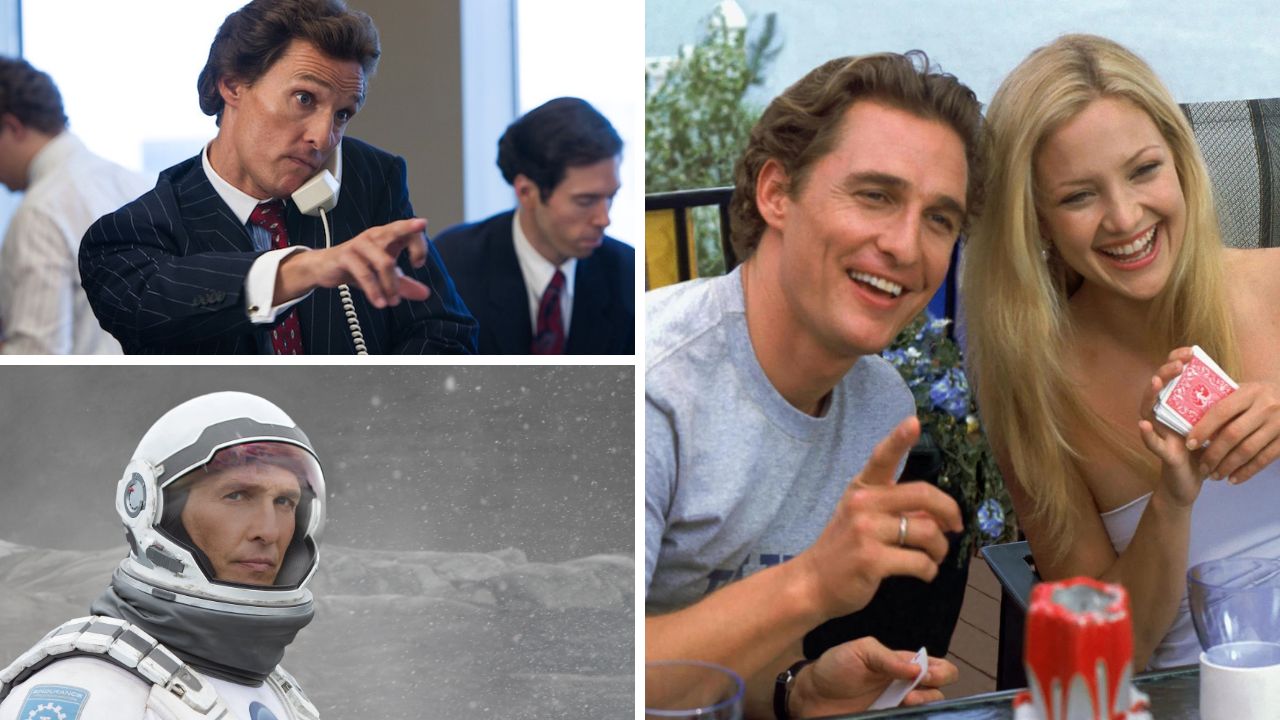 Matthew McConaughey, our very own Hollywood heartthrob, is known for his riveting performances and that trademark Texas drawl.
With a career spanning over three decades, this versatile actor has presented us with an assortment of memorable characters.
But here, we're spotlighting his big-ticket movies—the ones that not only made us love him more but also raked in over $100 million at the box office.
MORE: Matthew McConaughey's Roles You Might Have Forgotten About
"Interstellar" (2014)
McConaughey reached for the stars—literally—in Christopher Nolan's science fiction epic, "Interstellar".
As Joseph Cooper, he led a team of explorers to venture into a wormhole in search of a new home for humanity. This mind-bending ride through time and space captivated audiences worldwide, earning a whopping $677.5 million.
"Sing" (2016)
Who knew our guy could carry a tune? In the animated hit "Sing", McConaughey voiced Buster Moon, a koala with a dream to save his theater with a singing competition.
With its heartwarming story and catchy soundtrack, this film hit the right notes, bagging $634.2 million at the box office.
"The Wolf of Wall Street" (2013)
McConaughey gave an unforgettable performance as Mark Hanna, the slick Wall Street mentor to Leonardo DiCaprio's Jordan Belfort, in Martin Scorsese's "The Wolf of Wall Street".
Known for the chest-thumping scene, this film was a critical and commercial success, collecting $392 million worldwide.
"Magic Mike" (2012)
In "Magic Mike", McConaughey showed off his dancing skills—and a lot more—as Dallas, the owner of a male strip club. This steamy comedy-drama, inspired by Channing Tatum's real-life experiences, brought in a cool $167.2 million at the box office.
"Tropic Thunder" (2008)
McConaughey got into the comedic groove in "Tropic Thunder" as Rick Peck, a loyal talent agent who'd go to great lengths for his client. Amid its ensemble cast and outrageous humor, the film earned a solid $195.7 million worldwide.
"A Time to Kill" (1996)
In "A Time to Kill", a gripping courtroom drama based on John Grisham's novel, McConaughey played Jake Brigance, a young attorney defending a black man accused of murdering two white men. This breakout role marked a turning point in his career, with the film making $152.3 million globally.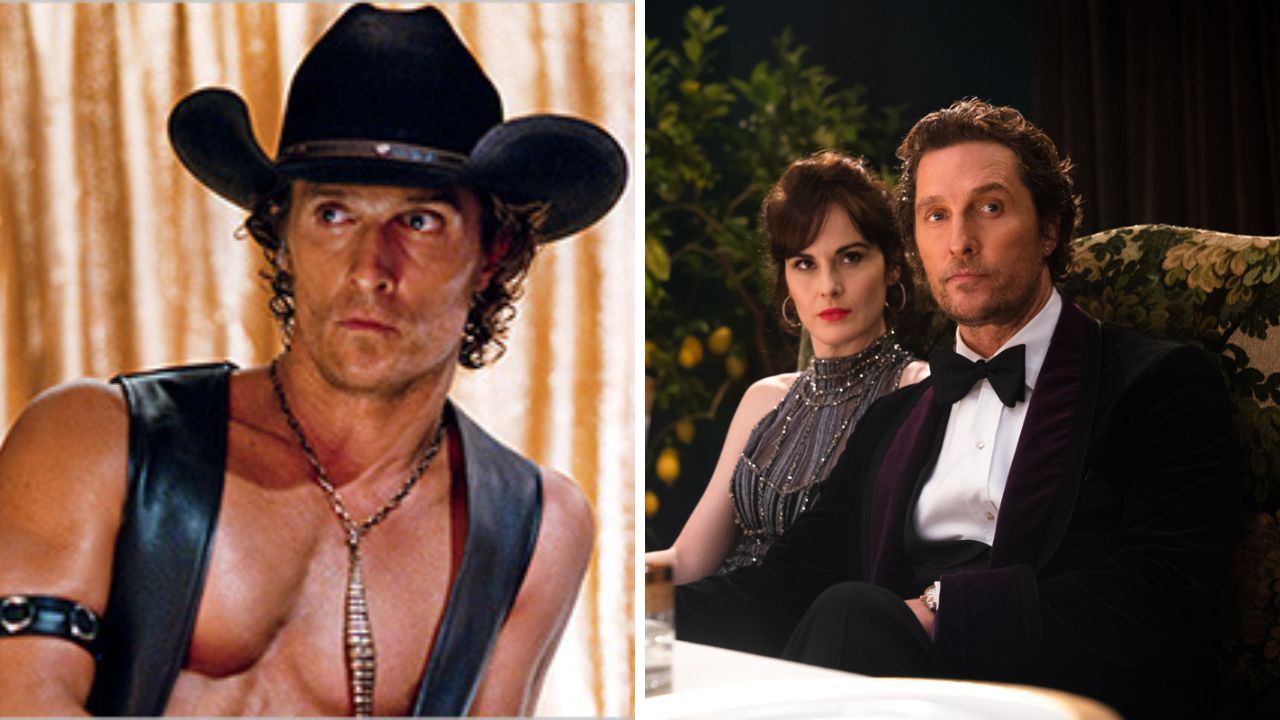 "How to Lose a Guy in 10 Days" (2003)
McConaughey charmed us as advertising executive Ben Barry in the rom-com "How to Lose a Guy in 10 Days". The delightful chemistry with Kate Hudson made this film a favorite among fans, scoring a total of $177.4 million at the box office.
"Contact" (1997)
In the sci-fi drama "Contact", McConaughey played Palmer Joss, a philosopher-theologian who finds himself in a debate about science and religion. This thought-provoking film, based on a novel by Carl Sagan, garnered a global box office gross of $171.1 million.
"Sahara" (2005)
"Sahara", an action-adventure film based on Clive Cussler's novel, saw McConaughey as adventurer Dirk Pitt. While the film's production was famously troubled, it still managed to rake in $119.3 million at the box office.
The Gentlemen (2019)
Matthew McConaughey charmed us as Mickey Pearson in "The Gentlemen", a British-American crime comedy-drama. Pearson is an American expatriate who becomes rich by building a highly profitable marijuana empire in London.
With a blend of humor, action, and classic McConaughey charisma, the movie earned a total of $115 million at the box office. A far cry from his romantic comedy roots, this role reinforced McConaughey's versatility on screen.
"U-571" (2000)
"U-571" saw Matthew McConaughey step into the uniform of Lieutenant Andrew Tyler in this thrilling World War II submarine movie. Despite controversies regarding historical accuracy, the action-packed film managed to capture the attention of audiences globally, amassing a total of $127.6 million at the box office.
"Failure to Launch" (2006)
Playing a 30-something still living at home, McConaughey charmed audiences in the romantic comedy "Failure to Launch". This light-hearted film, also starring Sarah Jessica Parker, grossed $128.4 million at the box office.
"The Dark Tower" (2017)
Trading his usual suave characters for a more sinister role, McConaughey starred as the enigmatic villain Walter o'Dim in "The Dark Tower". This sci-fi western action film, based on Stephen King's series of novels of the same name, found McConaughey going toe-to-toe with Idris Elba's Gunslinger.
Even though it wasn't a hit with critics, it resonated with King's fans, grossing $113 million worldwide. McConaughey's portrayal of Walter brought a chilling edge to the movie, proving that he could handle any role thrown at him, hero or villain.
"Fool's Gold" (2008)
Teaming up with Kate Hudson once again, McConaughey went on a treasure hunt in the adventure comedy "Fool's Gold". This fun, tropical romp gathered a hefty sum of $111.2 million worldwide.
"The Wedding Planner" (2001)
In "The Wedding Planner", McConaughey found himself in a sticky love triangle as pediatrician Steve Edison. This sweet romantic comedy, also featuring Jennifer Lopez, collected a nice sum of $94.7 million at the box office which is slightly below $100M.
"Ghosts of Girlfriends Past" (2009)
In "Ghosts of Girlfriends Past", McConaughey played a womanizer who gets haunted by the spirits of his past, present, and future girlfriends. This unique take on the classic Dickens tale made a solid $102.2 million worldwide.
McConaughey's filmography is as diverse as it is successful. He's played everyone from a Wall Street mogul to a charming wedding planner, always captivating us with his performances.
It's clear that whether he's in space, in court, or even in a male strip club, audiences love to see McConaughey on the big screen.