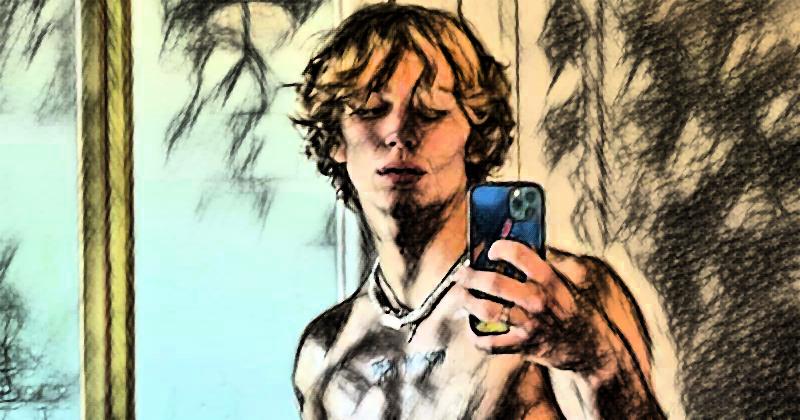 If you have ever spent time scrolling through TikTok, you must have come across him. He is a handsome young man lip-syncing to popular songs. So, who is Vinnie Hacker?  
Vinnie Hacker is a popular TikTok star who is known for his lip-sync videos. This American-made social media celebrity and model currently has over 4.5 million followers on Instagram.
He began by posting lip-sync videos on his vhackerr TikTok account. He quickly amassed over 11 million fans on TikTok. He is also popular for his comedy videos on TikTok.
When he started making TikTok videos, he received an amazing response to his videos. His stunning looks, social media popularity, and dedication to his followers launched him into modeling.
Keep scrolling to know more about Vinnie Hacker, his biography, and interesting facts.
Vinnie Hacker – The Social Media Star
Vinnie Hacker is an American social media star who is known for his lip-sync videos on TikTok. He was born in Seattle, Washington, The USA, on 14 July 2002. So, in 2021 he will be 19 years old.
He shot to fame when his TikTok lip-syncing videos and YouTube posts racked up thousands of views. Now, he has over 7.4 million followers on TikTok.
Vinnie Hacker is also a part of the collaborative TikTok group called the Sway Gaming and The University of TikTok.
RECOMMENDED: What happened to Ricegum?
Vinnie Hacker's Bio
Vinnie Hacker is from Seattle, Washington. His mother was a 911 dispatcher, and his father is an electrician. He has a younger brother named Reggie Hacker.
Reggie Hacker played baseball and basketball growing up. Also, like his brother, Reggie is a prominent social media celebrity.
Vinnie also played competitive baseball for O'Dea High School and Seattle Select. Vinnie started his social media career by editing short films and music videos for fun. He also put together sports highlights for YouTube and Instagram profiles.
As of 2021, he has over 415K subscribers on YouTube and over 4.5 million followers on Instagram. He is also a boxing newcomer.
Vinnie Hacker stands at 5 feet 11.5 inches tall, weighs 71 kgs, and his shoe size is 9 (US). He has dark brown eyes and blonde hair. This influencer also enjoys traveling apart from making funny and enjoyable content online.
Vinnie Hacker's Net Worth
Vinnie Hacker has a net worth estimated at 1.2 million USD. The main source of money for this social media celebrity comes from his modeling career.
He makes good money from editing videos, brand sponsorship, and promotion. Also, he makes money from his own clothing brand named Purgatoryxla that sells hoodies and T-shirts.
Social Media
Vinnie Hacker is known for his lip-sync videos on TikTok. However, he has shown interest in many social media platforms.
He has a YouTube channel with over 400K subscribers where he posts lifestyle videos and skateboarding content. However, he is not so active on YouTube and has not posted in a long time. Nonetheless, he has over 1.8 million views on the channel.
He has over 4.5 million followers on Instagram, and as of 2021, he has posted only over 200 posts. He follows over 2000 people on Instagram. Also, he posts modeling shots on Instagram.
Some of the other social media platforms Vinnie Hacker is active on are Twitter, Snapchat, and Twitch. His Snapchat username is @vvhacker, and his Twitter user name is @Vinniehacker. He uses Twitter to update his followers on his Twitch live streaming.
Moreover, his clothing brand Purgatoryxla has over 95.7 thousand followers on Instagram.
Interesting Facts About Vinnie Hacker
Vinnie Hacker is an interesting person beyond his social media fame. In this section, you get to know more about him with the pointers below:
He is one of the members of the TikTok group The Hype House, and he also lives in the house.
Vinnie Hacker is a former member of Sway Gaming.
He also has his own Twitch channel, which has over 174k followers.
He streams on his twitch channel a few times a week.
He has signed with SMG models.
Vinnie Hacker's birth sign is a sign.
On 30 December 2020, he launched his first-ever single named Cavity.
Vinnie Hacker grew up catholic, and he is passionate about his religion.
He went to the #1 sports school in Washington and one of the top 170 sports schools in the country.
Vinnie Hacker's Snapchat username is @vvhacker.
He has his own clothing brand named Purgatoryxla.
He became friends with Avani Gregg, Mason Gaines, and others he met via social media platforms.
Also, he is currently single.
Final Words
Vinnie Hacker is undoubtedly a popular social media celebrity. Moreover, with his modeling career and clothing brand, he is set to become more successful.
Hopefully, this article on who Vinnie Hacker is piqued your interest! To know more about him, you can follow him across social media platforms.