In the stormy world of music artists, it's never a big surprise when we hear that the band members are having some sort of feud. While most of these feuds tend to get sorted out in their next tourney, there are some that lead to nasty relationships.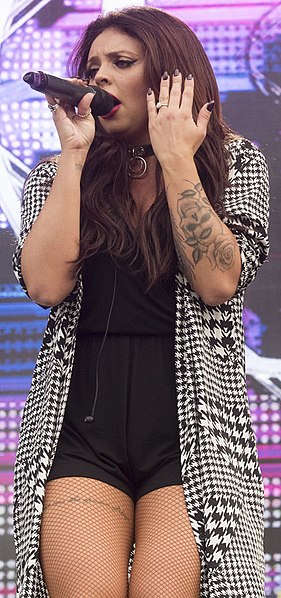 The situation with Jesy Nelson and her former band Little Mix is somewhere in between. While the band members have all stated that there isn't any bad blood between them, there are other sources that claim otherwise.
Let's see what happened to Jesy and the Little Mix band.
Who is Jesy Nelson? 
Jesy Louise Nelson is an English singer and a former member of the British girl group Little Mix.
After she departed from the Sylvia Young and Yvonne Rhodes Theatre Schools, Jesy briefly worked as a barmaid in Dagenham, before auditioning for "The X Factor."
Her debut song on the UK version of "The X Factor" was "Bust Your Window" by Jasmine Sullivan. Seeing how Jesy has a tremendous talent for singing, nobody was surprised when she made it through the audition.
Unfortunately, after the successful audition, she failed the first challenge of the "Bootcamp" section to progress through to the next stage. 
READ

What Happened Between Eminem And Chris Kirkpatrick? 'Without Me' Explained
Little did we know, the judges on X Factor had a plan – combine all the talented girls that failed into one band.
The judges first created a group called "Rhythmix," which showed much improvement and managed to go all the way to the live shows with the help of their mentor Tulisa Contostavlos.
They decided to change the bend's name to Little Mix on 28 October 2011, and 12 days later, they were announced as the winners, making them the first band ever to win the show.
Following their win, the group signed a record deal with Syco Music. Since then, Jesy and the Little Mix released six albums, "DNA," "Salute," "Get Weird," "Glory Days," "LM5," and "Confetti".
Unfortunately, Jesy soon became a constant target of cyberbullying which even drove her to the point where she tried to commit suicide back in 2013.
She often mentions that she experienced panic attacks and other side effects that were ultimately caused by cyberbullying; she even admitted that she would sometimes starve herself before the shows.
Thankfully, she made much progress in the following years and managed to overcome these issues.
What happened with Jesy and Little Mix?
After spending nine years together, in December 2020 Jesy announced that she was leaving the band to focus on her mental health, leaving the other members of the band in shock.
Other information later surfaced, saying that Jesy didn't even break the news to her band colleges in person and that they found out about it from their lawyers.
Following her departure from the band, Perrie, Leigh-Anne, and Jade publicly supported her decision, with the addition that they wouldn't stop making music and working together.
"We are still very much enjoying our Little Mix journey, and the three of us are not ready for it to be over," the band shared on Instagram.
In 2021, Jesy made her debut as a solo artist with a hit single called "Boys". Somewhere in that period is when the rumors about the alleged feud started to emerge.
Things took a big turn when Nicky Minaj, on her live stream with Jesy, started to badmouth Leigh-Anne (one of the band members), while Jesy laughed it off.
Later, when Jesy appeared on the Graham Norton Show, she said, "We're not talking anymore. It is sad, but honestly, there is no bad blood from my side, and I still love them to pieces and genuinely wish them all the best."
"I loved my time with them, and we've got the most incredible memories together, but It's just one of those things which need to take time, so who knows," she added.