You may already know about Tom Cruise and Kirstie Alley. But the list of members of "the church" is long and has several surprise faces.
When Ben Foster got married to a fellow actor, Laura Prepon, several people asked whether Ben Forster is also a Scientologist.
We will try to find out the truth about this in this article and confirm everything to you.
What is Scientology?
Invented in the 1950s by an American author, L. Ron Hubbard, Scientology is a set of beliefs and practices which many define a cult, business, or an emerging religious movement.
Its believers undergo graded courses and training to seek knowledge and spiritual fulfillment. Several celebrities have come out claiming they are believers in Scientology.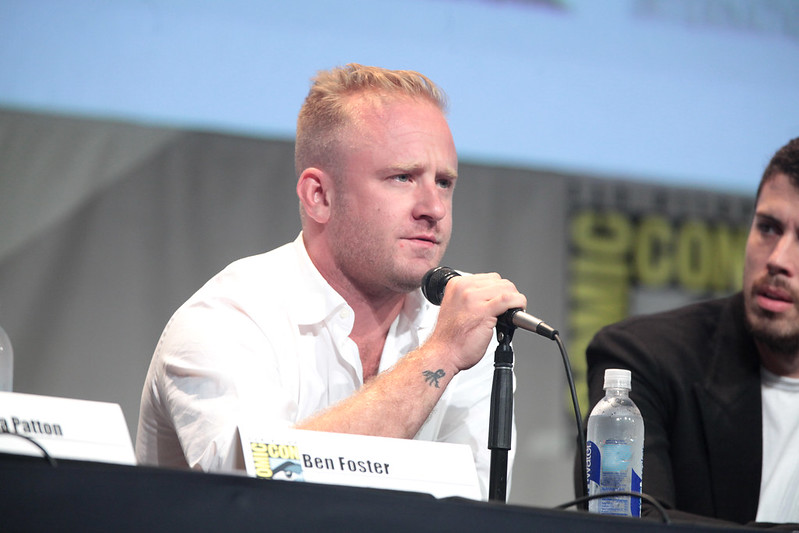 Ben Foster And Scientology
Born on October 29, 1980, in Boston, Massachusetts, the now actor moved with his family to Fairfield, Iowa, after robbers attacked their home.
He was raised Jewish by his parents Gillian Kirwan and Steven Foster.
IN October 2016, Ben Foster announced his engagement to actress Laura Prepon, a known practicing celebrity Scientologist.
UPDATE: Laura Prepon no longer practices Scientology.

In her latest interview, she confirmed that religion isn't a part of her life anymore.
The couple had their first child, a girl, Ella, in August 2017.
In 2018, the couple announced they were getting married. It was at this point that people started asking whether he is also a Scientologist.
In a tweet dated June 4, 2018, Perez tweeted the question, also asking whether Laura had recently left "the church."
"Two things you don't talk about, religion and politics. If they can do that, they will be fine." One reply read.
Does This Make Ben A Scientologist?
While everything is not so clear, there are some ways we can find out.
In the same tweet, some replies hinted at reliable and solid pieces of evidence that could help shade the truth.
From the replies, it looks like Ben Forster has been affiliated with Scientology since 2000.
Reports claim his best friend is Danny Masterson, an American actor who is also a known Scientologist. Masterson and Ben Foster declared to be best friends in several interviews.
Besides, Ben follows several Scientologists on his Instagram account.
He has also attended several Scientologist events, being invited by Masterson.
More facts linking Foster to Scientology
He once dated Diane Gaeta, who is reported to have attended a series of Scientology completions.
When Masterson wedded Bijou Phillips, Ben was in attendance.
His photographs with famous Scientologist Jason Lee.
He is a good friend to Giovanni Ribisi and his clan, the Helnweins and the Pragers, another known Scientologist.
Robin Wright never wanted anything to do with Scientology.
When Foster and Robin Wright were dating between November 2011 and July 2015, Foster was never seen publicly with other Scientologists, even Masterson.
The last time he was seen engaging with other Scientologists was at Masterson's wedding in Ireland. The wedding was in October 2011.
From the wedding until Foster broke up with Robin, he never appeared in public or engaged in any way with other Scientologists.
It seems Robin Wright never invited the idea of Scientology in their relationship and wanted Foster to stay away from it.
What makes this so real is after they broke up, Foster resurfaced back and started seeing his best friends. He began sharing concerts and pictures on social media with his Scientology friends.
He opened a private Instagram account ( msalohasippycup) and started following and being followed by Scientologists.
Laura Prepon
Laura Prepon, Ben Foster's wife, is believed to have become a Scientologist in 1999 when she was dating Danny Masterson's brother Christopher Masterson.
Much of what is known about her affiliation to Scientology comes from a magazine known as "Celebrity," which is affiliated to "The Church."
We assume that being a staunch believer in Scientology, Laura Prepon could not get married to someone less. And the two matched what each other wanted and vice-versa.
So Foster may have no records about being a Scientologist, but this does not disqualify him from being one. Some Scientologists choose not to be included in the public record for some reasons. Will Smith and Family chose this option, and maybe Ben Foster opted for this.
He never speaks publicly about his Scientology, but anyone who has been following him closely would say that he is a Scientologist.