Those who have followed the Teen Mom series will likely be familiar with Kailyn Lowry.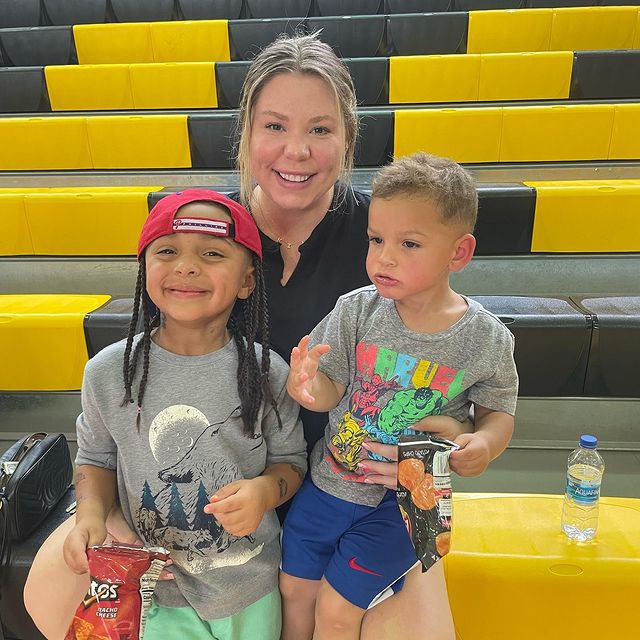 The Pennsylvania-born star made her debut appearance on television in 2010 with the show 16 and Pregnant.
Lowry had her first pregnancy then, and now that she has four children, one may wonder how many baby daddies she has.
The reality star has three baby daddies, with the first being Jo Rivera.
She was pregnant with her first child, Isaac Elliot Rivera, in 2010.
Jo was just eighteen years old when Isaac was born.
Currently, Rivera has a family with Vee Torres, with whom they have a four-year-old daughter.
Javi Marroquin
The mom of four got married to the father of her second child. His name is Javi Marroquin, and he works for the US Air Force.
They got married in 2012 while she was pregnant.
The couple started having marital problems and attended Marriage Boot Camp.
This was not enough to repair the damage since they eventually divorced in 2015.
They agreed to have joint custody of their child, Lincoln Marshall Marroquin, and she went on to deny the rumors that they experienced problems with infidelity.
Chris Lopez
She proceeded to have a relationship with her friend Chris Lopez and fell pregnant with her third son, Lux Russell Lowry.
He was born in 2017. On July 30, 2020, she gave birth to their second child, Creed.
The two have had an on-and-off relationship, and currently, they are not seeing each other.
In 2019, Lowry reportedly filed to have herself protected from abuse against Lopez.
Chris also revealed during an Instagram Live that he was barred from attending her home birth, and he could not remember the last time he had time with Lux.
When asked to comment on reports that she was dating someone new, he stated that it was none of his business.
She Revealed She Would Never Date an Ex
During one of her interactions with her fans, one of them asked, "Dealing with intermittent feelings of loneliness, not close to fam, advice?"
The reality star replied, "I definitely experience this- even when my kids are next to me.
I think staying busy and finding fulfilling things in other ways could be helpful. But also, I need tips too! LOL"
Another fan asked whether she was looking for a new boyfriend and Lowry replied, "No, no. I'm all the way good. But thanks for asking."
She also confirmed that she would never think about dating any of her exes again.
In 2021, in one of the episodes on her podcast, "Coffee Convos," she openly discussed her relationship with her baby daddies.
She confessed, "I don't have a relationship with Chris at all, we don't communicate whatsoever."
She added, "I think the last five or six text messages that I sent obviously about the kids, have not been responded to. Just read."
About Rivera, the star stated, "I like dislike Jo more than I ever did.
Javi and I still, I would say, he has harder periods than I do right now.
Where I've like completely mellowed out, I just don't react the same anymore, and then Chris and I just don't communicate at all."
Lopez Forced Her To Take a DNA Test
Lowry also revealed that she suffered humiliation after Chris asked for a DNA test to confirm if he was Creed's father.
She detailed the experience on her podcast, saying, "I had to get a DNA test against my wishes.
I knew who the father was, but he didn't believe it.
I knew who I slept with and have never questioned any of my kids' dads."
She remembered going for the test, and the nurse made assumptions about her personal life.
She revealed, "I go into the DNA place and [the nurse giving the test] said 'So, you don't know who the dad is?' She flat-out asked me.
When I tell you the humiliation that I felt.
I knew who the dad was; I never questioned it.
That was never a question in my mind.
Yes, I know some women lie [about their kid's father].
I know women who have lied. I know that's there, but that wasn't me. I'm not that type of person."