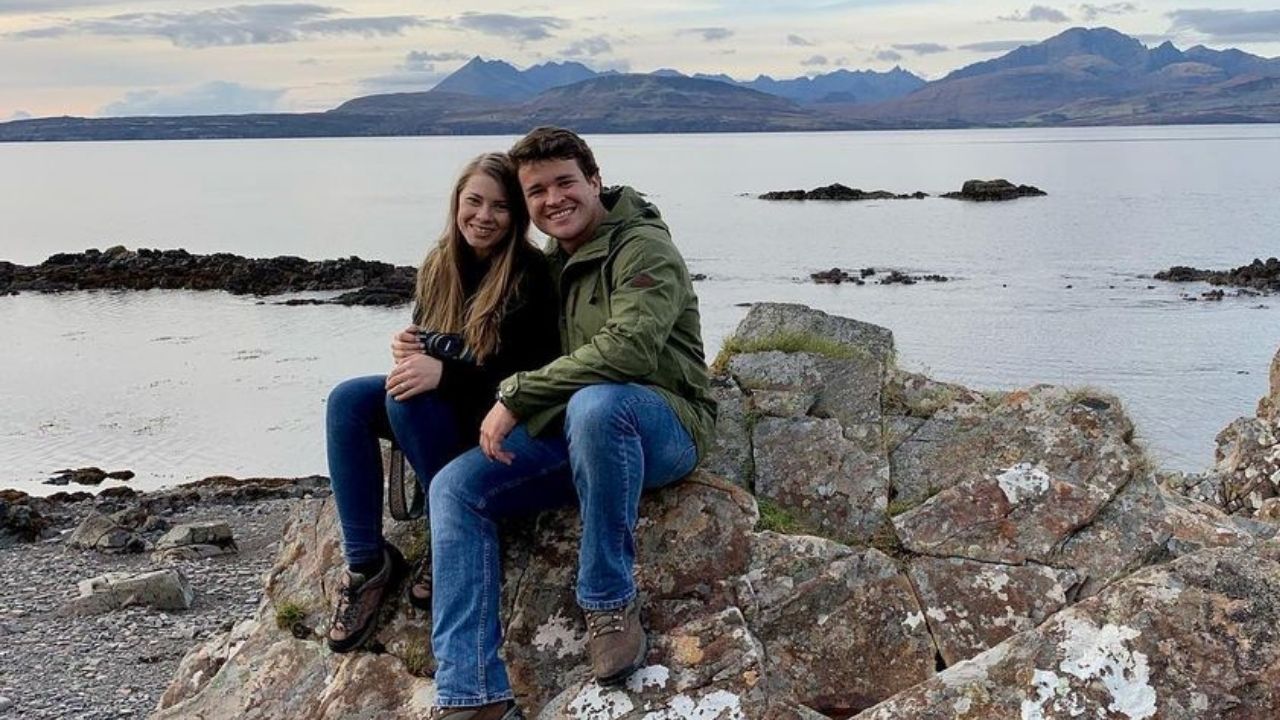 Chandler Powell and Bindi Irwin are a cute couple.
They live at the Australian Zoo, a wildlife sanctuary owned by the Irwins.
They continue Bindi Irwin's father, Steve Irwin's legacy as The Crocodile Hunter.
The two expanded their conservationist family with the birth of their child, a girl named Grace Warrior Irwin Powell, in 2021.
After many adorable pictures of the animals in the zoo next to Bindi's increasing bump, their feed is full of lovely family pictures of their child growing up alongside the animals.
So let us take a look at their relationship.
RECOMMENDED

Is Steve Irwin's Daughter Bindi Irwin Vegan?
Bindi Irwin and Chandler Powell Met at The Australian Zoo
Chandler Powell and Bindi Irwin met in 2013 at The Australia Zoo when she was leading a tour.
During a trip to Australia to participate in a national wakeboarding competition, Powell visited Irwin's Australia Zoo on Queensland's Sunshine Coast.
She led the tours that day, and Powell thought she looked terrific.
She even uploaded a picture of them meeting on that day on Instagram, and the caption stated, "Legendary wakeboarder Chandler Powell and his beautiful family came into @AustraliaZoo yesterday. Wonderful Wildlife Warriors!"
Bindi Irwin and Chandler Powell's Relationship Resulted in Marriage
They started dating in 2015 before Bindi was chosen as a contestant in Dancing With the Stars.
After dating for two years, they decided to announce their relationship.
Bindi was later chosen to perform in Dancing With The Stars, and Powell was her number-one supporter.
He surprised her by traveling to Los Angeles to see her dance.
She ended up clinching the big mirror ball trophy.
Chandler relocated to Australia to be with the conservationist in 2018.
The two announced they were engaged a day before her birthday in 2019.
In March 2020, the two married in an intimate ceremony at the Australia Zoo.
The two got married in March 2020 at the Australian Zoo, and they did not have guests except for Bindi's mother and her brother, and she posted the picture on her Instagram.
She stated that they had a small ceremony and married her best friend.
She lacked the words to describe the light in her heart and the love she felt.
She revealed they had planned for the day a whole year and had to change everything since they did not have guests, and it was a difficult decision but one that had to be made.
In August 2020, Chandler and Bindi revealed they were expecting a child with a lovely Instagram post of them holding a baby-sized shirt.
Bindi revealed that she would be born in 2021, and they were thrilled they were expecting and were proud to share the news with their followers.
Chandler also posted the picture saying that being a dad was the highlight of his life.
Bindi Irwin and Chandler Powell Had a Daughter
In September 2020, the couple revealed they were having a girl.
In January 2021, Bindi uploaded a picture of them recreating a photo she and her parents had taken when her mom was pregnant with his brother Robert. She also uploaded a picture of their child's nursery on Instagram.
In March 2021, the couple welcomed their child and announced on Instagram that the child was born on their wedding anniversary.
She posted a heartfelt statement alongside a picture of the couple holding their child and a picture of her measurements, name, date, and time of birth. She revealed her name was a tribute to her late father.
She summed up her statement by revealing they were happy and were happy she was born on their wedding anniversary.
The new mom posted a full-circle moment on Instagram of her daughter pointing and staring at Bindi's parents' printed on the wall.
She revealed that during her zoo walk, she looked for pictures of her grandparents, which made her feel beautiful.