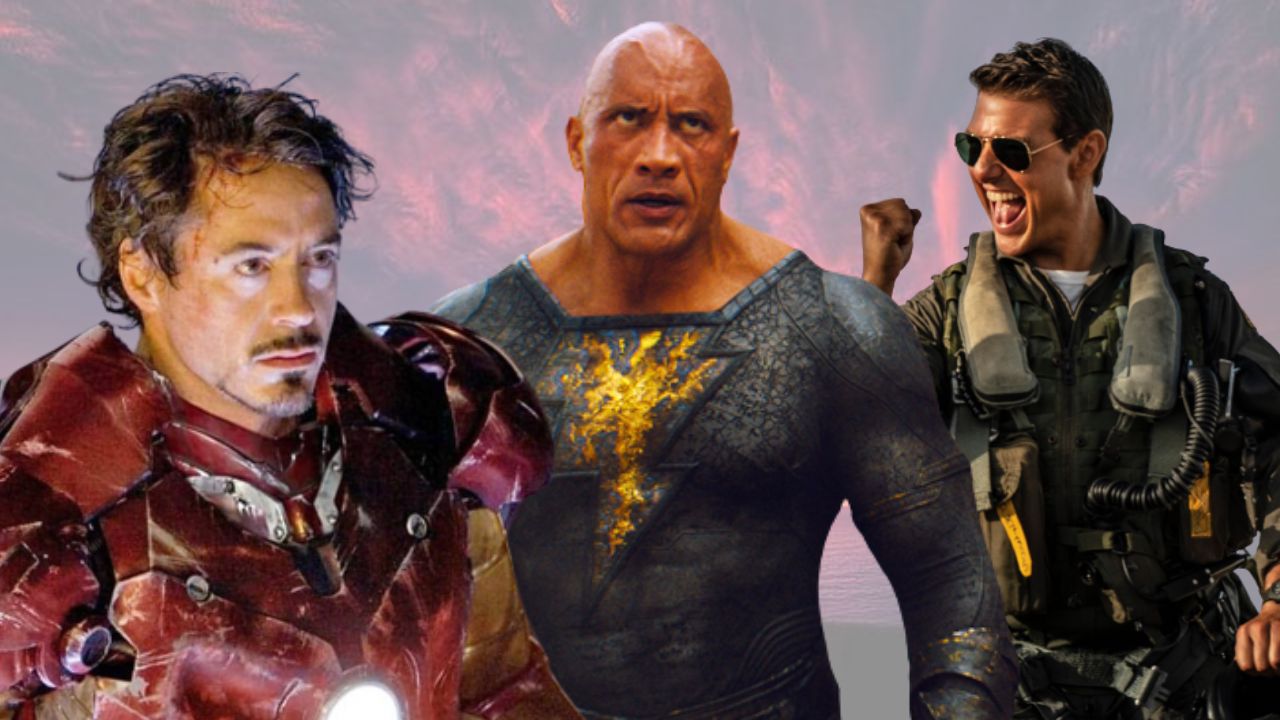 Hollywood is brimming with talented actors, but not all can claim to have appeared in over 20 films that each pulled in over $100 million at the box office.
A few have found the secret recipe to box office success and consistently draw audiences to theaters, movie after movie. They're part of an elite club of actors who have starred in more than 20 films that have each raked in over $100 million at the box office.
Let's check out who these superstars are!
Tom Cruise
Tom Cruise is the quintessential movie star. His films, such as the high-octane Mission Impossible series, have routinely brought in massive numbers at the box office. Take "Mission: Impossible – Fallout," for example, which raked in a stunning $791 million worldwide.
MORE: Mission Impossible and John Wick Are the Only Franchises That Kept Getting Better And Better With Each Movie
Cruise is also known for his iconic role in "Top Gun," which scored $356 million in box office earnings and subsequently 'Top Gun: Maverick' made almost $1.5 billion worldwide since its release. Over his illustrious career, Cruise has developed a reputation for performing his own stunts, adding an extra layer of authenticity and excitement to his films that fans love.
Robert Downey Jr.
Downey Jr. owes much of his box-office success to his charming portrayal of Tony Stark, also known as Iron Man, in the Marvel Cinematic Universe. "Avengers: Endgame," in which Downey Jr. played a central role, is the highest-grossing film of all time, with an eye-watering total of $2.798 billion.
Outside the superhero genre, Downey Jr. also demonstrated his box-office prowess with films like "Sherlock Holmes," which grossed over $524 million worldwide. His magnetic screen presence and talent for delivering memorable lines make him a favorite among viewers and directors alike.
SEE: Robert Downey Jr.: "Iron Man 4" isn't Happening
Samuel L. Jackson
Samuel L. Jackson is a cinema powerhouse. His role as Nick Fury in the Marvel Cinematic Universe has contributed significantly to his box-office tally, with movies like "The Avengers" racking up a massive $1.518 billion in global box office receipts.
Jackson's filmography extends beyond comic book films, though, with successful films like "Pulp Fiction" and "Jurassic Park" also boasting impressive earnings. Known for his distinctive voice and cool charisma, Jackson is a dynamic actor who brings energy to every role he takes on.
Harrison Ford
Harrison Ford, star of such iconic franchises as "Star Wars" and "Indiana Jones," has a box-office track record that few can match. His role as Han Solo in the original Star Wars trilogy catapulted him to international stardom and established him as a bona fide box-office draw.
"Star Wars: The Force Awakens," in which Ford reprised his role, made a staggering $2.068 billion. Meanwhile, "Indiana Jones and the Kingdom of the Crystal Skull" earned over $786 million. With a reputation for playing adventurous, larger-than-life characters, Ford's films are a staple in the global cinematic landscape.
Dwayne "The Rock" Johnson
Dwayne "The Rock" Johnson is a unique case of a successful transition from professional wrestling to Hollywood stardom. Johnson's larger-than-life persona on the wrestling ring followed him into the film industry, where he has been part of high-earning franchises like "The Fast and the Furious". His appearance in "Furious 7", one of the series' highest-grossing entries, helped the movie speed its way to $1.516 billion in worldwide box office earnings.
MORE: Every Dwayne Johnson's Movie That Has Grossed Over $100 Million At The Box Office
Johnson also showcased his appeal in family-friendly fare, such as "Moana" and "Jumanji: Welcome to the Jungle", the latter of which earned a surprising $962 million globally. His undeniable charisma, coupled with his ability to perform action sequences convincingly, makes him a beloved figure on the big screen. Whether he's starring in an action-packed adventure or a comedy, Johnson's performances always promise a good time for moviegoers, and the box office numbers certainly reflect that.
Tom Hanks
One of the most beloved actors of his generation, Tom Hanks is known for his incredible range and likability, which have helped him build an impressive resume of films that have performed phenomenally well at the box office. Among these, "Forrest Gump" is a standout, a heartfelt story of an ordinary man living through extraordinary times, which earned a whopping $678 million worldwide.
READ: Forest Gump Lost $62 Million Despite $678 Million Revenue, Hollywood Accounting to Blame
Another key performance is his unforgettable role as a stranded man in "Cast Away", which garnered around $429 million in global box office receipts. His voice work as Woody in the universally acclaimed "Toy Story" franchise has also contributed significantly to his tally, with "Toy Story 4" alone raking in over $1.073 billion. With a career spanning over four decades, Hanks has proven his star power time and time again, with over 20 of his films grossing over $100 million at the box office.
These six actors stand alone in a league of their own, having each starred in over 20 films that each grossed over $100 million.
Surprisingly, even superstars like Robert De Niro, Sylvester Stallone, Bruce Willis, and Marlon Brando did not make this list. It truly goes to show the rarity and exclusivity of this achievement.
Honorable Mention: Jennifer Lawrence
We would be remiss if we didn't mention Jennifer Lawrence in this discussion. With 14 movies grossing over $100 million, she falls short of the 20-movie criteria for this list, but deserves a special mention nonetheless. More impressively, she is the only actress to have 10 movies with a box office take of over $100 million, a fact that sets her apart from her contemporaries.
SEE: Jennifer Lawrence in the Running for Lara Croft in the New Tomb Raider Reboot?
Lawrence catapulted into the public eye with her role in 'Winter's Bone', earning her a nomination for the Academy Award for Best Actress at just 20 years old. But it was her role as Katniss Everdeen in 'The Hunger Games' series that turned her into a global phenomenon. The series grossed over $2.9 billion worldwide and solidified her status as a box office magnet.
She continued her streak with critically acclaimed films like 'Silver Linings Playbook', 'American Hustle', and 'Joy', further proving her versatility as an actress. Her performances in the 'X-Men' series also added significantly to her box office credentials.
Jennifer Lawrence's career shows no signs of slowing down, and at just 32, she's well on her way to potentially joining the others on this exclusive list in the future. As the reigning queen of the box office among actresses, she's blazed a trail for others to follow. Her unique blend of talent, charisma, and authenticity ensures that audiences will continue to flock to see her on the big screen for years to come.