The female lead of "Percy Jackson" movie franchise Alexandra Daddario has been in the acting industry for 20 years now.
Alongside being a successful actress, she's stolen the spotlight many times due to her gorgeous features.
Read on to find out the latest updates about Alexandra's life and career.
Alexandra Daddario shares holiday photos in a bikini suit
Being a huge fashionista herself, Alexandra is fond of sharing plenty of outfits with 22 million fans she has on Instagram.
From Michael Kors to Carolina Herrera, she's rocked all of the designers!
Alexandra is also a big lover of traveling abroad, so you can often stumble upon her traveling photos on Instagram, as well.
For instance, she tuned in from the beach in Florida some time ago, before surprising us with her photos from Hawaii recently.
She shared a photo carousel in a purple-magenta bikini suit, with the caption saying 'HAWAII'.
Amongst the comments, you can easily spot that the official Instagram dropped a comment, wishing Alexandra to have a good time!
Her dream wedding came true just weeks ago
The actress shared the beautiful photos from her wedding day in June, 2022.
She officially tied the knot with her long-term partner Andrew Form, and the vintage, retro-looking photos are literally every girl's dream-come-true!
Alexandra's most memorable TV roles
I know how strange it sounds, but Alexandra's debut TV role was back in 2002!
The gorgeous actress portrayed Laurie for 40 episodes, making a successful start of her acting career.
From 2005 to 2015, her most memorable roles include movies such as "The Babysitters", "When We First Met", and "Wildflower".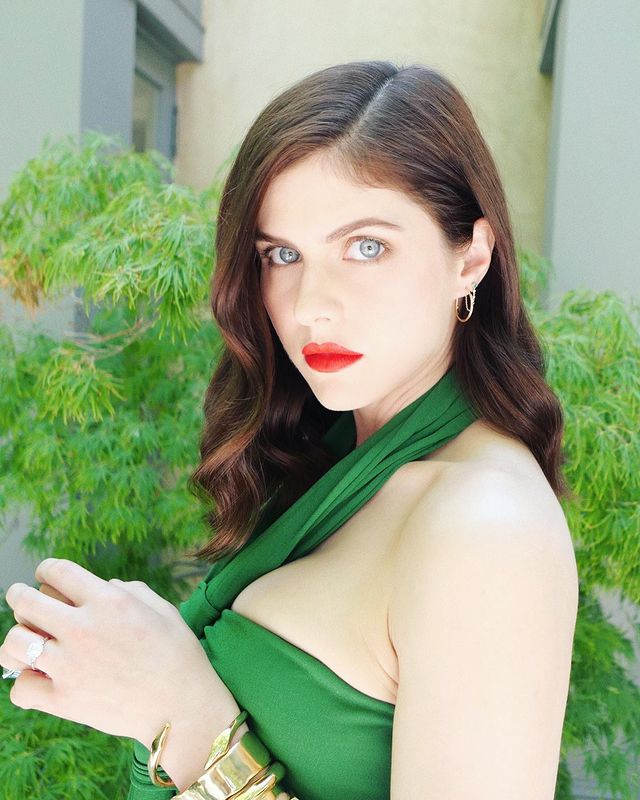 She is mostly recognized for her portrayal of Annabeth in the Greek mythology movie franchise about Percy Jackson, including movies "Percy Jackson & The Olympians: The Lightning Thief", and "Percy Jackson: Sea of Monsters".
Daddario also has a pretty good record when it comes to starring in horror movies, including "The Attic", "Bereavement", and "Texas Chainsaw".
She is currently the lead in the 2022 TV series titled "Anna Rice's Mayfair Witches".